Retail Spotlight: A Look Into Nordstrom's Newly Opened NYC Flagship
Last Thursday, Nordstrom opened the doors to its highly anticipated NYC flagship location. Prior to last year, Nordstrom had a relatively small physical retail footprint in NYC, which is currently its largest market for online sales. Since then, Nordstrom has opened a handful of locations across Manhattan, including the brand-new flagship, the Nordstrom Men's Store, and two Nordstrom Local locations.
My colleagues Nicole Murgia, Alyson Clarke, and I were able to check out the impressive flagship location in the days after the grand opening. Following are a few highlights from our visits.
 Happy and helpful store associates. Right off the bat, I was struck by how welcoming, helpful, and friendly the store associates were — everywhere. When we asked how to find something, they walked us there. Great associate training to deliver Nordstrom's signature superior service — bravo!
Free, fast returns. This three-step express return option is located on the first floor (right next to the much-appreciated coat check). It's well located — shoppers can't miss it when they walk to the center of the store from the main entrance on 57th. Shoppers simply follow the instructions on the drop-off bin to complete their return, made all the easier with a ready supply of self-sealing clear plastic bags to make the process as seamless as possible.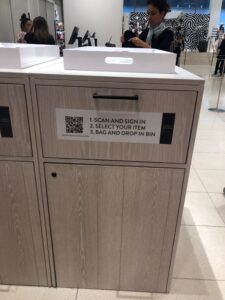 Wine and dine. Among the seven restaurant options located throughout the store is the "Shoe Bar." Here, customers can either sit down for a drink or take it to go as they shop the rest of the store. Store associates are also able to order and deliver drinks to shoppers from practically anywhere in the store. The upbeat music playing in the background (live DJ!) lent further to the festive vibe throughout the store.
Online order pickup hub — and more. The flagship offers numerous omnichannel fulfillment services. A central services center is dedicated to "buy online, pick up in-store" (BOPIS) and ship-to-store orders, as well as handling returns and quick alterations. Nearby, there's a full-service shoe repair and a gift wrap station, plus additional smaller-scale pickup points around the store at the "Service Bars."
Interactive experiences. Nordstrom has invested in numerous digital store technologies to tailor customer experiences across departments. The beauty floor is equipped with augmented-reality "try-on" screens for shoppers to test lipsticks, find their skin tone's best foundation match, and discover a great fragrance. In the personalization studio, shoppers use interactive screens to customize Converse sneakers and Casetify phone cases (and there's more to come, we were told). Fitting rooms are spacious and feature touchscreens to request help from associates and adjust to four different lighting options.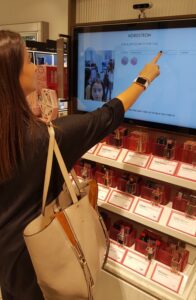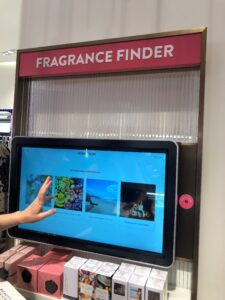 Pop-ups and partnerships. Store associates advised us that specialty concept stores will rotate in and out of the new location over time — a great reason for customers to come in and then keep coming back. Right now, the store is running Burberry X Nordstrom, a curated collection of exclusive runway style pieces. The Nordstrom X Nike boutique features exclusive products and a women-only sneaker collaboration first launched in 2015. Shoppers can also check out the Pop-In@Nordstrom shop, featuring Everlane this month, on the top floor.
Retailers and shopping enthusiasts: Make sure to check out this Nordstrom location for yourselves next time you're in NYC. And be sure to check out our team's research to stay updated on the ever-changing world of retail.
Categories