SiriusDecisions 2017 Summit: Analyst Session Picks for CMOs
More than 3,000 B2B leaders will attend this year's Summit, looking for best practice research and new innovations
CMOs can make the best use of their time by attending sessions recommended by SiriusDecisions analysts
CMOs should also attend the Executive Leadership Exchange, a half-day meeting at Summit with first access to new research
If you're a client of SiriusDecisions – or if you work in the B2B industry – you've heard of the annual SiriusDecisions Summit. More than 3,000 sales, marketing and product B2B leaders will come together for four days of data-driven best practices research, unveiling of new innovations and career-changing networking opportunities.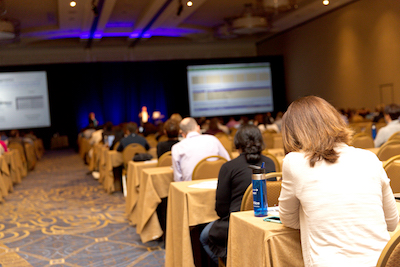 The first time I attended Summit two years ago as a new analyst, after absorbing all of the practical, real-world advice offered at the event, I came back to my desk to write a two-part blog series of things I'd do differently as a marketing director. Working in our CMO and Marketing Executives service, I know that CMOs grapple with a whole other level of challenges that keep them up at night, including but definitely not limited to:
It's critical for CMOs to make the most of their time at any conference or event they choose to attend, so here are some recommendations and our analyst picks for the Summit track sessions that are most applicable to their unique roles.
Open only to marketing, sales and product leaders (VP and above) who have registered for Summit, Executive Leadership Exchange offers its attendees first access to new research and insights from SiriusDecisions. It will be held on Tuesday, May 16, before the kickoff of SiriusDecisions 2017 Summit, and will feature presentations by SiriusDecisions analysts, a panel discussion and a chance to network with other executives. A welcome kickoff dinner and networking reception also will be held on the evening of Monday, May 15.
"B2B Alignment: An Executive Conversation"
Getting a B2B organization's revenue engine – sales, marketing and product – working better isn't easy, but it's a proven way of driving increased revenue and profitability. Learn about the importance that C-suite executives place on improved alignment across their sales, marketing and product functions.
"Building the Aligned, Accountable B2B Organization"
Leaders who consistently exceed their growth targets know that one of the biggest keys to doing so is accountability. Understand the dimensions of B2B functional accountability, and learn how to set the right functional targets.
Analyst Picks – Track Sessions
On Wednesday, May 17, and Thursday, May 18, the Summit agenda will feature 35 track sessions within 9 tracks that provide deep dives into role-based initiatives. We recommend that CMOs attend 12 of these sessions. Here are a few highlights:
"Marketing Enablement: The Most Critical Function You Don't Have"
Today's B2B marketers must demonstrate many complex competencies, but most marketing functions haven't deployed an effort to formally enable functional roles. This has led to widening skills gaps, confusion over career development and fierce competition for talent within marketing. Understand the importance of marketing enablement in closing B2B marketing skills gaps, and receive peer evidence to share with senior management.
"Product-to-Audience Transformation: Making It Happen"
Evolving from a go-to-market approach built around products to one focused on audiences is required to create buyer-centricity, but how do you do it? Understand how to operationalize SiriusDecisions' audience-based Go-to-Market Architecture Model, get a best-in-class workflow process, and learn how to set up measurement to actualize audience-based campaigns and demonstrate their impact.
"Agile Concepts and B2B Marketing: Friend or Foe?"
Having seen the success of their product development counterparts, today's marketing executives and operations leaders are asking how agile can be applied to their environment. Examine the parallels between transforming a software concept and a marketing vision into reality, and identify where agile development processes can be applied to marketing planning, execution and measurement – and where they can't.
These are just a few of the sessions that can benefit marketing leaders. Don't forget to also check out the Sponsor Marketplace to learn about new agencies, technologies and services that can make an impact on your marketing function. Learn more about our sponsors here or contact our events team for details.
Categories