Tap Consumer Energy To Drive Sustainable Innovation In Singapore
Singapore is recognized as one of the world's most innovative hubs and as an innovation powerhouse in Asia: The 2018 Global Innovation Index ranks Singapore as the fifth most innovative market out of 126 global economies analyzed, and Singapore's recently launched S$1 billion innovation fund establishes innovation as a key lever to economic growth and expansion.
In addition to a strong market, progressive regulators, and top talent, Singapore's thriving innovation ecosystem is fueled by its acutely tech-savvy consumers. Singapore online adults are notably enthusiastic about the digital experiences on the horizon and reward companies that show a commitment to innovation: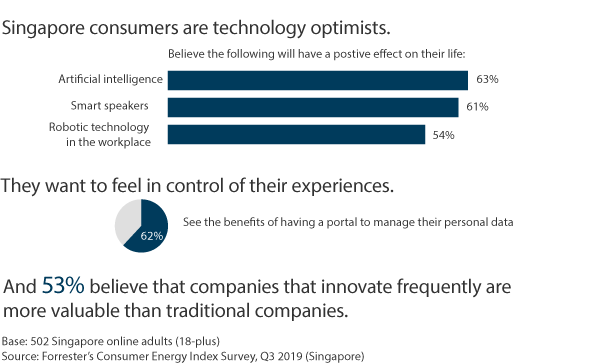 However, despite the sheer number of futuristic labs and volume of innovation output, Singapore's tech-forward consumers don't believe that companies are driving differentiated, meaningful change: 48% of Singapore online adults say that it is rare to find a company that truly innovates — and 54% of consumers under age 35 agree.
Why are companies missing the mark?
Forrester's latest data reveals that a glut of innovation has changed the competitive context: The arms race to build novelties and prove productive output has come at the expense of brand differentiation and has tempted leaders to take their eye off of intangible — but critical — customer experience (CX) qualities like emotion. Today, Singapore online adults perceive:
Waning brand differentiation. More than four in 10 Singapore consumers think that all insurance companies and banks feel the same. This phenomenon isn't confined to Singapore; consumers across the world are getting lost in the sea of sameness due to an oversaturation of digital experiences and a shortage of creativity.
Waning trust. Less than half of Singapore consumers trust their insurance provider or their mobile phone provider. This lack of trustworthy relationships takes a toll on the business: Our data analysis shows that when consumers find brands they like, the majority recommend the company to friends and family or follow the brand on social media, but when consumers trust the brand, they are driven to seek out new products and services the company offers.
Waning empowerment. Few innovations are resonating with the core emotions that move the needle of customer loyalty. For example, a Consumer Energy Index study of DBS Bank reveals that while the company's latest efforts to expand its services beyond banking strengthen consumers' feeling of connection to the brand, they don't create a sense of control or accomplishment — important emotions that energize customers and inspire them to become more engaged with the brand.
Innovators' ability to impress and influence consumers with new technology and experiences is diminishing — and against a backdrop of abundant technology and growing budgets, the struggle will intensify. Business leaders must start tuning into consumer energy — the emotional undercurrent that drives consumer engagement — to generate differentiating innovations that stimulate customer loyalty.
Join me at CX Singapore 2019 to learn more from Forrester's latest consumer data and to witness how CX and marketing leaders who understand underlying customer emotions harness innovation that sets their brand apart and builds prosperous customer relationships. Forrester clients can also book an inquiry with me to discuss further.
Related Forrester Content