TechX 2016: Which Technologies Do Orgs Invest In?
Which technologies are most essential to power your revenue engine?
At this year's SiriusDecisions Tech Exchange, Tony Jaros and Jacques Begin outlined findings from a major new survey
While organizations are eager to adopt new technologies, they often need to create a stronger connection between these purchases and their strategies
At a technology-focused conference, it's easy to think that every organization has – or should purchase – all the latest sales and marketing technologies. But what do you really need to power your revenue engine?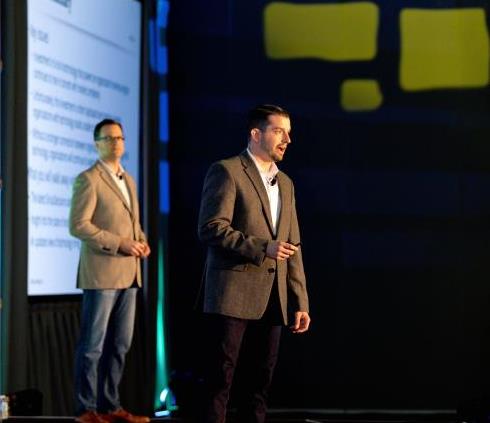 Depending on your industry, organizational maturity and other factors, certain investments make more sense than others. In a recent study, SiriusDecisions asked more than 400 individuals within B2B organizations about their technology investments and organizational priorities. Nearly six in 10 respondents reported an increased tech budget of at least 5 percent over the past year.
But unfortunately, as budgets increase, technology investments do not necessarily map to priorities, and the tech stack elements that are considered most essential are still absent in many organizations.
Tony Jaros and Jacques Begin outlined some of the most striking discoveries in the study during their keynote presentation today at the SiriusDecisions Technology Exchange. Here are four key findings that offer insight into what everyone is truly buying:
1. The gap is widening between organizations in verticals that are traditionally early adopters of technology, and verticals struggling to catch up. The study included multiple verticals – hardware, IT services, professional services, industrial and software companies. Industrial companies, which historically lag some of the other industries in buying the latest technologies, reported spending more than the other groups on new technologies as they attempt to close the gap. At the opposite end of the spectrum, software companies reported spending more than others on existing technologies.
2. The most commonly used technology category for measurement and reporting among marketing operations leaders was Web analytics. SiriusDecisions divided the survey categories by technology priority, starting with measurement and reporting – a priority for marketing operations. The recommended core tech stack for this priority consists of a sales force automation (SFA) system and marketing automation platform (MAP). However, only 24 percent of organizations reported having both of these elements in place. The most commonly selected tech category for measurement and reporting? Web analytics. Jacques cautioned that while Web analytics can provide useful data, relying on this information to determine marketing contribution fails to supply data on revenue acceleration, revenue contributions and other critical areas.
3. Within demand creation program design, content marketing technology often doesn't receive investment at all. SiriusDecisions recommends a minimum tech stack of a MAP, analytics technology and content marketing technology to satisfy demand creation program design priorities. Very few respondents – just 12 percent – reported having all three elements in place. While MAPs and analytics received frequent investment, content marketing didn't even rank in the top three. "This is where we really get concerned," Tony said, noting that MAPs and other technologies offer only limited content marketing functionality. A repeatable content management process is considered critical for constructing end-to-end demand programs.
4. Late adopters often must spend more money on technology training than others. The study also covered the investments of time and money that must be made when an organization acquires new technology and trains its personnel on its usage. The relatively lower spend among software companies indicated a more experienced workforce, while 62 percent of industrial companies needed to spend more than $1,000 per affected employee on training. "Later adopters might have training programs that are not as robust, so they need to bring in experts," Jacques noted.
Overall, the survey findings indicated that while organizations are eager to adopt new technologies, they often need to create a stronger connection between these purchases and their strategies.
"In order for companies to get where they need to go, they need to have strategies and priorities in mind," Tony said. Failing that, he added, with a nod to his on-stage musical selection "Land of Confusion" by Genesis, "We're going to be living in that land of confusion for a long time."