The Majority Of Chinese Social Media Users Are Social Savants
Have you thought about whether your audiences use social media to interact with your brand and in which part of the customer lifecycle they use social media?
Our recent survey found that Chinese social users are super active and show greater acceptance of social media. When we compared the attitudes of online adults in China and the US toward social media, we found stark contrasts. For example, Forrester's 2021 data shows that only 15% of US online adults agree that they like to purchase products via social media platforms, compared with 60% in metro China.
To understand today's social media audiences, Forrester divides social media users into four segments from least to most active: Social Skeptics, Social Samplers, Social Supporters, and Social Savants (see figure below). Each segment has different demographics, behaviors, and attitudes. Knowing which segment your target audience most closely aligns with is critical to assessing whether your social media programs will resonate. In China:
Social Savants are the ideal target for social marketing. This segment is most active on social media, most eager to try new products and brands, and most receptive to social advertising. Social Savants are valuable to marketers, as they usually believe that social media information is trustworthy and would like to be associated with brands on social platforms. Two-thirds of metro Chinese online adults are Social Savants.
Social Supporters are worth investing in throughout the customer lifecycle. This segment frequently uses social media to interact with brands and companies. Social Supporters make up 27% of metro China online adults, and 61% of those Social Supporters feel that the content companies share on social media is interesting.
Social Skeptics and Social Samplers are rare. Consumers in these segments do not proactively engage with brands on social media, preferring to interact with brands in established channels. In metro China, only 1% of online adults are Social Skeptics, and 6% are Social Samplers. In contrast, US online adults are more evenly distributed across the four segments.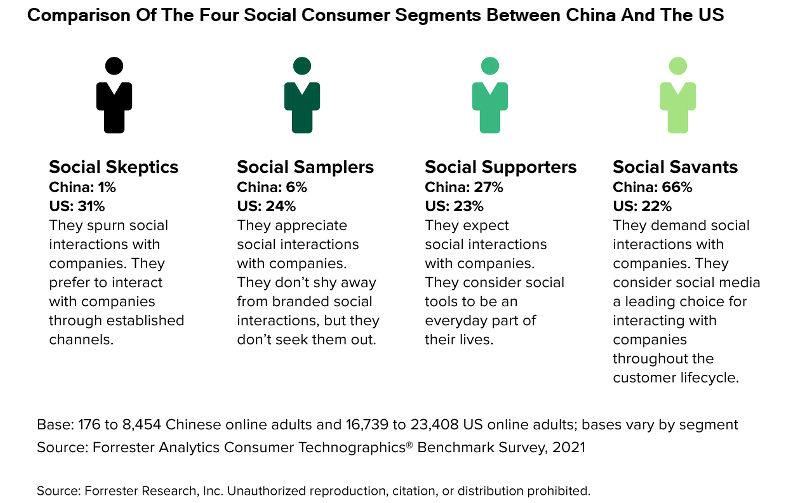 To learn more details about today's Chinese social media audiences and how to deliver relevant social experiences to receptive Chinese social users, Forrester clients can read the full report or schedule an inquiry.