Unveiling The IT Stack To Support The Artificial Intelligence Of Things At CES 2020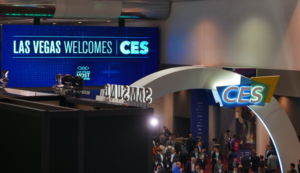 Flying taxis, concept cars, curved screens, and folding PCs are lighting up Las Vegas nights. This is a place where the world's best tech gets unveiled. As intelligence will transform most verticals, including transportation, smart home, healthcare, and public services, emerging technologies such as 5G, the internet of things (IoT), and edge computing are forming the foundation of and heating up the data economy to support pervasive AI-enabled applications.
Intelligence Goes Vertical And Pervasive
Vendors at CES are actively embedding AI into their products. Open source frameworks and AI suites available on public clouds have lowered the barrier to develop AI applications and empower products with intelligence. To win against fierce competition, however, firms must differentiate their intelligence with exceptional performance, identify the problems created by increasing customer expectations, and solve them with smart algorithms. At this stage, even small steps garner huge investment.
Smart transportation. CES is going to be like an auto show. Autonomous driving is still attractive but challenges firms' AI capabilities. Advanced computer vision algorithms are needed to achieve reach 10-7 MTBF — which means driving 10 million hours without a safety critical error. AI also needs to recognize objects that occupy almost the full image or just take up several pixels. For less critical scenarios, AI boosts fine-grained experiences such as lane-level intelligent ADAS, voice-first navigation, and connected mobility.
Smart home. Forrester predicts that 458 million smart home devices will be in use by 2024, with voice assistant speakers, automated utilities, and remote home security monitoring leading the pack. As voice will become the common interface, many firms are embracing either Amazon Alexa or Google Assistant to shorten time-to-market. AI is now enabling connected appliances, lighting, window coverings, irrigation, and entertainment systems to go beyond simple interactions and understand the semantics of customer behaviors to further improve experiences.
Smart healthcare. Forrester predicts that in 2020, virtual care adoption will soar, with more than 36 million new visits in the US. At CES, firms demonstrated many health technologies to establish real-time, bidirectional clinical communication with medical institutes. As smart wearables are able to collect more data, advanced analytics can convey timely insight to shape new lifestyles. If consumers are not ready to adopt wearables, firms can demonstrate how to use computer vison to monitor heartbeats and emotions and provide beauty advice.
Smart cities. Intelligence will reshape the future of cities in many scenarios — such as crowd control, traffic monitoring, public safety, and transportation management — to optimize operational processes and deliver services effectively. To achieve these goals, data scientists must develop representative training data sets, select explainable and responsive AI algorithms that allow stakeholders to audit decisions, and coordinate with policymakers to avoid unintentional exclusions or harm to a population. Continuous model monitoring and correction are also essential to win citizens' trust.
As Intelligence Goes Pervasive, Infrastructure Matters
This new age leads to physical and digital confusion. The fully connected and smart world is coming, and the traditional internet of things will upgrade to artificial intelligence of things (AIoT), which needs powerful infrastructure to support the explosive demands on network, compute, and storage requirements:
5G is taking flight. 5G is one of the hottest topics at CES. With its quantum leap in network capabilities, 5G will help firms reimagine connected vehicles, smart manufacturing, enhanced enterprise mobile access, high-res media and entertainment, remote healthcare, and smart cities and utilities. However, in the short term, deploying nonpublic 5G networks as part of massive or critical IoT deployments built on lessons learned with private 4G LTE networks would be more pragmatic. Firms still need accelerate to foster killer consumer applications to convince carriers embarking on heavy 5G investment.
Computing condenses at the edge. Due to latency and privacy concerns, more analytics and inference tasks will be fulfilled at the edge side instead of the public cloud or on-premises data centers. Fifty-four percent of global mobility decision makers whose firms are implementing edge computing believe that the flexibility to handle present and future AI demands will be among the biggest edge computing benefits. The balance between energy consumption and computing power is key for edge computing. NVIDIA and Qualcomm both introduced their computing platforms for autonomous vehicles. AMD announced its 7-nm laptop processor. As consumer products with computer vision capabilities boom, specialized AI chips are gaining in popularity.
Storage holds the digital foundation. The highly connected world will generate 175 zettabytes of data by 2025, and data privacy and security will become customers' key concerns. Applications should store customer data and replicas at the right place with proper performance. NVMe and storage-class memory are in the Experiment zone in "The Forrester Tech Tide™: Storage Technologies For Business Data, Q4 2019," and we saw tangible announcements at CES. Samsung announced PCIe Gen4 NVMe SSD with a capacity of more than 30 terabytes, which is suitable for AI analysis, big data, and IoT applications. SK Hynix showed its prototype LPDDR5, the next-generation memory solution.
Leverage Data Platforms To Accelerate Intelligent Application Development
There's no doubt that data is the lifeblood of intelligent applications. Data scientists often struggle to acquire, transform, and prepare the data to train the best-in-class algorithms. Application developers rely on data sources to better understand and serve their customers. Open data platforms will act as the boosters for a prosperous application ecosystem.
Location data platform. Transportation applications, either as a customer or a business, rely heavily on location data such as mapping information and indoor location service. At CES, HERE demonstrated a platform that makes it easy for customers to create and license location-centric products and services, where various third-party data can be securely exchanged and monetized on the platform in a unified, "compiled" format, further removing the hurdles for location application development (anything from automotive to smart cities) for transport and logistics.
Common data exchange platform. Besides location data, there are many other valuable data sources such as multilanguage newspapers, healthcare transactions, weather data, and global business records. Now customers can securely find, subscribe to, and use the data products provided by qualified data providers, including category-leading and up-and-coming brands, with AWS Data Exchange. These initiatives on the public cloud will boost intelligent applications.
Privacy is the golden rule. Effective data exchange will definitely introduce concerns on privacy. There are more than a dozen privacy-themed sessions at CES. Privacy is a brand issue; how a brand addresses privacy will shape how it is perceived. Customer-obsessed brands act as an ally of their customers. On the other hand, privacy is also a technology issue. Firms should: implement contextual privacy to comply with the spirit of regulations and protections; retool their security programs to prioritize data integrity protection; and build ethical decision making into their machines and software.
Related Resources
Forrester Analytics: Smart Home Devices Forecast, 2019 To 2024 (EU-5)
Smart Speakers Lead The Smart Home Revolution
Forrester Infographic: Don't Go Shopping Without A List — Buy Smart City Apps Strategically
The CIO's Guide To 5G In The Retail Sector
Predictions 2020: Edge Computing
The Forrester Tech Tide™: Storage Technologies For Business Data, Q4 2019
Mapping's Third Wave Will Unlock The Physical Future Of Business
The Future Of Cybersecurity And Privacy: Defeat The Data Economy's Demons