The Three Principles Of Sustainable Transformation
Over the coming years, sustainability will become a top priority for CEOs. Their ability to transform their firm is critical to surviving and capitalizing on a new wave of business disruption. Becoming an environmentally, socially, and economically sustainable business demands a profound and fundamental change. Like digital transformation before it, you can't just bolt it on. Traditional firms willing to start their multiyear transformation journey toward sustainability must embrace three key principles:
Bold leadership. Lead with a bold vision that aligns your business model to a unique purpose.
Sustainable execution. Drive action by integrating sustainable execution deep into your organization.
Aligned stakeholders. Align internal and external stakeholders by delivering on your sustainability pledge.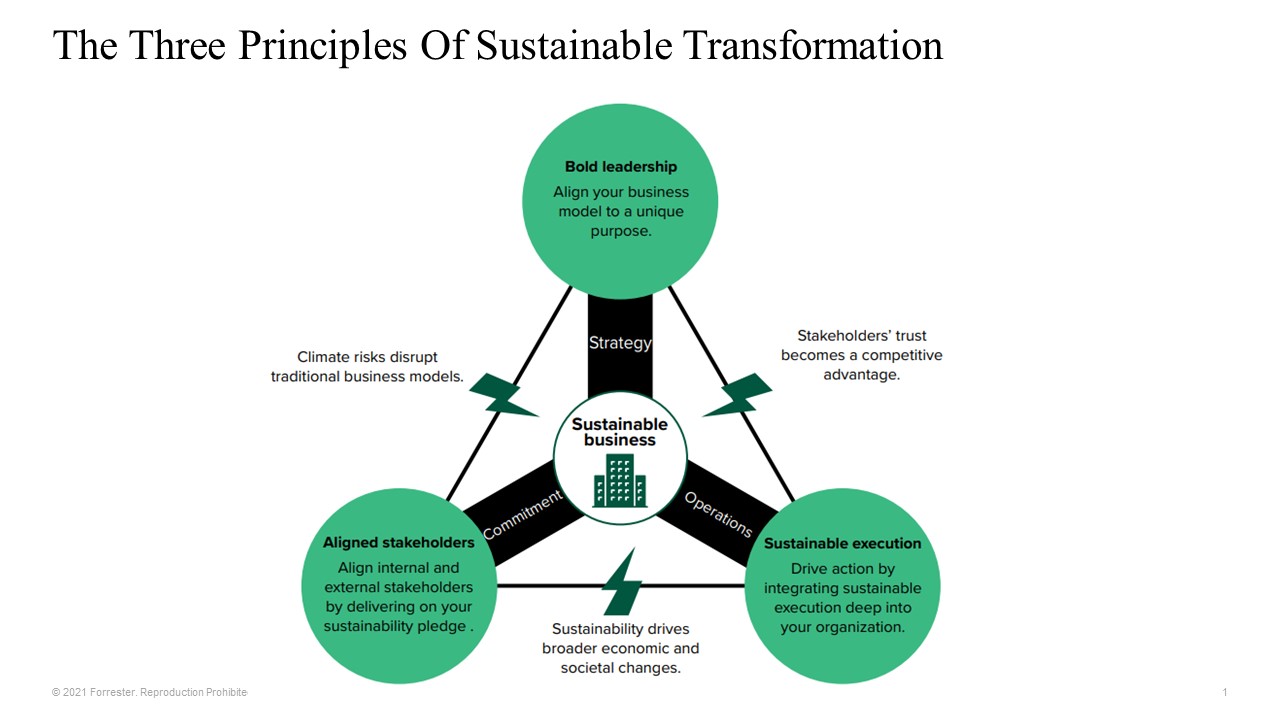 Let's not be naïve, but realistic: Moving away from maximizing shareholder value and transitioning to a stakeholder economy will take time and depends on the evolution of US/European norms and the pressure citizens will exert.
To reconcile economics and ethics, business leaders must reinvent how they:
Define what sustainability means to them. The United Nations' 2030 Agenda for Sustainable Development defined 17 interrelated sustainable development goals. Seven of them relate directly to environmental sustainability; others, like gender equality or quality education, can help firms define how they play a wider role in building a sustainable society to win stakeholder trust.
Measure the value they create beyond profit. "Extra-financial performance is as important as financial performance," notes Jean-Paul Agon, chairman of L'Oréal. Concepts like the triple bottom line will foster the emergence of new accounting rules (e.g., triple capital accounting) and business models. "In the context of our 2030 strategic plan, we are developing a 3P (people, planet, profit) scorecard with KPIs for each," says Yves Chapot, CFO at Michelin.
Run a sustainable business and operating model. Carbon offsets, compensation, and philanthropy address the symptoms, not the cause. Firms face stark choices on what they do and how they do it. "With COVID-19, we started to draw a distinction between essential versus nonessential businesses. This is just the beginning: Leaders at traditional firms that don't transition to sustainable activities will eventually disappear," notes Fabrice Bonnifet, chief sustainability officer at Bouygues.
Stakeholder Trust In Your Sustainability Commitments Will Drive Competitive Advantage
PwC announced a five-year plan to invest $12 billion and recruit 100,000 employees to help its clients transform on environmental, social, and governance (ESG) issues. Robert E. Moritz, PwC's global chairman, said: "Trust has never been more important, nor more difficult, to earn and keep. Organizations increasingly need to earn trust across a much wider range of issues, with a much broader group of stakeholders than in the past." As well as customers, employees, partners, and shareholders, firms also need to work more closely with civil society, nongovernmental organizations (NGOs), local governments, and political institutions. Pragmatically, firms must not only embrace ESG reporting and align with major frameworks like the Task Force on Climate-Related Financial Disclosures (TCFD) and the Sustainability Accounting Standards Board (SASB); they must also:
Act with empathy to build consumer trust.
Operate with integrity to build employee trust and acquire and retain talent.
Embrace transparency and align around shared values to secure partner trust.
To understand the key drivers of sustainability transformation and learn from best practices to build trust and develop sustainability as a new competitive advantage, clients can access this brand-new report, The Future Of Business Is Sustainability.
For this research, we have interviewed dozens of C-level executives, leaders, and sustainability experts over the past few months, so I'd like to take a moment to thank the individuals and companies who took part in this research: Alexandre Jubien, entrepreneur and speaker, Atos, BNP Paribas, Bouygues, Bureau Veritas, Capgemini, Compta Durable, Groupe Rocher, Groupe SEB, Helene Deckx van Ruys, Investir et plus, La Poste, Look Sharp, L'Oréal, MACIF, Michelin, Microsoft, Orange, SAP, The Sense Activists, and Yves Rocher.
This blog post is part of Forrester's COP26 series. For more Forrester insights on sustainability, see the full set of Forrester's climate action blogs.