These Five Universal Truths About CX Have Lasted 22 Years And Counting
Recently, I looked back 10 years to the publication of "Outside In," a comprehensive take on customer experience (CX) that I coauthored with Kerry Bodine. The book was based on a dozen years of research conducted by Forrester's CX research team up to that time. Although a lot has changed in the last 22 years, I was able to identify five important truths that are just as useful today as they were back then in guiding CX leaders' decision-making:
You need your customers more than they need you.
Superior CX creates superior customer loyalty.
Superior customer loyalty leads to superior business results.
Delivering superior CX requires business discipline.
Emotion is the key to differentiation.
Let's break those down:
You need your customers more than they need you. When I graduated college in 1977, I went to work for what was at the time the world's largest retailer: Sears. I worked on projects like the once-famous Wish Book, the Christmas catalog that millions of homes waited for each holiday season. When I left Sears in 1984, it would have been unthinkable for most people to even consider where Sears has ended up today. Wasn't it an indispensable American institution? Sadly, no. The fact is that your customers can abandon your company even if you're a cultural icon and even if you think you have a monopoly — even if you are a government agency, in many cases.
Despite this, many organizations don't act as if they need their customers. You can see it in their policies and practices. They barrage customers with an onslaught of spam emails, deploy customer service phone menus designed to prevent people from getting to human help, goal customer service reps on ending calls quickly (as opposed to solving the customer's problem), and charge nuisance fees (which are often charged in error and then agonizing to reverse). These are things that can cause your firm to end up like Blockbuster, which was put out of business by Netflix, a company that was inspired by the idea that customers should be able to rent movies without having to worry about late fees.
Superior CX creates superior customer loyalty. Today, we know even more about this truth because we discovered the existence of a type of super-loyal customer who is loyal because they are having a great customer experience. We call them "devotees." One-hundred percent of the devotees of a brand intend to stay with it, 100% intend to buy more from it, 100% are willing to forgive it when it makes a mistake, and 100% are willing to pay a premium price for the brand (versus just 11% of non-devotee customers). Just think what that means for a devotee's lifetime value!
Roughly 25% of US consumers are a devotee of at least one brand, so this is a large opportunity. And some brands have a much higher percentage of devotees among their customer base. These brands include Tesla, CX superstars such as Navy Federal Credit Union (NFCU), Audi, and USAA, and the unsung CX heroes Costco Wholesale, Hyatt Regency, and State Farm. So this is a large opportunity that's not just for the select few.
Superior customer loyalty leads to superior business results. This is probably obvious from what you just read about devotees, but it's even more compelling when you look at the business results of brands that have a high percentage of devotees. For Tesla, each devotee is worth 149% of a non-devotee. Its stock price went from $17 per share at its IPO in 2010 to over $800 per share as I'm writing this in July of 2022. That's a return of well over 4,000%. NFCU's membership grew 12% in Q1 of 2021 compared to the industry average of 3.6%. And Costco's membership renewal rate in 2021 (not exactly a great year for the economy) was 92%, along with a 9% increase in membership fee revenue.
Delivering superior CX requires business discipline. The companies that earn these business benefits from superior CX work at it. One of my favorite examples is HP, a company that was formed in 2014 when Hewlett-Packard split into Hewlett Packard Enterprise (the new hotness) and HP (the floundering printer business). At that time, the execs at HP shifted their strategy from product focus to customer obsession. And they followed through with seven core transformation principles, including the creation of a project management office with the stated purpose of coaching, tracking, and making sure that no one lost sight of the new vision.
One outcome was that HP prioritized changes that had high positive impact for both customers and the business and that were also relatively quick and easy to implement. This strategy and the accompanying business discipline worked. HP's 2021 FY results showed a 12% increase in net revenue, a 167% increase in GAAP diluted net EPS, a 66% increase in non-GAAP diluted net EPS, and a 48% increase in cash provided by operations. Yowza! Remember, this was a company that in 2014, many didn't expect to be around for much longer. But it is around, posting enviable results thanks to a customer-obsessed strategy supported by CX business discipline.
Emotion is the key to differentiation. In every industry we've studied, emotion has a bigger impact on customer loyalty than either effectiveness or ease. Sometimes it has a bigger impact than both effectiveness and ease combined. That's because effectiveness and ease are table stakes. As a customer yourself, you know this.
For example, how many times have you seen a restaurant review like this one?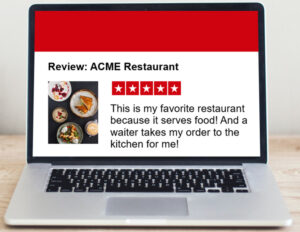 Never.
You have never seen a review like this one and you never will, even though this restaurant effectively met the customer's need for food and made it easy to get food. Not doing those things will earn a restaurant disloyalty, but doing them is a big "So what?" when it comes to earning loyalty.
The late, great poet laureate Maya Angelou expressed this best when she said, "I've learned that people will forget what you said, people will forget what you did, but people will never forget how you made them feel." That's as true for customer experience as it is for everything else in life.
I hope these universal truths will help you as you chart your CX course for the next 20-odd years. As for me, I'm retiring on August 1. But as a customer of many of your brands, I will be cheering you on from the sidelines. Good luck!
Categories