Two Forrester Waves™ Evaluate The Top Insights Services Providers
Struggling to meet the needs of data- and analytics-needs decision makers? There is help out there!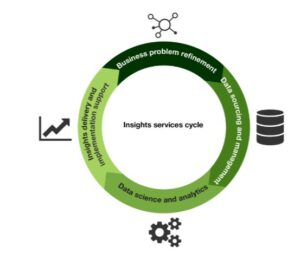 Executives across industries recognize their organizations' need for digital transformation — and the accompanying priority to become insights-driven. For many that's easier said than done, however. Firms struggle with resource and talent requirements needed to deliver timely insights or to scale existing internal efforts. Insights service providers enable firms to overcome these obstacles. They offer clients access to advanced data and analytics skills, methodologies, and technology not always available internally. And companies today increasingly seek their help. In 2018, 51% of decision makers report engaging an insights services provider, and another 22% plan to in the next 12 months.
Forrester identified this new, end-to-end engagement — the insights services cycle — in 2016. Since then, we've tracked and evaluated dozens of providers in this vast and diverse market. To help our clients understand more of their options, we recently published Forrester Waves™ on two broad categories of insights services providers.
These providers have a business and management consulting or technology services and systems integration heritage. As the services market has evolved, enterprise insights service providers have developed proprietary business and technology assets to accelerate engagements.
Vendors evaluated: Accenture, Atos, Capgemini, Cognizant, Deloitte, EY, Infosys, KPMG, McKinsey & Company, PwC, and Wipro
These providers have insights practices designed to extend their core capabilities and help customers accelerate insights-to-action. These vendors have a software, hardware, or staff augmentation background.
Vendors evaluated: Alibaba Cloud, Fractal Analytics, Genpact, IBM, Opera Solutions, SAP, Telefónica, Teradata, and Tiger Analytics
Schedule an inquiry to learn more about each insights services provider and the types of support they offer to turn data and insights into business value.
Categories