US Banking Customers Will Soon Demand These Features. Does Your Mobile App Offer Them?
When a customer opens a mobile banking app, they are usually trying to complete a specific task: paying a bill, seeing how much money they have left for the month, finding a recent transaction, requesting money from a friend, etc. But banking customers increasingly want more and better features on these apps.
Forrester's Mobile Banking Survey, 2022, reveals an ongoing surge in digital banking, along with a shift in customers' mobile banking needs and expectations. For example, 54% of US online adults say, "I should be able to accomplish any financial task through a mobile app." As these shifts accelerate, banks and other firms will need to meet customers' rising and expanding demands for mobile banking features.
Three Features That Customers Want
To help banking executives and their teams identify and prioritize the most important digital initiatives, we conducted research on how mobile banking will change in the next three years. This research uncovered seven mobile banking features that will be must-have in the near future. Here are three:
Digital wallet integration tools. When Forrester asked US online adults who are banking customers how useful they found different new and emerging mobile features, nearly half rate digital wallet integrations on their bank's app as a useful feature. While many banks and credit unions allow customers to use their cards on Apple Pay, most either fail to include any wallet integration feature on their app or make it inconvenient to start using their cards in third-party wallets. As contactless payment usage continues to rise among all age groups, features that make digital wallet integration seamless will become increasingly critical.
Customer-facing data management tools. Although banks are among the more trusted types of companies overall, customers are increasingly wary of how banks manage and share their data: Fewer than half of US online adults trust their banks to keep their personal information safe. Even those customers who do trust a bank with their data want more tools to monitor and take action on how and where data is used. Our research found that the majority of US banking customers say that data management tools would be a useful feature on mobile banking apps.
Subscription management tools. Consumers' use of subscription services for everything from physical goods to streaming services is growing. Currently, 5% of US online adults are using a subscription and recurring payment management tool to manage their money. We found that 47% of US banking customers say that subscription management tools would be useful on mobile banking apps. Our research report digs deeper into this data and outlines examples of traditional providers and fintechs offering subscription-related services. Some traditional banks have rolled these tools out: Bank of America has woven subscription monitoring and management services into its Erica conversational tool (see images below).
What This Means For You
Mobile banking apps are relatively homogeneous: Just a third of US online adult banking customers believe that their mobile banking app offers unique value. Offering the above features can differentiate your app — especially with younger customers. To learn more about Forrester's Mobile Banking Survey, 2022, see our recent report, What's Next In Mobile Banking: Seven Indispensable Features Coming To US Banking Apps.
[This post was coauthored by Zachary Stone.]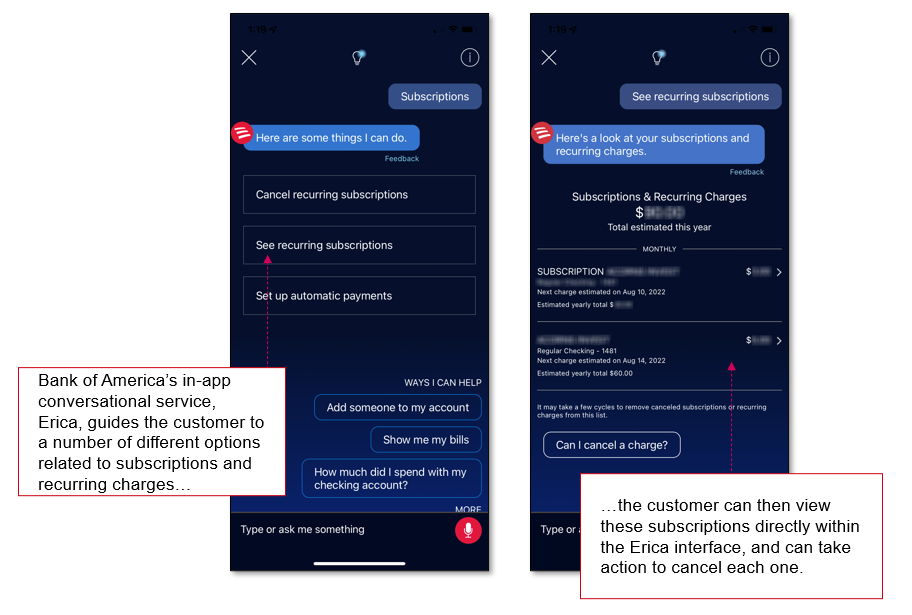 Companies We Interviewed For This Report
We would like to thank the individuals from the following companies who generously gave their time during the research for this report: Ally Financial; Credit Sesame; Empower Financial; Finicity; Flybits; Hancock Whitney Bank; Hopper; JPMorgan Chase; Meniga; Minna Technologies; Moneythor; MUFG Union Bank; MX Technologies; Personetics Technologies; Plaid; Plum Fintech; PNC Financial Services Group; Salt Edge; Self Financial; SilverBills; Step Mobile; Subaio; Tink; U.S. Bank; Wells Fargo; Yodlee
[Image above: Bank of America's in-app conversational service "Erica" helps customers identify and act on subscriptions and recurring charges.]
Categories