What's Hot In Insurance Tech In 2019?
In 2019, the pressure on insurance business and technology leaders isn't letting up. Earlier this year in Forrester's "How Five Drivers Will Shape Insurance Business Technology Investments In 2019" report and webinar, we examined the drivers shown here that are shaping insurance business priorities.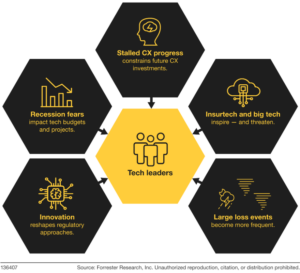 What Did We Learn?
These five drivers are refocusing executive and tech leader attention and magnifying their impact on insurance technology strategies. What firms will win in this environment? The ones that will address these market forces through creative — and courageous — tech strategies.
How are these market forces and changing business and tech priorities trending in 2019? In our report "The Top Insurance Tech Trends To Watch In 2019," we've identified six important trends with impacts that span the insurance back- to front office. AI underlies nearly all of them. For starters, here's one of the six.
Trend No. 4: Legacy Systems Move Center Stage
The business backbone, the core systems, burden digital transformation strategies. Insurers spend about two-thirds of finite tech budgets on these run-the-business systems. More nimble competitors are spending more on digital tech. And this run-the-business spend is growing. Tech leaders need to demonstrate business value of these maintenance and ops investments. Benjamin Clarke, the CTO of Bold Penguin, argued that "the project mentality of insurance companies leads to them not building anything interesting but just replatforming again, delivering the exact same experience."
What It Means
Legacy investments won't help traditional insurers remain competitive for long. Transformation programs can run amok, so tech teams must invest time up front to define and plan for current and future capabilities. The optimum transformation strategy embodies approaches such as continuous transformation, buy-plus-build, and a cloud strategy that won't be easy but will be less disruptive. That was the rationale for US-based AAA Life to replace its core systems with modular components that could be more flexibly delivered as part of its digital transformation.
Want To Learn About The Other Five Trends We're Watching In 2019?
You can read the whole report here (subscription required). Have questions about what you've read? Check out Forrester's analyst inquiry link here. Are you a solutions provider that helps insurers tackle challenges like these and others and want to brief us? Here's the link to do that.
Finally, What's Coming To More Deeply Examine Some Of These Trends?
Keep an eye out for our soon-to-be-published look at life insurance policy administration systems and our look at the idea of the zero back office.