The Future Is Unwritten: Writing The Future Of Financial Advice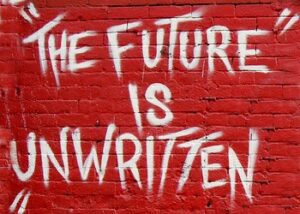 I have recently kicked off a new stream of research that will define what the future of financial advice will look like over the next 5–10 years and would like your input!
Digital technologies (AI, APIs, automation, etc.) are changing how financial advice is dispensed and how every aspect of investing is conducted. Fintech disruptors such as Robinhood, Betterment, and Personal Capital have introduced innovative business and pricing models that are mobile- and digital-first. In response, incumbents like Charles Schwab, Vanguard, and JPMorgan Chase are improving their own digital capabilities to attract and retain existing customers.
As digital and mobile technologies continue to dominate the everyday life of consumers, this trend is also having an outsize impact on all aspects of the retail investment value chain. How investors interact with investment management firms, research investments, make trades, and receive financial advice is fundamentally changing. Similarly, for financial advisors, the changing expectations of investors are influencing how advisors interact with clients, create financial plans, and interact with their wealth platforms to provide advice, manage their daily activities, and support clients.
To augment the research, I am looking to speak with senior digital and wealth strategists at large financial institutions such as Merrill Lynch, fintechs such as Betterment, and technology providers such as Amazon to gain a broader perspective on how financial advice will evolve in the next 5–10 years and the impact on data, product, and technology strategy. Below is a sampling of the questions I'm looking to understand during the interviews:
Customers
In what instances should digital platforms provide financial advice instead of humans?
Will mobile become the dominant platform for investing over the desktop computer?
What role will digital technologies play during each phase of the investor lifecycle?
Financial Advisors
What digital tools are necessary for the financial advisor of the future to support the investor of the future?
How will digital technologies impact the financial advisor's ability to charge fees and commissions?
What are the high-impact sales channels of the future? How will advisors interact with prospects in the future (in-person, virtual, social media, chat, or SMS)?
Wealth And Investment Management Firms
What core and next-gen capabilities and features should be on the wealth and financial planning software platform of the future?
How should firms work with independent financial advisors to drive revenues?
What should be the balance between intermediary and direct distribution? How does that impact business models and commissions and internal capabilities?
If you are interested in sharing your perspectives and insights and would like to participate in this research, please reach out to me at vraghavan@forrester.com.