A Booming Advertising Talent Market Illustrates The Belated Agency Transformation
Advertising industry growth has not yet stalled, counter to the misguided headlines. Despite rising inflation, concern for recession, and agency and tech company layoffs, US advertising industry job growth remains strong. According to the US Bureau of Labor Statistics (BLS), advertising and related services added 3,800 jobs in June, while the total US jobs market added 372,000. The May BLS data shows advertising agencies at an all-time high of nearly 220,000 jobs, plus continued month-to-month increases in both PR and media buying agency employment.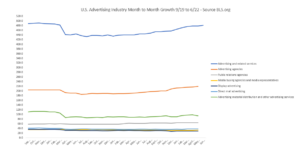 Advertising Industry Growth Reveals Its Belated Transformation
What's behind this advertising industry boom? A deeper understanding of the growing and shrinking advertising industry job titles reveals a clear pattern of agencies transforming to become more digital-first and future-forward. Analysis of the BLS's Occupational Employment and Wage Statistics Survey results from 2019 to 2021 shows which positions are thriving and which are dying. As consumers' embrace of digital media grew during the pandemic, agencies recruited the data, analytics, design, and PR expertise necessary to meet the "digital or die" imperative facing marketers and brands. The clear winners are:
Data scientists. This position is responsible for setting up critical data intelligence infrastructure and services important for media, digital, and PR campaigns. Data scientists grew over 500% from 2019 to 2021, and their salary range grew at about 5%.
Web developers and digital interface designers. This position is critical to digital experience services for clients and for internal agency tech development. Web developers and digital interface designers grew by 38% from 2019 to 2021, and their mean salary grew tremendously, illustrating the importance of the role.
Market research analysts and marketing specialists. These positions are fundamental to developing and applying insights from data across campaign executions. They grew 35% from 2019 to 2021, and their mean salary growth outpaced the average.
Public relations and PR specialists. These positions cover both the agency's PR efforts as well as the PR and communications services for clients. As services for corporate reputation and crisis management became must-haves, these positions grew 27% and 11%, respectively.
The job titles that shrank are equally telling in that they represent the subject matter expertise impacted by the pandemic and the back-of-office and process-oriented positions that are more susceptible to automation. The clear losers are:
Demonstrators and product promoters. These positions are closely associated with experiential, events, and sampling distribution marketing channels hit hard during the pandemic. These positions decreased by 63% from 2019 to 2021.
Merchandise display. This position is highly tied to brick-and-mortar retails, another hard-hit channel during the pandemic. This position decreased 47% inside the advertising industry from 2019 to 2021.
Project management and business operations specialists. Workflow software and agency operating system products make the automation of this skill set more probable in today's agency world. These positions decreased 34% from 2019 to 2021.
Various administrative functions. From executive admins, office clerks, and finance managers to data entry, the back end of the agency decreased from -1% to -28%. These reductions are the effects of remote/hybrid work and automation.
The Next Economic Disruption (AKA Recession) Will Reveal The Industry's Unsustainable Labor Model
The stock market and ad market won't stay at odds with one another for long. Rising interest rates, falling consumer confidence, and inevitable cuts to marketing will eventually catch up to the industry. When a recession does eventually take hold, we anticipate an average agency layoff rate between 11% to 13%, consistent with what Forrester tracked during the COVID lockdowns of spring 2020. This sudden and traumatic cut in labor will undermine agencies' ability to evolve to meet the needs of the CMO or any exec expected to lead growth amid the unpredictable dynamics in our markets and surrounding customers. Invest in data intelligence to service your brands appropriately. It will reveal that your agency's real talent crisis is its dependence of abundant, inexpensive labor. Consider these realities:
Your agency's top cost is labor. Aside from real estate, which has changed dramatically during the pandemic, marketing agencies' most expensive line item is salaries and benefits. For this reason, agencies adjust resources based upon revenue realities. The next recession will reveal that cutting the agency budget will cut you off from the talent you need to succeed.
Agency labor is caught up in the reality of modern, economic disparity. Rising mortgage rates, cost of housing, and cost of living affect all workers but especially the city-dwelling labor force that dominates agencies. The next recession will reveal that the CMO/agency economic agreement perpetuates economic inequality.
To stave off the worst impacts of the next recession and advertising layoffs on your company, CMOs and agency executives should shift from a labor model to an outcome-based model. This provides the means for the service providers to be compensated on the results/business objectives they achieve, rather than the number hours billed to a given project.
For more information on this topic, see Modernize The Marketing Partner Model With Human/Technology Equivalents and a forthcoming Forrester report on the agency talent market.
Related Forrester Content