The Pendulum Swings Back To Creativity: Decoding Accenture Interactive's Droga5 Deal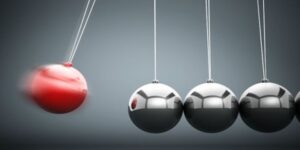 Today, Accenture Interactive announced its Droga5 acquisition. The New York- and London-based creative agency joins previous Accenture creative acquisitions Fjord, Karmarama, and The Monkeys to bolster the consultancy's creative and brand communication capabilities. Combined with Accenture Interactive's technology, data, experience design, commerce, and programmatic capabilities, the addition of Droga5 and others helps move them one step closer to providing CMOs and marketers the integrated, scaled marketing solutions they require. Many may interpret this move as another omen for the agencies. Headlines that obsess about the "consultancies versus agencies" narrative, however, are missing the point: Accenture Interactive's acquisition of Droga5 cements a renewed emphasis on creativity in marketing.
The Problem Is Sameness
What makes any brand different from another? All coffee chains and quick-service restaurants allow diners to order ahead. All airlines allow fliers to check in and manage travel. All banks allow customers to pay bills and deposit checks with an app. We've been solving the same problem with the same functionality. In fact, analysis of Forrester's Customer Experience Index (CX Index™) research shows brands are in a CX rut, either losing ground, stalled out, or growing incrementally with their competitors.
Find A New Force Multiplier
CMOs found growth through technology investments to improve customer experiences and loyalty (while also insourcing and slashing agency fees). That playbook provided CMOs the growth their firms demand, yet this force multiplier no longer works now that we're in a CX rut. The new growth will come from creativity guiding brands, experiences, and communication.
Recouple Creativity For Impact
Accenture and Droga5 are the latest but not the only example of new creative combinations. Wunderman Thompson, VMLY&R, Infosys' purchase of Wongdoody, and Stagwell's investment in MDC Partners each illustrate coupling technology and digital marketing with creativity. Publicis Groupe is exploring the purchase of data and loyalty agency Epsilon. The proposed purchase would combine Publicis' creativity with Epsilon's data management, identity resolution, and loyalty platform capabilities, not unlike IPG's purchase of Acxiom and Dentsu Aegis Network's purchase of Merkle.
CMOs should take up the creative mantle and build differentiation and preference for their brands. Bring the brand essence into action through creative-inspired experiences and campaigns. Balance CX and brand investments to ensure the proper amounts of technology and creativity. Most of all, tap into partners who bring creative courage that can be executed at every touchpoint.
Download this complimentary report to understand how to choose an agency holding company strategy that propels growth.
Related Forrester Content