An Agency Decision Is A Technology Decision
It has become increasingly clear that technology is a critical component of the client-agency relationship. As marketing technology forms the foundation for developing consumer insights, campaign planning and execution, and measurement, it's part of the fabric of how agencies deliver work product and engage with clients. Companies that rely on their agencies are by extension reliant on their agency's technology capabilities.
Forrester believes that technology will be a major arbiter of agency success. Understanding an agency's technology strategy and capabilities must be a major consideration in any agency selection process. This involves much more than just checking off a list of marketing cloud certifications or adtech partners. Buyers must look for an agency technology strategy that complements their needs along several dimensions: consistency with existing technology investments; approach to commercial versus bespoke tech development; breadth of technology coverage; and services and support capabilities.
To support this alignment of priorities, Jay Pattisall and I have collaborated to publish "Reprogram The CMO/Agency Technology Relationship" to understand the technology strategies of 10 top agency holding companies: Dentsu, Havas Group, IBM iX, IPG, Material+, Omnicom Group, Publicis Groupe, S4Capital, The Stagwell Group, and WPP.
Our research examines how each agency group enables technology across four delivery models:
Assemble. Agnostic technology delivery that prioritizes customization and flexibility.
Build. Bleeding-edge technology delivery via extensive R&D and proprietary offerings.
Consult. Advisory-oriented delivery to support clients' own tech efforts.
Partner. Tech delivery via partners to maximize breadth and depth of tech options.
The size of the agency holding companies, breadth of client requirements, and complexity of modern marketing dictate that each of the four technology delivery models are not mutually exclusive and that each agency embodies elements of all four models. This research identifies where each agency falls on the spectrum of models and details their capabilities and strengths for each one.
It's fascinating to note that for all their breadth and market power, the agency holding companies are extremely diverse, and each balances the four technology delivery models uniquely to meet CMO technology requirements for collaboration, implementation, customization, and innovation.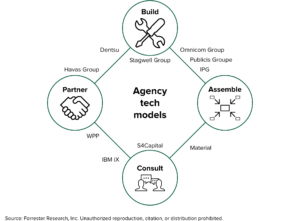 Our full report offers a blueprint for companies to articulate their own technology needs, map their priorities to the delivery models, and set the stage for successful agency selection in the context of complex and evolving technology requirements. Please let us know how the research worked for you, and to learn more about our research findings and agency-selection best practices, request an inquiry with Jay Pattisall or myself.