Announcing A New Forrester Wave™ Evaluation Covering Commerce Search And Product Discovery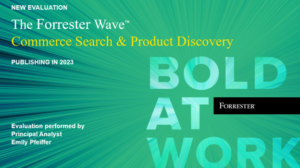 Our new The Commerce Search Landscape, Q2 2023 report publishes in just a few weeks. It features a long list of vendors and illustrates the functions and use cases that digital businesses can expect from them. I am thrilled to announce that our Forrester Wave™ evaluation analyzing this market will follow this year, covering the latest major commerce tech spin-off market!
A decade ago, Forrester paused its site-search research as we observed the independent vendors fading from the market. In the 10 years since, we've seen significant evolution in this space:
The market moved to open source and other nuts-and-bolts solutions, which commerce (and other) vendors built on to create their own proprietary search functionality. We evaluated the included search functionality in one criterion of The Forrester Wave™: B2C Commerce Solutions, Q2 2022.
A few commerce search specialty vendors emerged, which have jockeyed for position for years with few direct competitors.
More recently, adjacent vendors called "personalization" or "product discovery" expanded their functionality — and most expanded toward a common destination: a combined commerce search and product discovery solution.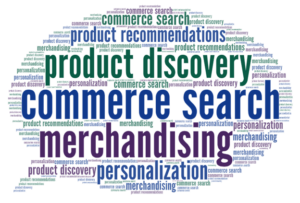 In addition to commerce search, these adjacent category vendors have variously identified themselves as product discovery, product recommendations, merchandising, and personalization solutions. Regardless of their initial areas of focus, however, their progression in the past few years means that many now overlap with each other.
In the end, all these solutions are aimed at presenting the right products to a shopper by personalizing the shopper's searching, browsing, and product discovery processes.
Some solutions are stronger in certain areas, but for the most part, they all offer:
Control over the order in which products are displayed on product listing pages such as search result and category pages, as well as product recommendations elsewhere in the experience.
The ability to personalize product listings and recommendations with varying degrees of automation or AI based on each shopper's preferences, historical behavior and purchases, or current-session behavior.
Tooling to enable nontechnical practitioners to tune the solution and to gauge its success.
Of course, there's a lot more to these solutions than just those basics.
I am thrilled to kick off this research, covering the latest major commerce tech spin-off market!
Get in touch if you're selecting a new commerce search solution or if I can help with your questions about the market. And watch for the upcoming vendor landscape in April, followed by the Wave evaluation later this year.
Related Forrester Content