Bold At Work Profile: UiPath's Marketing Transformation
When Rajesh Kumar became VP and Head of Marketing for UiPath's India & South Asia region in August 2018, his mission was to transform the company's marketing in the region to fuel and support UiPath's aggressive growth objectives while continuing to take advantage of its extraordinary momentum in a fast-growing market category.
"When I walked into my role, I saw a dichotomy," said Kumar at Forrester's recent SiriusDecisions Summit Asia Pacific event, where he and Udit Agarwal, UiPath's channel marketing director, received a Return on Integration Honours award. "On one side, robotic process automation (RPA) is the hottest area of interest from a technology standpoint, and the category is growing at a triple-digit rate per year.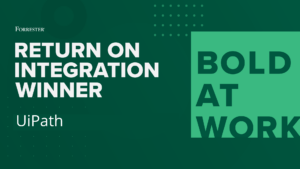 "But on the other side, when I talked to my colleagues on the front line, I heard concerns that not enough companies know us — is opportunity passing us by? How do we speed up and capture it?"
Before diving into the details of how he and his team built a high-performance marketing engine to fuel UiPath's hyper-growth as a leader in RPA and AI, Kumar took a moment to discuss the human-centered company values that he and his team leveraged and reinforced to guide marketing's transformation. He emphasized the importance of relationships and maintaining high satisfaction ratings — from employees as well as customers and developers —as a vital factor in establishing and strengthening UiPath's position as a market leader.
"What we take pride as a company even more than our technology is really our values — and humility being the top value. And these values even more than technology are our strength because they are much harder to replicate," Kumar said.
At the outset of UiPath's marketing transformation journey in the region, Kumar needed to define a marketing strategy for converting the widespread interest in RPA and AI into relationships and opportunities within the region that UiPath's salespeople could close. He needed to reach agreement with sales on a go-to-market approach for selling to new and existing customers. He knew it was important to hire and onboard new marketing team members, and he needed to establish technology and processes that would be capable of rapidly scaling and adapting to support UiPath's hyper-growth. And he had to accomplish all of these things while starting to execute immediately.
"This was a very interesting background where we needed to do it at rocket speed," Kumar said. "We almost needed to start execution on day one. Talking to my global leader, he told me to think ahead only 30 days at a time, because everything changes every 30 days. And even as a company we plan only six months ahead at this point. So that was the imperative."
As they built the go-to-market plan andthe marketing engine, Kumar and his team turned their efforts to lifting the brand awareness and reputation, fueling new demand, and driving enrichment with existing customers. To lift the brand, they identified all relevant industry trade shows and, in the first seven or eight weeks, UiPath participated in nine industry events. A new PR agency was hired to drive engagement with media and influencers. A company-led road show engaged customers and partners in cities across the region.
"Our category was new, and we were a new name, said Kumar. "So in each city we met our customers and partners, and our local sales teams and business teams were face to face with them. This built credibility and confidence, and converted interest into engagement."
Simultaneously with this initial burst of activity, Kumar and his team were rapidly building a new marketing engine for UiPath in the region, incorporating the following elements:
A clearly defined demand generation and demand management process. The process, leveraged the SiriusDecisions Demand Unit Waterfall methodology. It included defined nurture streams, opportunity scoring, service-level agreements with sales for qualifying and following up opportunities, and consistent measurement and analysis of opportunity conversion. That new demand discipline spans across net new demand and demand with existing customers where there were still significant opportunities to identify new use cases within their existing customer base.
An early focus on customer advocacy. UiPath celebrated customer go-live dates and new use cases for its technology, encouraged customers to dialogue with each other, and set up a customer advisory board and a customer recognition program to celebrate the great work that customers were doing in harnessing its RPA technology in their businesses.
Quarterly cadence for program planningand execution. With UiPath's rapidly developing business in the region, Kumar put in place a highly adaptive approach for consulting with sales and other stakeholders on marketing program needs, then creating the necessary assets before the start of each quarter so that marketing was ready to execute as the quarter began.
Emphasis on marketing and sales alignment. The marketing engine's success reflects an exceptional relationship and alignment with UiPath's sales team. This has been significant in ensuring that the processes the marketing team puts in place are accepted quickly and adopted by sales and also speeds up go-to-market decisions.
Measuring and communicating marketing's value. The marketing dashboard created by Kumar and his team encompasses a range of outcome and impact metrics, including the number of opportunities and the value of pipeline generated and influenced, the percentage of customers that are referenceable, and UiPath's Net Promoter Score in the region.
While this collaborative and resilient marketing engine was built to support UiPath's growth in the region, it also proved helpful in supporting the company's response to the COVID-19 pandemic crisis. Kumar described to the Summit audience how marketing had to step beyond what they have been doing to drive internal revenue engine engagement/alignment and focus on orchestrating the response of the entire organization to the crisis. UiPath responded by supporting their communities, providing free software and services to assist in crisis management, working with many government, healthcare, and not-for-profit organizations, and also providing new use cases for its technology that would help customers manage the crisis.
"As we thought of our customers and partners, our overriding feeling was of empathy," Kumar said. "They were struggling with pretty much the same things that we were — personal and family health and safety, their employees' well-being, and continuity of the business. So we had to focus on that, and any kind of push approach wasn't appropriate for this moment." That human-centric response to the crisis, also inspired and motivated UiPath employees who stepped up to volunteer and support UiPath's efforts.
As these efforts continued, UiPath had to examine carefully its revenue generation efforts. With strong foundations in place, Kumar and his team were able to re-examine and alter their segmentation and go-to-market efforts in their region, revisit the drivers of buying, and amend their messaging accordingly to pursue opportunities in a thoughtful manner.
As he wrapped up his remarks, Kumar shared several key lessons that he drew from his team's award-winning transformation effort.
"What were the learnings as we stopand look back and reflect? It's actually very simple," he advised. "Be relentless until you get to the core of the issue, and then the solution starts becoming obvious. Take people along — sometimes it's more time-consuming, but it's always more sustainable. And lastly, if you're in marketing, be dependable for execution on time every time, with excellence. That's what builds credibility."
Categories