Building CX Influence? Choose Your Friends Carefully
This is the first in a three-part series of blog posts that provide an overview of the CX Influencer Tool.
According to both real people (Gloria Steinem) and fictional cautionary tales (The Godfather Part III), real power can't be given — it must be taken. Customer experience (CX) leaders charged with creating a customer-obsessed culture know all too well that they can't rely on a large team or strict reporting lines in an organizational chart to secure required resources.
Instead, many of these leaders depend on matrixed teams, adjacent functions, and internal alignment. Being an informal "influence officer" might feel like a second job, but leaders who can connect with internal allies to further the cause of customer obsession have the greatest likelihood of success.
We built the new CX Influencer Tool to make the process of identifying and activating internal influencers more efficient. It allows CX leaders to spend their time on the highest-impact activities and waste less time attempting to engage potential influencers who can't be — or aren't interested in being — a change management partner, or would be an inappropriate choice.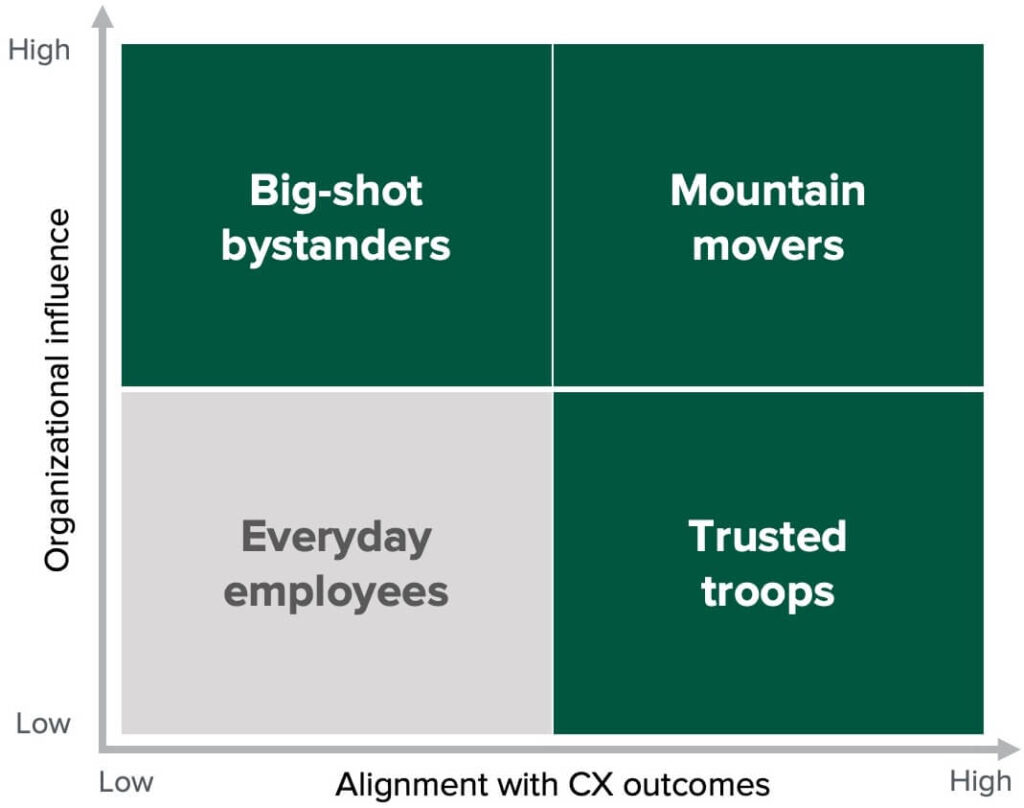 We developed four segments to help CX leaders prioritize and plan partnership in driving customer obsession. The tool weights organizational influence of potential allies as well as alignment of CX outcomes. Who in your organization fits into these categories?
Mountain movers. These stakeholders are highly aligned with CX outcomes such as customer satisfaction, retention, and growth and can be strong influencers. They are the top priority for CX leaders seeking alliances. Example: The vice president of customer success, a high-level member of the sales or customer operations team, oversees customer success managers who are responsible for retention, checking the boxes for influence and outcomes alignment.
Trusted troops. These stakeholders are also aligned with CX outcomes. Although their desire to partner for change management may be high, their internal influence is lower than that of mountain movers. Example: The customer marketing manager is focused on metrics that align with CX, including advocate creation and setting the stage for cross-sell and upsell. This role's influence, however, is likely to be strongest within the marketing organization.
Big-shot bystanders. Like mountain movers, these stakeholders have great influence, but they may have less interest in the cause as their priorities don't align as well with CX. Example: The CTO is highly influential in the organization, but the priorities of this role and the CTO's team may not accommodate direct partnership with the CX leader. This doesn't mean the CTO is negative about CX; it means the CTO doesn't have the desire or bandwidth to be a heavily involved ally.
Everyday employees. These stakeholders lack organizational influence and have low alignment with CX priorities. Although no one in the organization should be counted out of the ongoing imperative to be customer obsessed, this group has the lowest ability to make a direct impact on CX objectives. This segment may be a valuable source of input demonstrating how CX "plays" among employees. Example: The creative services manager is unlikely to be aligned directly with CX metrics.
These segments represent the potential role of the influencer through the lens of change management for customer obsession. The segmentation is specific to CX change management and not a value judgment.
Furthermore, while this tool applies science to the art of building coalitions, there are nuances to consider within every organization and with every individual. Title and reporting lines aren't the only criteria. In a subsequent post, we'll review four qualitative and quantitative factors that contribute to the weighting and segmentation of the "extended CX team."
To learn new methodologies for prioritizing and engaging internal stakeholders based on chief experience officer case studies and proven buying group strategies, register for our June 3 webinar, "Get Ready To Recruit Your Extended CX Team."