The Business Risks Of Climate Change (Infographic)
The business risks associated with global climate change are enormously complex and nearly infinite in quantity. Your firm's climate-related risks, however, are much more manageable (albeit complex and numerous, as well). No two organizations are exposed in exactly the same way.
Rising temperatures, sea-level rise, and more frequent and severe extreme weather events have already wreaked havoc on the growth and well-being of organizations and communities around the world. Since the 1980s, the number of annual weather-related loss events has tripled, and this trend is only worsening. The latest National Climate Assessment (the fourth) paints a grim picture for the future US economy if the world does not take significant action, immediately, to stem climate change: annual economic losses of $500 BILLION.[i]
Among a long list of contributing factors, the largest include the impacts on labor productivity, heat-induced mortality, and damage to coastal assets. The effects we're witnessing now and projecting in the near future, coupled with stakeholder pressure, make it clear that customer-obsessed business and technology leaders have one choice: "Adapt To Climate Change Or Face Extinction."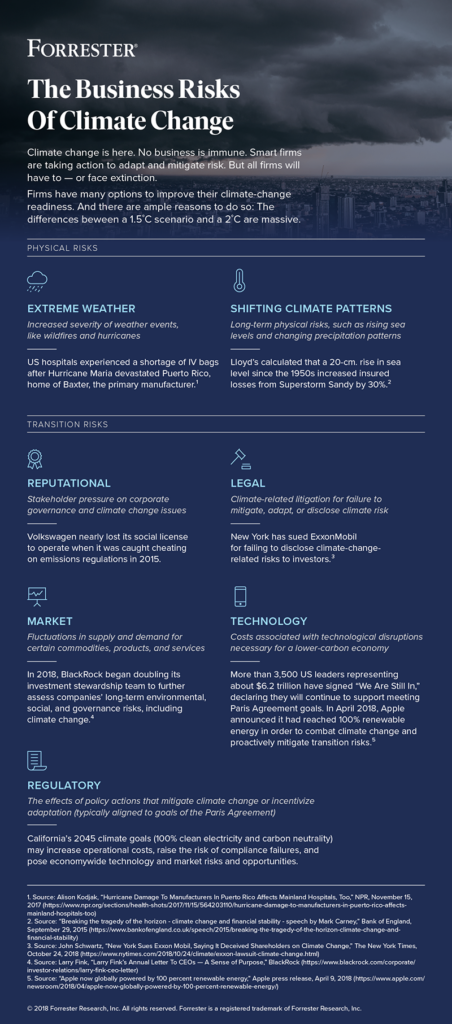 While your business' exposure to climate risks depends on its location and the complex ecosystem of its operations, adaptation to climate change requires a comprehensive understanding of your unique situation. Next month, we will launch new research to determine the maturity and business value of several technology categories that support climate action to help firms shape their investment approaches to these technologies. Stay tuned!
[i] Source: "Fourth National Climate Assessment," U.S. Global Change Research Program (https://nca2018.globalchange.gov/)