Conduct Better Research With Inclusive Screener Questions
This blog post was co-authored by Eleanor Theriault. 
By now, businesses should be well aware of the benefits of creating inclusive experiences. By practicing inclusive design, businesses can increase revenue, decrease costs, improve resilience, and build trust with customers and employees. But to do this successfully, companies need to incorporate inclusive design principles when creating experiences. Inclusive design begins with inclusive research, which begins with recruiting diverse participants. And to recruit respondents that truly represent a range of demographics and lived experiences, you have to write inclusive screener questions. But how? 
Best Practices For Inclusive Screener Questions
Four best practices emerged from the conversations we had with research vendors and research teams at companies:
Explain why you need demographic information and how you'll use it.

Survey participants appreciate knowing why you're asking for potentially sensitive information. Even just a couple of sentences can clarify your intentions. For instance, one Forrester client includes this language on its research screener: "We are asking this question to respectfully communicate with and better understand our customers. You can decline to answer it." 

Allow participants to self-identify and answer questions in their own words.

In a

survey

of 69 gender nonconforming individuals,

experience research platform

dscout found that most participants had encountered screener questions that only offered binary options for gender. Dscout also learned that most individuals prefer more empowering options like "Prefer to Self-Identify" or "Add Your Own," rather than "Other." What can you learn from dscout's research? Firstly, instead of prescriptive and limiting questions like "What is your gender?", ask, "Which of the following best describes you?" Secondly, give participants the choice to opt out by including options like "prefer not to say" and "prefer to self-identify."

Allow participants to select multiple options for race and ethnicity questions

. Many people identify as more than one race or ethnicity. Allow participants to select multiple options when responding. We recently workshopped several ways of asking about race and ethnicity and evaluated them with 36 respondents. The image below is a screenshot of the question wording that most respondents preferred because of its transparency and flexibility.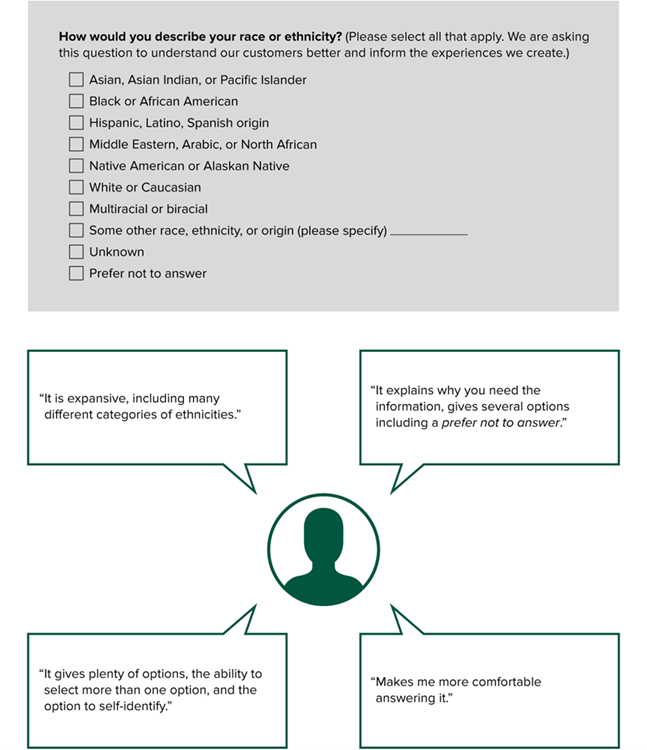 4. Make sure screener language matches your target population's identity language. If you plan to conduct a survey of a population you don't know much about, do research beforehand to identify gaps in your knowledge. AnswerLab, a UX research firm, learned that it needed to account for generational and heritage differences when creating screener questions for Black participants, as first-generation African American immigrant participants have very different experiences than Foundational Black Americans.
Want to learn more?
For more research on this topic, check out the following resources:
Our

report

that explains why language is vital to inclusive experiences

 

UserTesting's

guide

to designing inclusive screener questions, which provides guidance on how to account for multiple aspects of diversity

 

AnswerLab's

article

that contains actionable tips for improving your screener design

 
If you're a Forrester client and would like to discuss this topic further or have a conversation about building an inclusive research practice, set up a conversation with us here. You can also connect with us on LinkedIn.