Consumers Begin To Rekindle Their Energy Toward Brands
To measure precisely what kind of emotional toll COVID-19 is taking on consumers — and how current consumer sentiment will influence imminent behavior — we are applying Forrester's Consumer Energy Index, our data-driven framework that captures how ready and willing consumers are to reach out to brands.
Since early March, consumer energy has been diminishing; by mid-April, the dramatic drop in consumer energy slowed. Our latest data shows that the end of April marks a turning point where consumer energy begins a gradual rebound.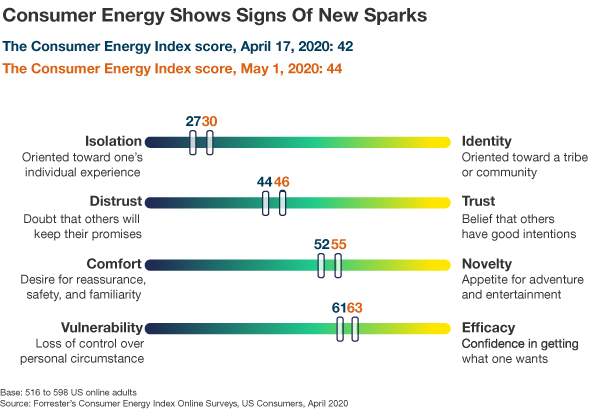 What The Data Means:
So far, consumer energy has only slightly increased, which means that behavior change has yet to follow. However, this data suggests a potential turning of the tide that we expect will gather momentum over the next six to eight weeks. At this moment:
Consumers begin looking at brands to reinforce their sense of community. Physical isolation has been driving consumers into emotional isolation — which in turn destroyed consumers' inclination to use brands as a signal of their identity. While the modest three-point increase along the first dimension of consumer energy indicates that consumers are beginning to emerge from their solitary corner, the overall low score means that consumers still have a long way to go before feeling tightly affiliated with the groups they care about.
Consumers cautiously prepare to dial up trust in organizations. Consistently low consumer trust levels reflect consumer skepticism toward brands' intentions. The two-point increase foreshadows a growing consumer willingness to believe that brands will follow through on their promises.
Consumers develop an appetite for novelty. Over the past two months, consumers experienced an emotional tug-of-war between wanting consistency — which makes people feel safe — and wanting variety — which provides a welcome diversion. The recent increase in energy around "novelty" signals a growing desire for new information and entertainment.
Consumers sense mild confidence in their ability to regain control. After consumers' sense of control weathered the biggest hit when the pandemic initially reached the US, "efficacy" scores have remained consistent. The slight rise reveals that consumers aren't feeling completely powerless over their situation.
What This Means For Brands:
Use this inflection point to connect with consumers. Leverage the data to inform:
Tone. Each pulse of consumer energy captures the emotional tenor of US online adults. The current, gradual rekindling of consumer energy means that empathetic brand messaging will help consumers move closer to "identity," "trust," "novelty," and "efficacy." Our data proves that the higher the consumer energy, the more optimistic consumers are about partnering with brands to get value.
Timing. During the pandemic, many brands traded promotional advertising for messages of reassurance. Plan to evolve messaging that drives the commercial relationship as consumers begin reaching for the resources that will help them emerge from pandemic life.
Questions, comments, or ideas? I look forward to sharing more data detail and discussing via inquiry.