Consumers Don't Always Want The Personalization That You're Delivering
Personalization sounds good in theory — who doesn't want a moment customized just for them? But the reality is that not all consumers or customers want personalization from brands at the same intensity across the customer lifecycle (see figure). Consumer-brand personalization is a lot like dating: People don't share everything about themselves early in the relationship. Unfortunately, what consumers say they want differs from what companies are actually delivering to people.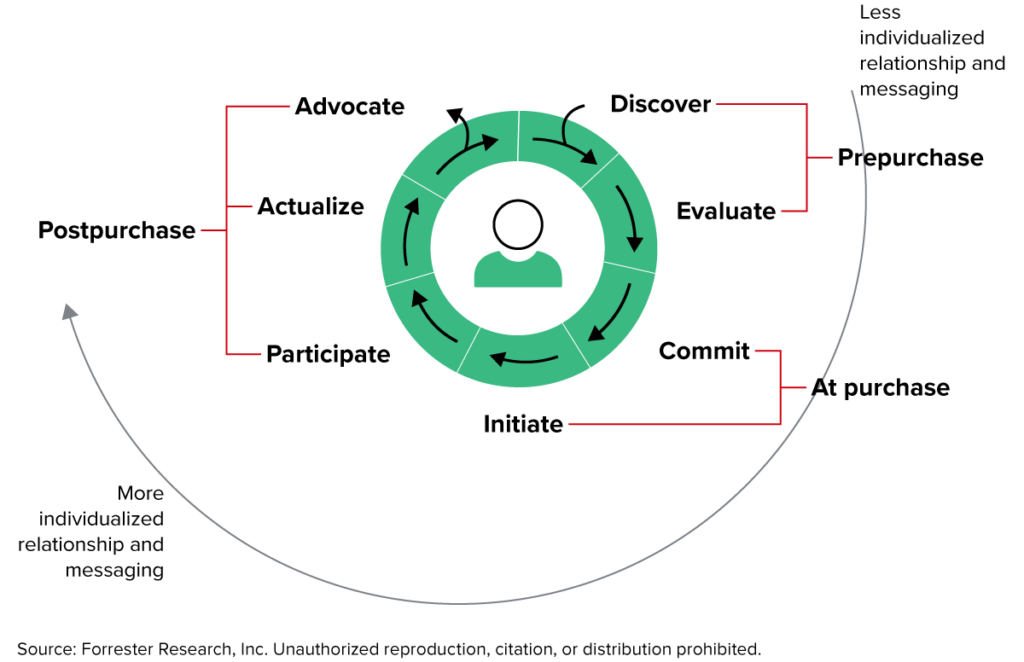 From consumers' perspective, data from Forrester's August 2022 Consumer Energy Index And Retail Pulse Survey reveals that consumers are more receptive to personalization in the post-purchase stages:
38% enjoy personalized experiences when they're initially discovering or researching a product/service.
43% enjoy personalized experiences when they're buying a product/service and then using it.
47% enjoy personalized experiences after they've bought a product/service.
But this is opposite of what companies are doing. New data from Forrester's Q1 2023 B2C Marketing CMO Pulse Survey shows that companies are hyper-focused on delivering personalized customer experiences in the pre-purchase and at-purchase stages:
66% when customers are looking for product/service information [Evaluate stage]
62% when customers are buying a product/service [Commit stage]
62% when customers are opening the product or setting up the service [Initiate stage]
Compared to 33% very early on [Discover stage] and 1–33% post-purchase [Participate, Actualize, and Advocate stages]
You need strategy, data, and technology (look out for a new report publishing in Q2 2023!) to execute consumer personalization. Understand what your consumers and customers want, map your entire customer journey, and pay particular attention to your post-purchase personalization approach — and not just to what you're doing in pre- and at-purchase. From there, determine what data you need (and ensure that you're considering data deprecation's impact on personalization efforts). Finally, select the right collection of technologies to support.
More questions on consumer personalization? Schedule an inquiry or guidance session to chat live with us!
Related Forrester Content