Consumer Personalization And Dating Have Much In Common
Maintaining positive brand-consumer relationships and personalizing consumer experiences takes work. In the end, you could be rewarded with long-term loyalty or you may be left with little to show for your efforts. In many ways, it's like dating. Cultivating relationships requires time and patience along the journey:
Pre-purchase (courting). People are wary when dates and brands are overzealous at the start; no one wants to be inundated with texts, emails, calls, and social media DMs. If companies were held to the same standards that new dates are, there would be a new wave of digital restraining orders. In this courting stage, people are discovering and evaluating their options. Dates and companies alike shouldn't get too personal (so as to not come across as creepy) when asking someone out or marketing a new product. Forrester data illuminates that consumers care less about relevancy pre-purchase: 54% of US online adults are not willing to share personal information to receive more relevant advertising from companies.
At-purchase (dating). A popular piece of dating advice is "Always listen more than you speak" — which also applies to companies that should be customer-led. This practice conveys interest and allows you to use what you've learned to win over that person. In this dating stage, if customers get comfortable with the brand, companies can deploy personalized moments as they collect more individual customer data. Learning customer preferences helps you offer the next best action, product, or offer.
Post-purchase (relationship). Anticipating partners' or customers' needs is important in long-term relationships. In this relationship stage, when people feel more comfortable and familiar, they are willing to give more info. Forty-two percent of US online adults said it is important that loyalty programs contain personalized experiences. Armed with this data, identify and deliver the right experience, to the right customer, at the right time — without them even asking.

"The goal is to create for the guests an overall impression of vagueness that can be very satisfying — where they get everything they want but they don't even know what they want, or what day it is, or where they are, or who we are, or what the f**k is going on."
— Armond, resort manager, "The White Lotus" (season 1, episode 1)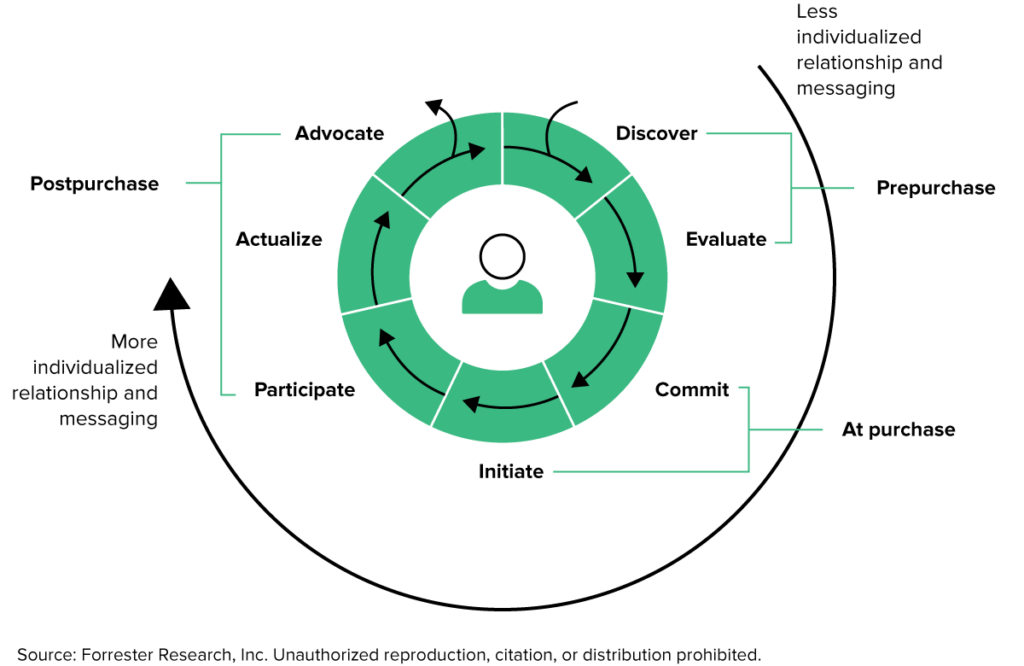 Ready to jump into the dating game? Start by reading our newly published consumer personalization research series to:
Understand consumer appetite for personalization. Read The State Of Consumer Personalization to see data on the paradox of personalization: Consumers both want it and despise it. It also examines how companies are deploying personalization tactics that don't align with consumer desires.
Develop a strategy and create a blueprint for personalization tactics across the customer lifecycle. Read A Strategy Guide To Consumer Personalization to identify the gamut of personalization tactics and different depths of execution.
Identify the data needed to fuel personalization tactics. Read A Data Primer For Consumer Personalization to categorize zero-, first-, second-, and third-party data and how to use it in personalization tactics.
Utilize technology to activate the engine driving personalization tactics. Read "A Technology Overview For Consumer Personalization" [publishing in 2023] to decipher personalization capabilities embedded across tech categories because personalization, in and of itself, is not a tech category.
More questions? Schedule an inquiry or guidance session to chat live with us.
Much gratitude to the talented research team that collaborated on this research series: James DeNeill, Emily Collins, Rusty Warner, Joe Stanhope, Stephanie Liu, Cole Walsh, Brendan Witcher, Chiara De Gasperin, Brandon Purcell, and Emily Pfeiffer.