Ethical Marketing Helps Brands Differentiate And Build Trust
Values-based consumers — people who vote with their wallets to support brands that align with their values — are on the rise, a trend accelerated by COVID-19. These consumers are making brands more aware of the importance of corporate social responsibility and sustainability. But, in Asia Pacific (APAC), too many firms' sustainability plans remain performative. In fact, we predict that in 2022, the number of firms in APAC to appoint a dedicated sustainability lead will be less than half the global average.
Still, brands should act and heed the call of values-based consumers by embracing ethical marketing practices. Done right, it can enhance customer trust and loyalty and bring long-term value to brands — but the factors of success are complex. My recently published report, Differentiate Your Brand With Ethical Marketing, answers the below key questions.
What Is Ethical Marketing?
Forrester defines ethical marketing as:
The process by which companies market their products and services by focusing not only on how their products benefit customers but also how they benefit socially responsible or environmental causes.
Why Should Brands Adopt Ethical Marketing?
There are two main reasons for this:
Values-based consumers demand ethical marketing. Today's empowered consumers have high expectations of the social and environmental stances of the companies and brands they engage with. Forrester's 2021 data shows that 73% of US, 72% of UK, and 84% of metropolitan Chinese Progressive Pioneers (the most empowered segment) support brands that commit to social justice causes; 79% of US, 83% of UK, and 85% of metro Chinese Progressive Pioneers believe that companies are responsible for protecting the environment. To address these increasing consumer demands, more and more brands are embracing ethical marketing.
Done right, ethical marketing brings long-term value and loyalty. There's a positive correlation between ethical marketing, the quality of consumer/brand relationships, and how consumers perceive product quality; together, they contribute to brand loyalty. Ethical marketing is a long-term play rather than a one-off effort or pursuit of the latest trends. Brands that express their values consistently in ethical marketing are more likely to reap the rewards: Forrester data shows that more than half of consumers prefer to buy from brands that stay true to their own values rather than reflect the latest trend.
How Should Brands Adopt Ethical Marketing?
Doing ethical marketing incorrectly can cause serious consumer backlash and have a severe impact on business performance, such as reducing sales. Consumers were outraged and betrayed when they discovered Innisfree's greenwashing marketing: Its bottle, prominently labeled, "Hello, I'm Paper Bottle," was actually a plastic bottle with a paper cover. Committing to ethical marketing is long-term journey that requires a consistent strategy and a clear implementation framework. Brands should embed their core values throughout all marketing practices. To begin on this ethical marketing journey, brands should:
Start with the ethical marketing mix that defines success or failure. Inspired by the four P's of marketing, the ethical marketing mix is composed of four elements: product responsibility, price transparency, place (channel) fairness, and promotion with honesty. For each element, there are best practices to follow and pitfalls to avoid when brands use the four tenets of ethical marketing to win consumers' hearts and wallets.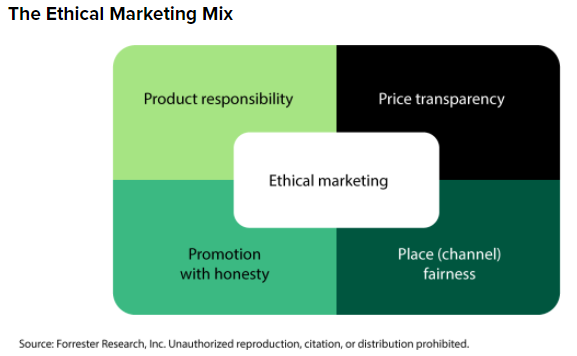 Adapt ethical marketing to various consumer demands. Consumers in different markets perceive values differently according to cultural background, social context, economic status, and degree of digital savvy. When building relationships with or purchasing from brands, they do prioritize common key values, such as respecting customer data privacy and promoting environmental protection. But we also see nationally distinct values: "Showing respect for my country" is particularly important to metropolitan Chinese online adults, whereas animal rights and protection are higher up the list in the UK. Addressing these key differences will make or break brands' ethical marketing practices.
Consider more factors in ethical marketing. Ethical marketing isn't clear-cut. It exists on a spectrum, and brands must make their own calls. These decisions are never simple, and not every ethical marketing decision will increase both customer and business value. Before choosing an ethical marketing strategy, brands must perform a cost/benefit analysis and consider factors such as compliance, aesthetics, and localization. Brands have to make difficult business decisions when their values conflict with regulatory requirements and localize their ethical marketing approaches by respecting consumers' aesthetics and cultural preferences.
To learn more insights, strategies, best practices, and pitfalls to avoid about ethical marketing, Forrester clients can read the full report. As always, if you have any follow-up questions, please do schedule an inquiry with me, and let's chat.
To understand the major dynamics that will impact Asia Pacific organizations next year, download Forrester's complimentary Predictions guide. To dive even deeper, check out our Predictions 2022 complimentary webinar series, and engage directly with the analysts who made the predictions.