Coming Soon: Everything You Want To Know About Consumer Personalization
"Sometimes a personalized experience is nice, but when it is done too often, it loses the 'special' aspect. If the personalized experience involves a discount or rebate, then I definitely want to know about it. If it involves something like a Coke bottle with my name on it, I really don't care. And I get very tired of emails or messages from companies trying to get me to buy something just because I looked up an item on the internet." — respondent from Forrester's ConsumerVoices Market Research Online Community (MROC), May 2022
This is the paradox of personalization: Consumers both want it and despise it. Companies find that trying to build personalized customer experiences is as varied and nuanced as the customers they are trying to personalize for. The term "personalization" is broad and often open for interpretation. It takes shape in many forms across the customer lifecycle and can occur in multiple moments. Some companies might simply insert a person's name into outbound content. Others go further and engender loyalty by understanding a customer's needs and interests and creating an individualized post-purchase experience.
For companies to successfully incorporate personalized moments into their customer experiences, they need: a strategy to plan, data to power it, and technology to execute it.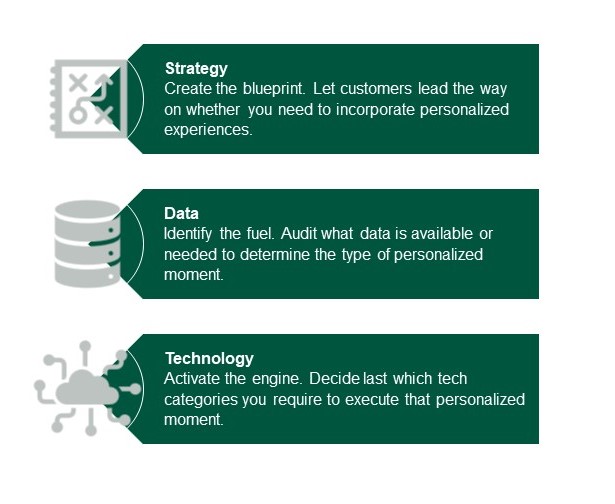 Enter: our new research stream on consumer personalization, set to publish in Q4 of 2022. This series of reports will include the following topics:
The state of consumer personalization. This data overview illuminates a disconnect between consumers' desires versus what companies are serving them. Consumers are reluctant to share personal information with companies but appreciate personalization later in the customer lifecycle. Unfortunately, companies are currently hyper-focused on personalization earlier in the customer lifecycle — when consumers least want it.
A strategy guide to consumer personalization. This report explains the gamut of personalization tactics that occur across the customer lifecycle and the different depths of personalization execution — from general segmentation to specific anticipatory experiences. It offers a framework for companies to incorporate personalization into customer experiences.
A data primer for consumer personalization. Marketers are torn between trying to adapt to data deprecation while also trying to incorporate more personalization into customer experiences. This report helps companies first understand the different data types: zero-, first-, second-, and third-party data. They can then tackle how to garner data legally, how to house data, and what data to use and when.
A technology overview for personalization [coming in 2023]. There is no personalization technology category. Rather, personalization is a capability baked into many tech categories. This report will break down the personalization capabilities needed to execute tactics across the customer lifecycle, from advertising to loyalty programs.
These reports will go live on my research page in the coming weeks and months. In the meantime, for more on marketing and martech, check out our B2C marketing coverage to help you navigate the seven biggest marketing priorities, and schedule an inquiry or guidance session to chat live with us.