Evolve Your Nearshore Contingency Plans In Response To War In Ukraine
For European CIOs, CTOs, and chief data officers (CDOs), the war in Ukraine and the sanctions imposed on Russian and Belarusian actors mean that you need to reexamine your nearshore strategy and evolve your contingency plans. Recent estimates indicate that more than a thousand European firms employ 2 million-plus people in Ukraine. Our recent conversations with clients about their plans reveal two groups. The first group has concluded that the conflict won't impact their nearshore activities significantly. The second group has already started looking into their contracts and activating their business contingency plans, including asking their service providers to relocate projects from Ukraine to other European locations.
The Impact On Nearshore Resources Depends On Which Provider You Work With
Here, Forrester has compiled a list of key service providers with substantial operations in Belarus, Russia, or Ukraine. This isn't an exhaustive list, but it's a useful starting point. If your firm has been working with one of these providers' teams based in Belarus, Russia, or Ukraine you'll face one of two scenarios: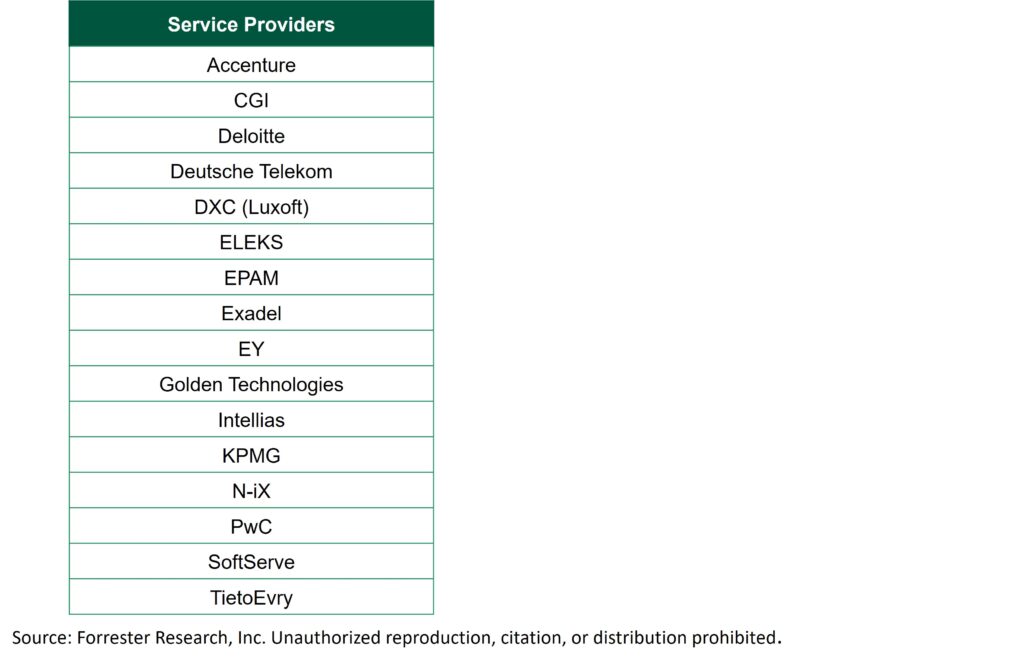 Large global services providers will recover operations in another center. You can expect global service providers (e.g., Accenture and PwC) to have comprehensive business continuity measures in place for all critical business processes. One such measure is to seamlessly recover, resume, and restore by relocating to one of their other centers in Eastern Europe or elsewhere.
Smaller regional providers may have less ability to quickly recover in another center. If you work with a smaller regional provider like N-iX or SoftServe, be prepared to put together a team (just as during the first days of the COVID-19 lockdowns) and craft a recovery plan involving an anywhere-work strategy.
Take These Steps Next, If You Haven't Already
In the immediate term:
Get specifics from your nearshore provider on how and where they'll recover. The situation in Ukraine will change quickly, and you may need to ask the provider to move your services to centers further from the conflict, such as in Ireland or Portugal.
Dedicate a project sponsor on your internal team. You need someone knowledgeable and with authority to oversee the execution of the necessary steps in the business continuity plan.
Revisit the underlying communication and information-sharing protocol. As in any business continuity plan, make sure you have adequate primary and backup communication methods and clear RACI (responsible, accountable, consulted, and informed) charts so that you don't get "stuck" waiting for input from a stakeholder you can't reach. For more broadly applicable guidance on business resiliency, Forrester clients should read this report.