Forr The Planet: Sustainability Interview Series — Cisco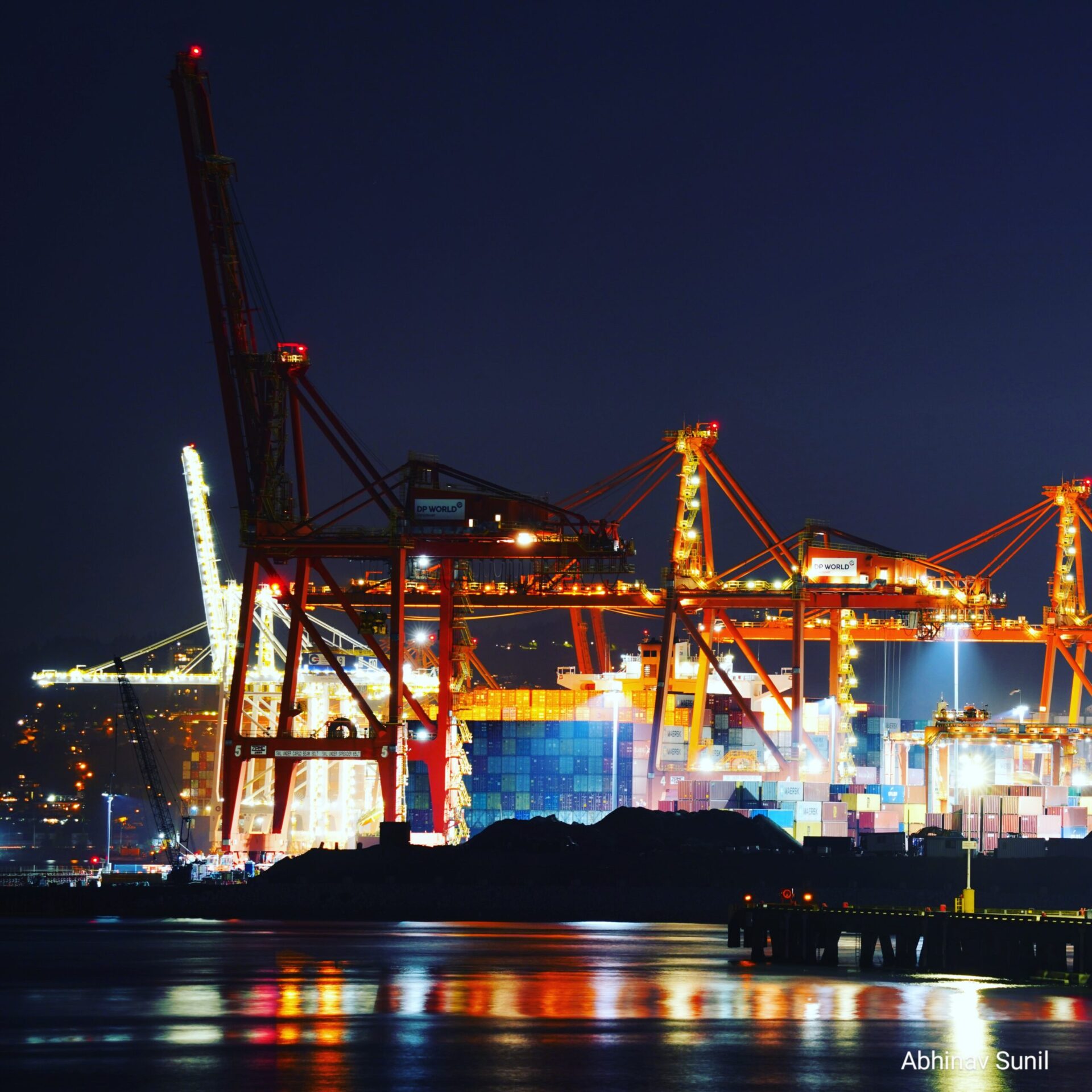 The telecommunications sector is at a crucial juncture in its sustainability story. Many organizations are finding their ground in setting the right targets, penetrating the supply chain, and addressing their customers' questions on sustainability.
We spoke with R. Scott Herren, Cisco's executive vice president and chief financial officer, and Francine (Fran) Katsoudas, executive vice president and chief people, policy, and purpose officer, on Cisco's $100 million fund to address climate innovation, how mandatory reporting can be a crucial step in climate change, how an innovation-led culture brings out the best in people, and how the hardest questions about sustainability come from the inside of an organization. Most of all, we discuss how the climate crisis is our generation's problem — and responsibility — to solve.
Abhijit: What is the role of the telecommunications industry in sustainability, and what is the role that an organization like Cisco has to play in sustainability?
Fran: In 2020, Cisco as a company identified our new purpose, which is to "power an inclusive future for all." The timing of that is fascinating now as we look back, because it really guided us through a challenging 14-month period and continues to guide us today. When we put that purpose together, it was our way of taking accountability for the larger impact we want to have on the world.
Something that is amazing now is that companies like Cisco are recognizing the impact that we want to have on climate change. Employees, too, want to work for a company where they are proud of the work that is going on. From a telecommunications perspective, if we are not intentional about how we use our power and influence, the digital divide is going to get bigger and bigger. It is our belief that we must convene all our partners together, because we know that there is not a single company that can solve these issues alone. We know that as a large global company and significant energy user, we have a responsibility to reduce and decrease our greenhouse gas (GHG) emissions from our operations and our products. We have committed to reducing Scope 1 and Scope 2 GHG emissions by 60% (compared to FY07 base year) by fiscal year 2022. We are thrilled that we are most of the way there. We are also making significant strides toward our target of sourcing 85% of our global electricity from renewable sources by 2022. We are currently at 83% renewables globally and have achieved 100% renewable energy in the US and several other countries across Europe. We will continue to push toward our goal by purchasing low-carbon electricity and, even further, using renewable energy generated locally.
Scott: There is an inexorable link between the pandemic that we have been living through and between sustainability, climate change, and social justice — which is that the most impacted are the people who have the least economic advantage in the world. They have borne the brunt of all three of these issues. Since these problems are interlinked, the solutions need to be interlinked. And one of the key things the telecommunications industry can do is help provide bandwidth and access to the internet. It is almost unfathomable to live today without digital access. I think there is a common role all industries can play in this space.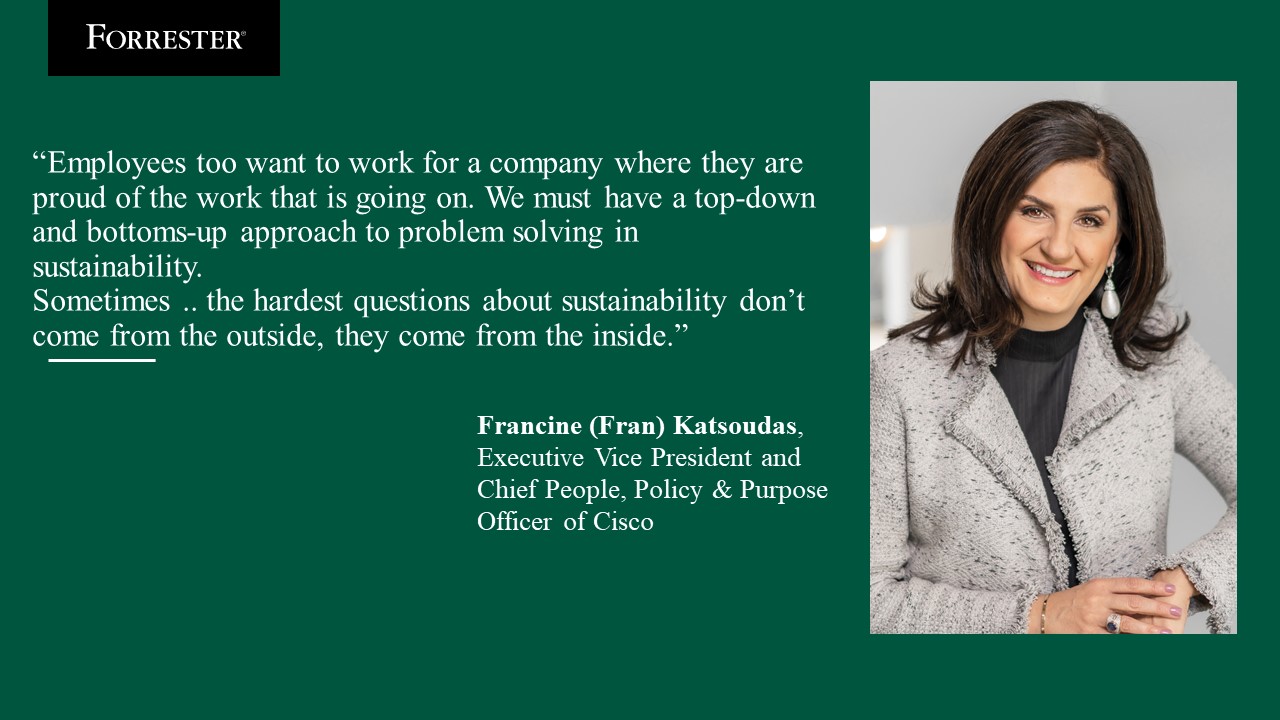 Abhijit: Interesting. We touched on the digital divide and access to internet, both of which are very important topics. What other key roles can telecommunications and networking organizations have in environmental sustainability?
Scott: I fundamentally believe that climate change and sustainability is our generation's problem to solve. For Cisco and the telecom industry in general, it starts with looking at our supply chain and ensuring that we are doing the right things across the board. We are designing products with the circular economy in mind and not just a mindset of pumping it out the door and hoping it gets recycled at the end of the day. What we want is for products to contain as many reused parts as possible to lend themselves to be upgraded, repaired, and ultimately be reused in the next generation of parts. We've put a lot of effort, including into the supply chain, to designing for a true circular economy. We have made commitments, for example, to reducing our use of virgin plastics. There's obviously plastic encasing around some of our products. So we are moving toward using more post-consumer recycled, or PCR, plastics and offsetting the amount of virgin plastics.
And once the product comes out of the supply chain and goes into use, we put a lot of effort into designing products to be very energy-efficient. We are currently designing our own chipset that goes inside of our products that are super-efficient. The Cisco Silicon One chipset is not only about 35% higher in bandwidth, but when it is incorporated in our latest 8000 Series big data center routers, we've reduced from what was 10 pallets worth of gear that weighed about 2,000 pounds to the size of a pizza box that weighs about 30 pounds and reduced the energy consumption on an annual basis by 96% (compared to its predecessor). So it all starts with way we produce products, and it further goes into the way we design for sustainability after it leaves our doors.
Abhijit: That is a good perspective on what you are doing with your entire value chain. Are there any specific products or solution areas that you are investing more in? Can you share your sustainability commitments as part of some of these solutions and products?
Scott: First, we talked about the Cisco Silicon One chipset that significantly has not just higher bandwidth but is denser, and therefore it has substantially lower energy consumption both in the throughput and in cooling requirements. Encapsulated in our 8000 Series routers, our target market is the largest data center and public cloud providers. This new chip will have less than 4% of the power consumption of its predecessor, with 35% higher bandwidth. The design of the Silicon One chip, the design of the 8000 Series router, the way that it fits into our customers' network — those are all examples of specific product designs that we have done.
Secondly, as we mentioned earlier, we are in the process of reducing virgin plastic use by 20% by 2025 (compared to FY18 base year). We already achieved the goal of avoiding 1 million metric tons of supply chain greenhouse gas emissions by fiscal year 2020 (compared to an FY12 base year).
Third, the Cisco Foundation recently announced a $100 million commitment over the next 10 years to fund technologies that are specifically focused on reducing carbon output, capturing carbon that's already been released into the atmosphere, and the community education processes required to have everyone be part of the solution, as opposed to not understanding it well enough to be able to be part of the answer.
Fran: When I talk to the engineers working on our Silicon One portfolio, they are so proud and cognizant of the fact that our customers also have similar sustainability goals as us and thus need to use less energy throughout the process. So there is something about creating innovation that brings out the best in our people, and it is a challenge they want to step up to. We always had a lot of purpose and mission orientation in what we do, but when you add this layer around the environment, the climate crisis, and our part in it, it acts as a bigger motivation for our engineers, which is wonderful.
Abhijit: On that point about customers, are you seeing more customers being aware about specifics in products and solutions now? Are you seeing an increased traction now more than before?
Scott: We almost never get an RFP that does not have questions embedded in it focused on where we are on our sustainability commitments and our disclosures around ESG [environmental, social, and governance]. It is a topic that, frankly, Cisco has a long history of being out in front of. Our corporate social responsibility report runs to over 100 pages and has a significant amount of disclosure. As CFO, I am a big proponent of mandatory sustainability and even broader ESG disclosures through a regulatory body like the SEC [the US Securities and Exchange Commission]. As I said, this is our generation's problem to solve, and one of the ways to solve it is by exposing — not on a voluntary basis but on a mandatory basis — how every company is performing on these metrics. Once you do that, there is no doubt in my mind that investment will be driven to companies that are doing the best job on ESG topics. It is not easy, and there is a lot of detailed work to be done to make that happen, but it's something I've gone on the record on as being a strong proponent.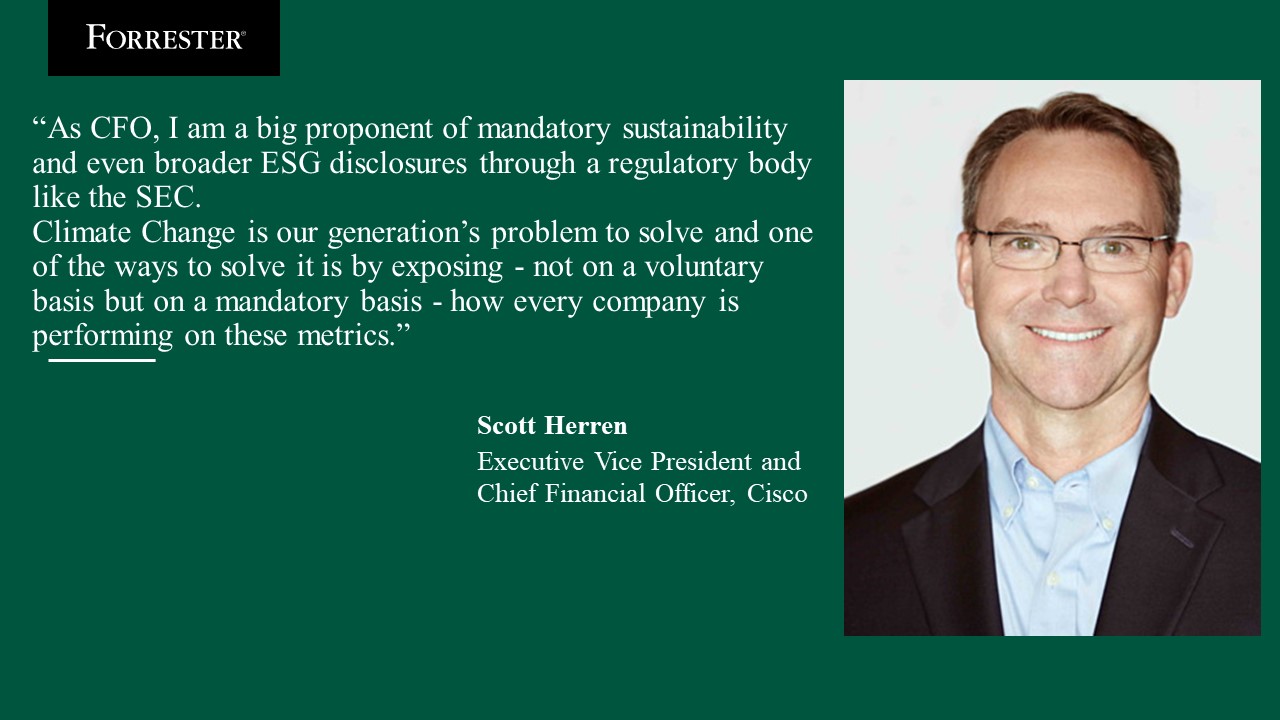 Glenn O'Donnell: I'm very happy that this is a topic that's come to the forefront and that companies are taking an altruistic approach to this, and that's good. But as a public company, you also have a fiduciary responsibility, and there's a cost of doing this. Have you been able to, as a company, look at this from an ROI perspective and say "This is costing us some money, but we're able to have an X% increase in revenue because we're doing this"?
Scott: It is very clear to me that the things we do around a circular economy; the management of our operations and our supply chain to drive down Scope 1, 2, and 3 GHG emissions; and the efficiency improvements of our products once they get into the field all drive sales. Looking back, it's really hard for us to tell which of these we wouldn't have gotten. So it's a little bit difficult to do that in the precise way a CFO must think. But there is no doubt in my mind that it pays off in higher sales, that it pays off in greater interest from sustainably focused investors, and that it pays off in customers who give us the nod over our competitors. And that competitive advantage is not just from the things that we've done and the products our customers are consuming but also because of the overall ethos of the company and our focus on sustainability and doing the right thing. There is probably an incremental cost that goes with this that's difficult to quantify, but there's no question there's a huge amount of benefit with it, too.
Abhijit: In fact, we've been asked this question repeatedly by Forrester clients, specifically on how to put together a tangible model around the ROI of sustainability. We recently published a model using Forrester's Total Economic Impact™ (TEI) model to assess an organization's returns on sustainability investments.
Abhijit: With over 75,000-plus Cisco employees, how are they helping your sustainability goals, and correspondingly, how are you ensuring that the corporate-level goals reach each employee and each line of business?
Fran: As you rightly point out, we must have a top-down and bottom-up approach to problem-solving in this area. From a Cisco perspective, we are lucky because we've been working on both approaches together. Our employees very eagerly engage on this topic, and we bring, in some cases, a little bit of structure to help that process so that we can get to maximum scale as an organization. Sometimes I joke that the hardest questions about sustainability don't come from the outside — they come from the inside. And as we go into more of a war for talent, what we find is that candidates have their own checklist of ESG issues, and they want to know where we stand on those issues. So from an overall talent perspective, there's tremendous interest.
There are a few initiatives we have done that brought forth some big results for our company. Tied to Earth Day, we usually run a two-month program called Earth Aware, where employees can bring their best suggestions forward, and this leads to a collection of a lot of great ideas across the globe. It was our employees years ago who first started asking "Why do we still have paper cups?" And we started to push all of the cafeterias around the company to get rid of paper cups. We're still on that journey, but I love the fact that this came from our employees.
We have a program, the Cisco Global Problem Solver Challenge, where we take the best ideas outside of Cisco and fund them. We see people doing amazing things, leveraging technology in many cases that solve the world's biggest issues, and we have our employees helping to vote on breakthrough innovations that we think are going to be the most significant.
Abhijit: Thank you for all these perspectives. I think our clients will love hearing this from you. Being at Cisco, you are at a critical place to advocate for sustainability, so we thank you for bringing sustainability into the spotlight.
Fran and Scott: Thank you for this discussion on this very important topic.
*****
This interview was conducted by Forrester Analyst Abhijit Sunil in association with VP and Research Director Glenn O'Donnell and Researcher Renee Taylor. To learn more about Forrester's research on sustainability, reach out to asunil@forrester.com or retaylor@forrester.com.