The Forrester Banking Wave™: Global Mobile Apps Summary, 2018 — BBVA Offers World-Class Mobile Banking Services
Digital banks are not eating the incumbent banks' lunch (yet!), but they're certainly demonstrating voracious appetite. In the UK, Monzo recently hit the one-million-customer mark, while Revolut has almost tripled its customers to 2.8 million in a year. Lifestyle app Alipay, the digital wallet and payments solution operated by Ant Financial, now has 700 million active users in China. These digital banks are using mobile technologies and making clever use of data to offer deeply engaging mobile banking experiences, focusing on simplicity and offering a higher level of personalization. They're also building marketplaces to make it easy for digitally savvy customers to pick and choose products from other fintech providers.
These banks are certainly raising the bar on mobile banking, forcing traditional banks across the globe to up their game. Mobile apps have become the touchpoint of choice for millions of people to manage their finances. With expectations consistently rising, digital banking teams need to continuously iterate their mobile apps to ensure that mobile banking experiences are built around customer needs and empower customers to manage their finances while providing on-demand support.
To find out how effectively banks are meeting customers' expectations, we reviewed the mobile apps of 42 banks worldwide for both functionality and user experience in February and March 2018. We have published the results by country in six separate Forrester Industry Wave™ reports.* And we've recently summarized what we've found in the following report: "The Forrester Banking Wave™: Global Mobile Apps Summary, 2018."
For the second year in a row, BBVA took the top spot overall in our review of mobile banking apps by striking a superb balance between useful functionality and excellent user experience. In 2018, eight other banks stood out as global mobile banking leaders with excellent apps: Garanti, Commonwealth Bank of Australia, USAA, ICICI Bank, mBank, CaixaBank, China Merchants Bank, and Barclays.
We've also published a companion report, "Best Practices In Global Mobile Banking Functionality," which helps digital banking strategy executives understand what mobile features are being offered today, identify best practices, and find new ways to improve their own mobile services.
Mobile banking leaders understand that to outperform competitors, they need to focus on customer outcomes and develop better ways to make customer journeys as easy as possible. Our research shows that strong leaders keep on improving payment functionality, with a robust focus on the user experience. They're also reducing complexity by letting customers use natural language to either search a past transaction or quickly find the features or content they need to achieve their goals. BBVA and USAA outshine their peers with best-in-class financial advice tools, helping customers get a better understanding of their financial situation and offering actionable recommendations to help improve their financial well-being over time. Leading banks also let customers apply for products entirely on mobile, offering clear guidance and helping them find the product that suits them best.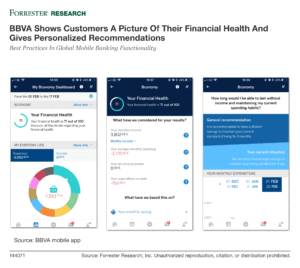 Digital banks listen to their customers, they're clever with data, and they work hard on making it easy for customers to manage their financial lives. It's not a small feat, but that's what your customers are demanding. To keep on delivering great mobile experiences that drive engagement and meet customers' ever-rising expectations, banks urgently need to shift to the next gear. Or they'll have to start sharing much more than just their lunch! A bolt-on approach will no longer suffice. Banks must nurture a test-and-learn culture to consistently optimize services and adopt Agile processes to focus on rapid prototyping and quick release cycles.
[Note: It takes a village to perform these reviews. Thanks to my colleagues for their substantial contribution to this research: Benjamin Ensor, Peter Wannemacher, August du Pont, Zhi Ying Ng, Arnav Gupta, Han Bao, Seles Sebastin, Sukriti Dangi, Gina Bhawalkar, Amit Bhatia, Riccardo Pasto, and Alex Causey.]
* See the Forrester report "The Forrester Banking Wave™: Australian Mobile Apps, Q2 2018," see the Forrester report "The Forrester Banking Wave™: Canadian Mobile Apps, Q2 2018," see the Forrester report "The Forrester Banking Wave™: China Mobile Apps, Q2 2018," see the Forrester report "The Forrester Banking Wave™: European Mobile Apps, Q2 2018," see the Forrester report "The Forrester Banking Wave™: Indian Mobile Apps, Q2 2018," and see the Forrester report "The Forrester Banking Wave™: US Mobile Apps, Q2 2018."
Categories