Future Of Retail: How Social Communities Will Impact Brands And Retailers In 2019
To help retailers and brands plan for 2019, Researcher Claudia Tajima and I interviewed experts within Forrester for our series: "Applying 2019 Predictions To Retail." Last week, we spoke to Jennifer Belissent about how business intelligence trends will affect retailers this year. This week, our final interview was with Jessica Liu, senior analyst on Forrester's B2C marketing team, on her team's 2019 B2C marketing predictions report. Here's what Jessica thinks retailers and brands can expect and should focus on regarding social communities and social media for the rest of 2019.
Claudia Tajima: One of your 2019 predictions indicates that in the wake of social media privacy scandals, consumers will want better-quality social media. In turn, marketers will focus their efforts on engaging with existing social followers and brand.com communities rather than allocating time and resources to social advertising. How should retailers/brands think about social communities now?
Jessica Liu: Social communities embedded on brand.com websites will become more prominent for retailers and brands. Note: These differ from branded communities that live on social networks like Facebook. Communities are primarily involved in the "use" and "ask" stages (see figure) of the customer life cycle. Consumers rely on peers to boost usage of products and services, and they also seek support from others when they need to troubleshoot. A few examples of retailers and brands already engaging with customers using social communities are Sephora Beauty Talk, Fitbit, Microsoft, and TurboTax. Social communities can be brand-led or organically built.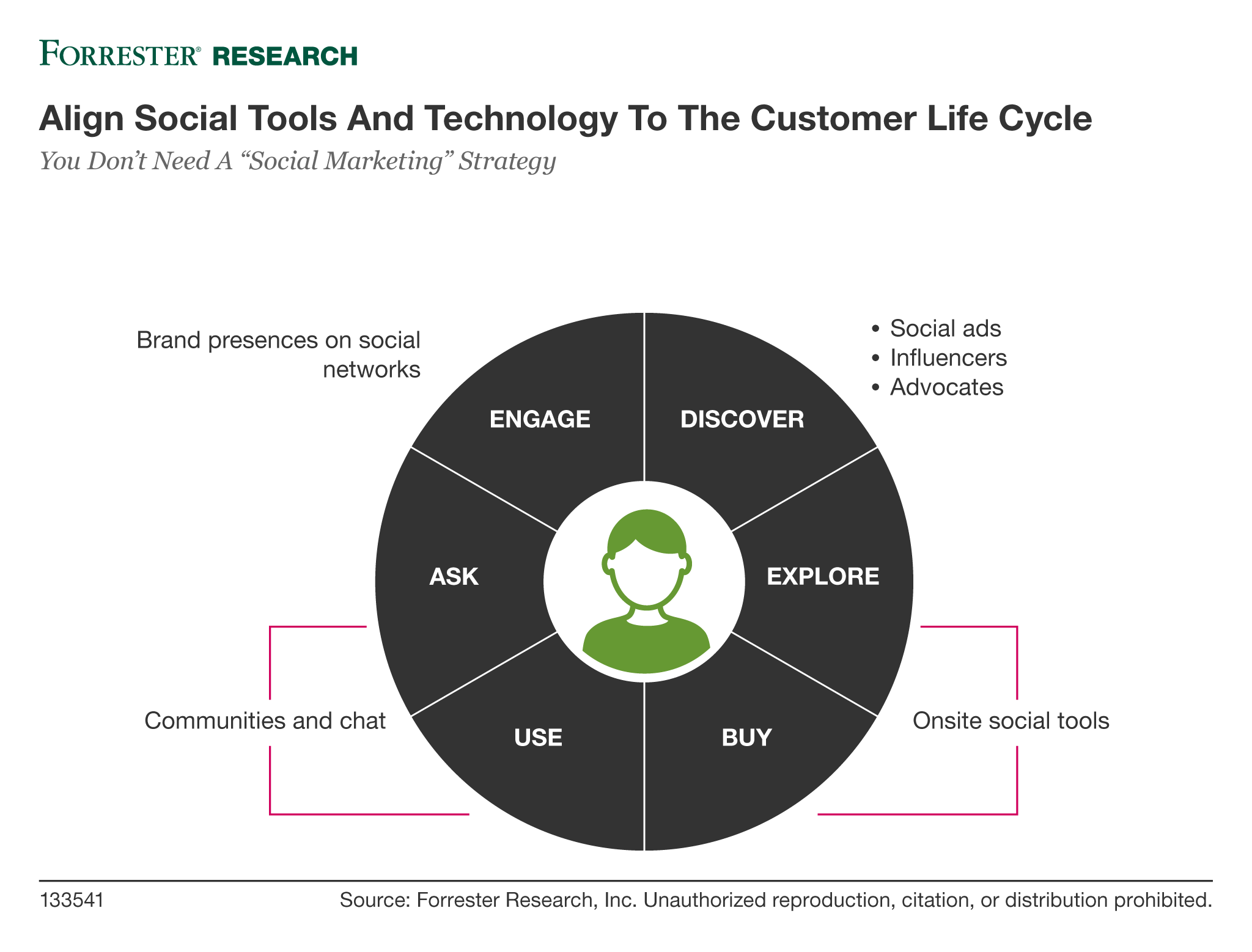 Claudia: Can you walk me through examples of how consumers use social media across the six stages of the customer life cycle?
Jessica: First, a consumer might discover a brand, product, or service on social media through an Instagram ad or a customer or influencer's tweet. Then a consumer explores the brand, product, or service more deeply by looking at ratings and reviews on a product page and hopefully is convinced enough to buy something. For example, Lennox International, a home heating and cooling company, shows ratings and reviews for both its products and premier dealers.
For the use stage, using social media to enhance a product or service is less common, but Spotify is a good example: Spotify users can share playlists through social media to enhance the music experience. In the ask stage of the customer life cycle, customers may tweet at the company about a problem, such as the sole of a shoe wearing out quickly. The customer may also turn to the community to see if this is happening to other customers and use live chat to connect with others. This is an example of a customer using a brand.com community to fix a problem instead of contacting customer service.
In the engage stage, if a customer had a great experience with a brand, he or she might follow the brand on Instagram, Snapchat, etc. and learn about what new products are coming out. This naturally brings us back to the discover stage of the customer life cycle — and the cycle renews.
Claudia: Why do you predict that customers will become more inclined to lean into communities, and what do brands have to gain by investing in this area?
Jessica: Customers benefit from tapping into a customer knowledge base and being able to converse with peers. Peloton is a great example of a company leveraging communities to help customers access these benefits. With brand.com social communities specifically, retailers can own and control customer data compared to their limited abilities on external social networks. That said, some brands choose to host their communities on Facebook or Reddit. Whichever social community path brands may choose, they are a helpful way to foster customer loyalty and retention.
For more information on where the retail industry is headed and how to prepare your business, join us for our complimentary webinar events: Future Of Retail Three-Part Series.