Get AI Right With AI Service Providers
AI can deliver value, but getting it right is a challenge. We've seen AI deployed successfully, like the program that discovered 20,000 undeclared pools, and less successfully, like the computer-generated rapper that was dropped by its record label over racist stereotypes. To apply AI successfully, you not only need to get the data and modeling right, but you also need to understand the regulatory landscape and consider the ethics involved. Technology and data leaders need a partner on this business and technology journey, and that's where AI service providers and their experience can help. Forrester defines AI service providers as:
Organizations that engage with technology and data leaders to apply AI to strategic and operational business transformation initiatives across the enterprise or within areas of the business to drive competitive advantage. They bring a holistic approach to client engagements across strategy, people, process, data, and technology and combine management and technology consulting to drive high-impact business outcomes.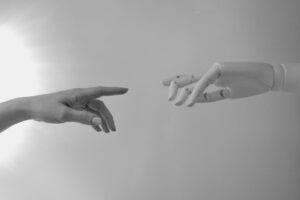 AI services providers bring a variety of approaches to achieve their client's AI business objectives — from short-term staff augmentation to full-scale strategy, design, and implementation. Forrester's Data And Analytics Survey, 2022, reveals that 73% of data and analytics technology decision-makers say their organization has adopted AI and 46% of data and analytics decision-makers whose firm has implemented or plans to implement AI indicate that they will partner with service providers to access AI capabilities. Clients engage with AI service providers to:
Accelerate time-to-value and scale the impact of strategic AI applications. Stakeholders have different priorities for AI. CEOs expect to increase revenue with AI, and technical leaders may expect to automate internal processes and reduce costs. AI service providers offer proven frameworks, protocols, and intellectual property to address different priorities and deliver impact at the speed of business.
Upskill the entire enterprise to be AI-native. Finding and retaining AI talent is a challenge, and the "great resignation" and "great reshuffle" haven't helped. AI service providers are ready to establish and/or augment the organization's AI workforce while providing needed training to grow AI competencies from employees to the C-suite.
Mitigate AI project risk. Finding stories about AI disasters in the news isn't difficult — for example, there are reports of unintended bias found in mortgage approval algorithms and facial recognition software. When deploying AI, business leaders have legitimate concerns about unintended, potentially unethical outcomes; rapidly changing regulations; and difficulties maintaining oversight and governance of machine decisions and actions. AI service providers bring AI governance expertise and frameworks to help enterprises avoid potential AI pitfalls around privacy, security, regulatory, and business risk.
Kick in the business flywheel. Preparing your enterprise for the future is difficult when the future is uncertain. AI-driven intelligence helps enterprises be future fit by indicating the course of action to achieve the best outcome against forces of change and disruption. AI service providers help business leaders get the most out of their AI capabilities to be adaptive and resilient in the face of an uncertain future.
So where does the AI service provider journey begin? To realize the benefits of AI service providers, you'll first have to select from a diverse set of vendors. The AI Service Providers Landscape, Q3 2022 evaluates 39 vendors with AI offerings from management consulting to software application development services. We also let you know the capabilities you should look for in a service provider given the business scenarios most important to your enterprise: customer experience improvement, business transformation consulting, digital transformation enablement, edge computing and IoT enablement, and supply chain improvement.
Categories