Get The Ball Rolling On Mainframe DevOps
Mainframes Aren't Going Away Anytime Soon
Given the rapid rise of cloud computing, one might mistakenly assume that the mainframe is dead or dying, but in fact, the majority of mainframe users say that they are actually expanding their mainframe footprint. Why? Certain workloads — or, more specifically, the scale of certain workloads — can't be easily addressed. There is a long list of use cases that just can't be addressed well with distributed computing technologies or commodity infrastructure solutions.
But that doesn't mean that mainframes and their surrounding processes remain static and unchanged. Enterprises no longer passively accept archaic development practices, even on core systems. Businesses are demanding that mainframe workloads match the rapid innovation of cloud and other distributed development environments. To achieve this, enterprises are turning to agile-plus-DevOps practices for mainframe environments. Initiating that scale of change in mainframe can be an uphill battle against entrenched processes, preconceived notions about the technology itself, and the up-front cost of change.
Successful mainframe DevOps adoption efforts overcome these obstacles by following a similar pattern. They start by building a foundational vision, they align changes to overall business value, and they proactively prepare both organizationally and technologically to support the new DevOps practices. Each step gives the next step momentum and emphasizes that it is continual work — not a project with a start and end date.
Keeping the ball rolling requires tuning change management processes so that they are not roadblocks to DevOps success. Through my many conversations with enterprise mainframe shops undergoing these transformations, I've captured common plans, best practices, and advice. My latest report gives enterprises advice on how to get the ball rolling for mainframe DevOps with seven steps.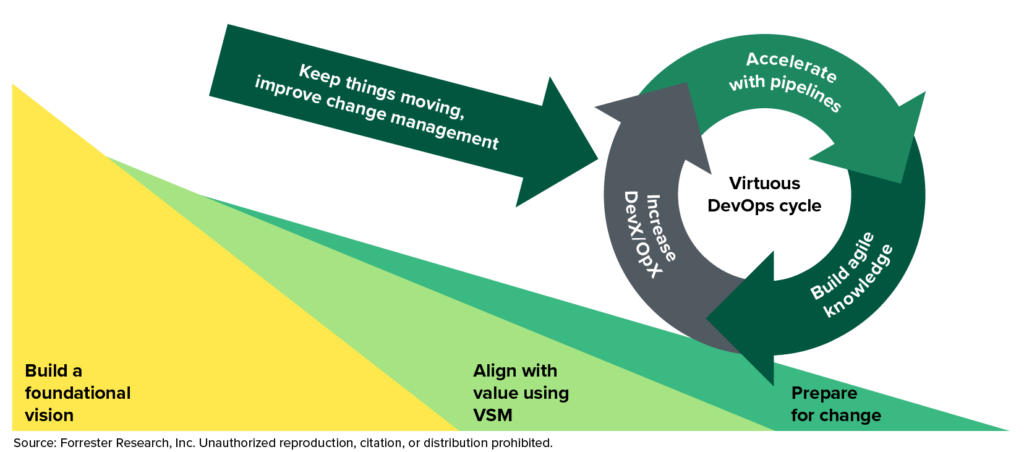 Want To Know More?
To learn more about how to kick-start your mainframe DevOps practice, see my recent report: Seven Steps To Jump-Start Your Mainframe DevOps Journey. Or schedule an inquiry or guidance session to learn how you can plot a mainframe DevOps journey specific to your organization.