Getting What You Want (and Need) From Third-Party Content
Publication, industry analyst or other third-party content can add objectivity and depth to your content arsenal, but you need to make sure you're getting what you pay for
Visualize your preferred end product, and make sure it's something the third party will support
In addition, ensure you're getting the best possible resource who knows the industry and market
The Rolling Stones' Mick Jagger famously sang, "You can't always get what you want, but if you try sometimes, you just might find, you get what you need." That's a great tune, but I like to make sure I get what I want and what I need when I pay big bucks for third-party co-branded content.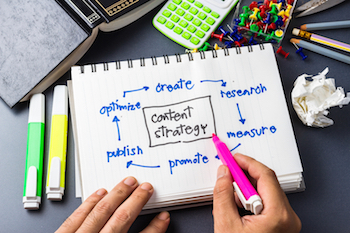 If you've been involved in sourcing content for B2B marketing, you've likely had more than one bad experience with content purchased from third parties. From poor research to a lack of understanding of your market to just plain bad writing, it seems that even the highest-regarded third-party publishing or analyst brands can disappoint. And yet, these same brands can provide some of the best primary content – like research studies that can lead to a year's worth of derivative assets that garner great awareness and demand creation results. So how can you be sure you're on a path to the latter rather than the former? Here are some tips from my years of experience with both ends of the spectrum:
Start at the end, and don't forget the details. Sometimes PR practitioners take a shot at writing their dream Wall Street Journal headline before crafting the news release itself as a way to envision their preferred end point. This is a great approach for content, too. While your creative brief will outline the content and audience for the piece, take the time to be precise and specific. For example, if you're paying for a research survey for customers and prospects, propose a clear hypothesis that the survey results must prove or disprove. Make sure you can get value no matter what the results. This means questions must be carefully constructed, and unless you're working with primary researchers from an educational institution or a consulting firm, don't assume all third-party brands offering survey-based assets know how to do this. You'll need to engage with your sharpest subject matter experts to ponder question logic and review the third party's work. Nothing is worse than funding a survey that results in a report that undermines your value proposition.
Make sure they "get" what you do. Regardless of the third-party brand, exercise caution in assuming it will provide content that demonstrates an understanding of your market. This is especially critical if you're working with general business publications or analyst firms with a broad business focus. Confer with your influencer relations team to get access to the best sources. As you research possible choices, request examples of similar work they've done for your competitors and in your industry, and similar asset types. They should be aware of what's currently happening in your industry, and prepared to use its lexicon. For example, if you're a provider of business intelligence software, you don't want to receive the first draft of a paid third-party report only to find out that the publisher firmly believes "business intelligence" is your proprietary term and, to retain editorial objectivity, won't use it in the report to define the market space. So much for your SEO strategy!
Check the fine print…and the finer print. Typically, if you've agreed to co-brand the asset, the third-party provider will retain some level of editorial objectivity and final sign-off. In fact, you want that – it's a big part of the value of co-branding the program with a third party your target audience respects. But let's not kid ourselves: You're funding the content, and the provider's taking your money – you do drive the agenda. That's why thinking and talking through all permutations of the final product in advance is so important: to ensure what outcomes the provider will or won't support given its editorial guidelines. Understand the approval process as well – you should have final sign-off, in accordance with your agreement to follow the provider's editorial guidelines.
Find out if you're getting the "A" team. So you sign with a top business publication with a custom content department, and you think, "Wow, surely all writers at this publication are fabulous!" Not necessarily – these departments leverage the publisher's brand prestige to provide the value-add of custom content to advertisers and others. It's a great model that makes good sense – one provider for content and distribution. But make no mistake – it's a different business and a different team. Not only might their writing be less than journalist quality, but these content creators also may not know the business and market the way the publication's journalists do. Make sure you meet with the assigned writer and review his or her past work. If you don't feel the writer will serve your needs, ask for a different one. And, request review of the content being produced for you by those journalists at the publication who you know cover your industry.
There's more you can do to ensure you get the most out of your third-party content. Stay tuned for my next blog on this topic, in which I'll cover how to come up with exciting content themes, how to ensure you don't choose a "me too" topic, and how to get value-added content in your third-party research programs.