Hannover Messe 2022: Smaller But More Focused
For the first time since 2019, exhibitors and visitors returned to the Hannover showground this month for the Hannover Messe industrial trade fair. It was great to be back.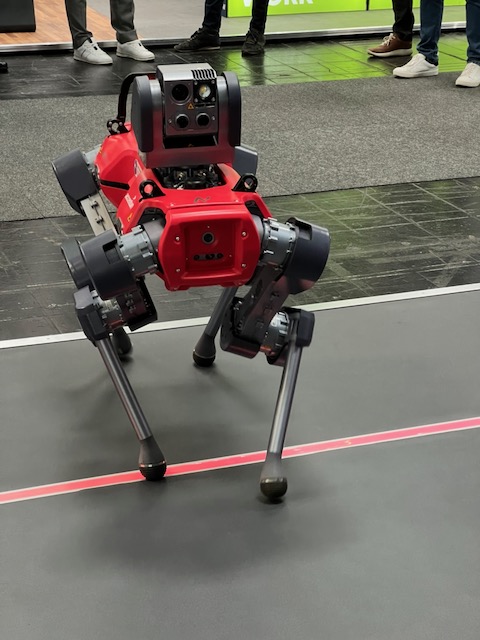 According to the organisers, the 2019 show attracted more than 215,000 visitors. This year was much smaller — about 75,000 — and you could tell. More of the showground's halls weren't used than in previous years, others were sparsely populated (Festo's weird robotic balloon practically got a hall to itself), and even in the busiest there was room to breathe. But this was good. It felt (and several exhibitors confirmed my impression) that visitors were more intentional: The people who were there had a clear plan, specific people to meet, and particular vendors to quiz. The casual strollers, attending Messe just to escape the office for a day, were largely absent and mostly unmissed.
Hannover Messe's big themes for 2022 were digital transformation and sustainability. The first is certainly not new, but the second has often been pushed to the back of conversations about industrial transformation. For too long, it's been easy to explain that industrial manufacturing is both essential and polluting, plant a few trees as penance, then carry on as before. That's no longer good enough, and manufacturers around the world are taking note: everyone in Hannover seemed to have something to say on the topic, although some had more tangible solutions to offer than others. Carbon-neutral steel from Sweden shows that we can begin to reshape even the most energy- and carbon-hungry industrial processes. IoT, ML, digital twins, and process mining combine to measure and manage current energy consumption at a growing number of manufacturers, helping them rethink operations to reduce waste. With energy prices so high, even the least environmentally-conscious manufacturers recognise the value of taking some simple steps to reduce their energy bill: It may be the difference between profitable operation and going out of business.
The big change I noticed was that everything on display (except Festo's balloon, of course) felt more real. A colleague complained that the "cool" stuff was harder to find this year and that she had liked playing ping-pong against a robot at a previous show. She's right, but it's not a bad thing for the exhibitor pitches to be more grounded in practical and pragmatic reality. In meeting room after meeting room, I heard far more about scaling deployments and engaging frontline workers and far less about bleeding-edge innovation and one-off lighthouse demonstrators. It's about time!
It's easy to get caught up in the latest hardware and software innovations, and we need them, but manufacturers must be able to deploy this stuff across tens or hundreds of factories and have reasonable confidence that things will work in those harsh, complex, and fast-moving environments. An amazing tool that must be coddled and coaxed to deliver a useful day's work isn't going to last long in the real world.
And the venue itself was a reminder of some of those real-world limitations. We talked about digitally enabled services, robots, automation, Industry 4.0, the metaverse, and then we walked to a food truck or a cloakroom where the only means of payment was cold hard cash. Actual money. In 2022. I can't remember the last time I carried or used notes or coins! In a speech at the event, the CEO of a large German manufacturer joked about the lack of mobile phone signal at one of his company's most modern plants. We still have a long way to go just to get some of the basics right.
Hannover Messe's back to its usual April slot next year, and I plan to be there. This year reminded me why it's definitely worth the time. It also reminded me that I will need to find some of that cash stuff and that I should try to keep part of my schedule meeting-free so that I can actually see more of the show floor than I managed in four days moving from meeting room to meeting room this year.
(Image of a robotic dog on the Cognite stand at HM22. Photo: Paul Miller)