How Data-Literate Are You? Build A Curriculum Of ACES
How data-literate are you? Is your team? Is your organization — that is, everyone in it? It's not enough to create and distribute reports and dashboards if decision makers don't know how to interpret them or apply them to their business contexts. What is a book if you don't know how to read? Or, as Thomas Edison said, "The value of an idea lies in the using of it."
A new Forrester report, "Build A Data Literacy Curriculum Of ACES," helps organizations start to build a curriculum to develop data literacy across their organizations — not only businesses but also schools, associations, nonprofits, and governments. The universal need for data literacy is indisputable, as everyone is affected by decisions and processes that will increasingly be influenced by data insights and artificial intelligence.
In the resolution passed last week, the European Parliament recognizes the vast potential for AI, the importance of data in its development, and the need to include society as a whole. According to the resolution, the European Parliament:
. . . believes that digital literacy is one of the most important factors for future AI development and urges the Commission and the Member States to develop and pursue digital skills training and retraining strategies; notes that digital literacy can support wide and inclusive participation in data economy solutions and facilitate communication and cooperation with all stakeholders.
And yet, as Martha Bennett pointed out in her recent report, "Data Literacy: What Is It, And Why Do Executive Teams Need To Care?," digital literacy and data literacy are not the same thing. Employees might live their lives on their smartphones or know how to navigate new applications like the Old Navy merchandising manager profiled in The New York Times article, Her Job Requires 7 Apps. She Works Retail.
However, using digital tools does not mean they know how to recognize, evaluate, interpret, communicate, and apply data in the context of business priorities and outcomes. It doesn't mean they are data-literate. And, as we've argued, "Data Literacy Matters: The Writing's On The Wall."
A comprehensive data literacy program must advance four basic program goals:
Awareness — the recognition of data, its value to the business, and the need to protect it.
Comprehension — the ability to understand insights in order to apply them to the business.
Expertise — the need for continuous insights training to maintain cutting-edge skills.
Scale — the sharing of skills and best practices across the entire organization.
Including everyone means starting with the very basics. For a story of why awareness is the first step, check out Sodexo's story in It's Not All Roses (Or Popcorn): Data Literacy Starts With Recognizing Data.
Do you have a similar story? How are you training your employees? If you'd like help with your data literacy journey, please set up an inquiry or schedule a data literacy workshop.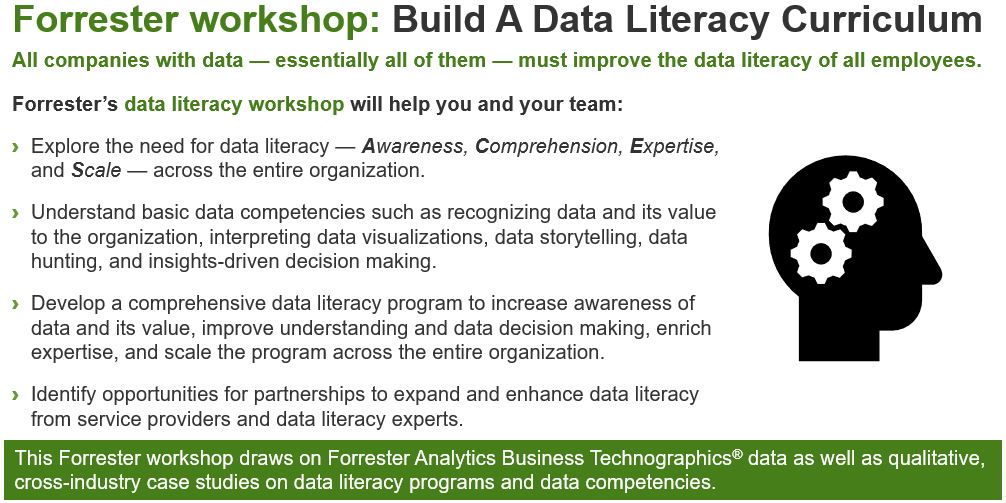 Categories