How Did I Score On My Channel Outlook For 2020?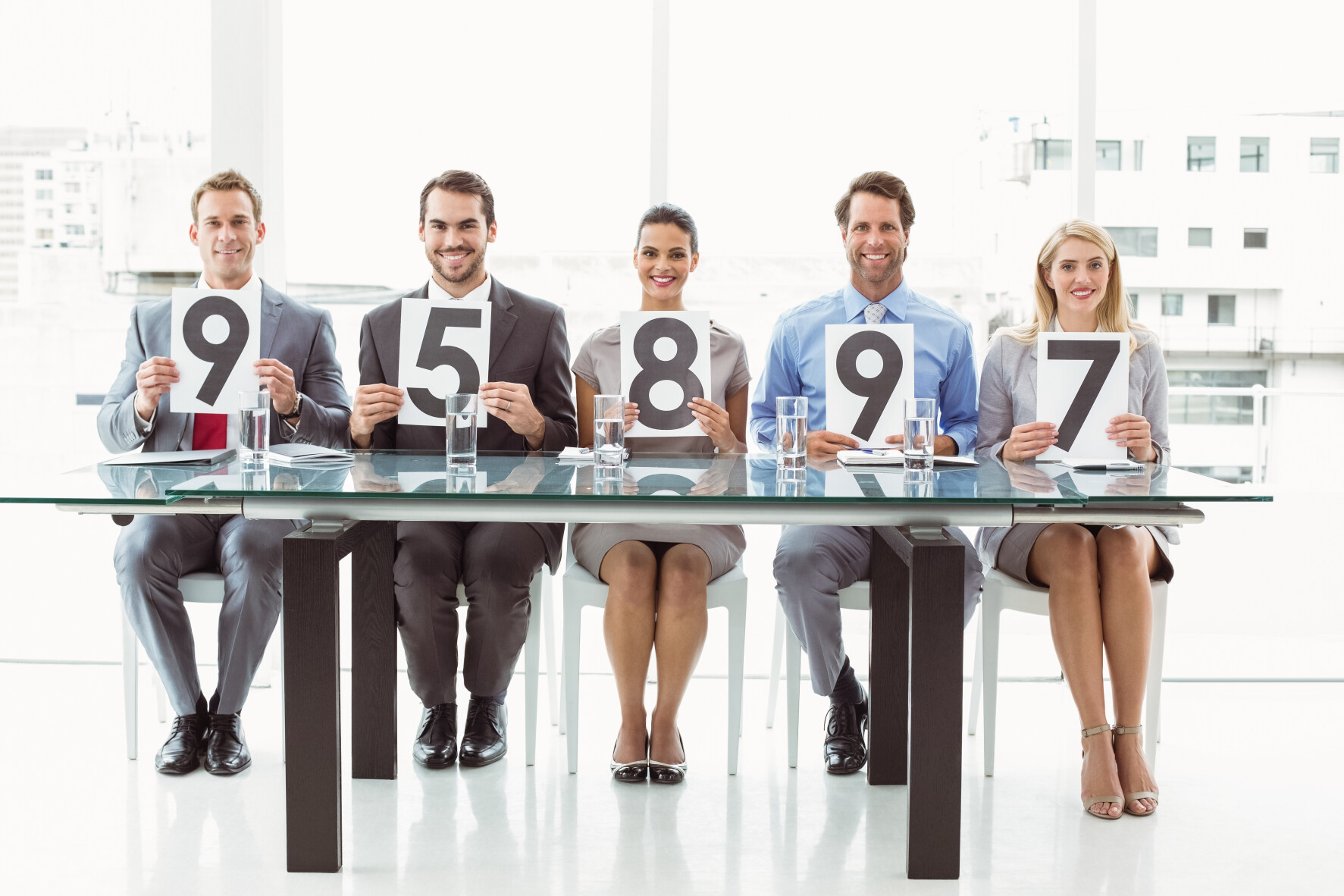 Coming off of a year like 2020 makes analysts and futurists reluctant to make any kind of predictions going forward! When I published my What I See Coming For The Channel In 2020 blog post a year ago, I totally missed the pandemic, social unrest and pandemonium, and even murder hornets somewhere in the middle.
That being said, many of the calls that I did make not only became true but accelerated due to COVID-19.
The channel was recognized by governments and businesses, and rightly so, as an "essential service" globally pivoted in a matter of days to build a remote topology on behalf of their customers.
Scraping up every last piece of laptop inventory on the planet and enabling users with unified-communications-as-a-service functionality to carry on their jobs without a hitch will always be viewed as a major success story of the channel. The remote topology also required a new defense against rapidly changing security threat vectors, new levels of risk mitigation and compliance, rethinking of business continuity, and support for a "residential network" of consumer-grade equipment and networks getting access to enterprise-class data and systems.
The picture as we enter 2021 isn't all rosy, however. Customer demand (especially medium, midmarket, public sector, and enterprise) later in the year shifted quickly to automation, cloud acceleration, customer/employee experience, and e-commerce/marketplaces, where many parts of the technology channel were left in the cold.
OK, let's score last year's outlook:
Indirect Sales Will Shrink Every Year For The Next Decade
Result: TRUE
COVID-19 created a tale of two cities for channel partners, with traditional computer and telco infrastructure down by double digits, as was technology consulting and systems integration work. On the other side of the ledger, the infrastructure-as-a-service market was up considerably, with Microsoft Azure reporting 48% and 47% growth for the two quarters inside of the pandemic. Google Cloud reported 45% growth, and many of the software-as-a-service (SaaS) companies such as Marketo, NetSuite, Salesforce, ServiceNow, and Workday were showing solid 30%-plus gains. In the end, managed services was about flat, and the broader channel only resold between 20–30% of the fast-growing categories, compared to 70–80% of the declining categories. This will continue into 2021 and beyond.
Marketplaces Make Their Mark
Result: TRUE (with an exclamation mark)
According to McKinsey, using Forrester data, e-commerce grew more in the first three months of COVID-19 than the last 10 years combined. Almost one-third of the US economy was flowing via e-commerce by the third quarter, and marketplaces were responsible for the majority of the growth. We were predicting that 17% of the $13 trillion in B2B spend will flow to marketplaces by 2023 and are now thinking we will hit that much sooner — perhaps this year.
Channel Leaders Contemplate A Trifurcated Channel Model
Result: TRUE
One of the lasting effects of 2020 for the channel will be the changing programs we saw announced throughout the year. Late in the summer, we saw Chuck Robbins announce that Cisco would pursue a 100% subscription/consumption business — accelerated due to COVID-19. A few weeks later, Michael Dell announced the same thing for Dell Technologies — and all seven companies within its family of businesses — pushing $92 billion into a recurring business. Later in the year, IBM jettisoned its storied services business to focus on multicloud, hybrid cloud, and, yes, becoming 100% subscription/consumption. HPE, which has been on the journey for three years with GreenLake, announced that it will be fully there by 2022 — next year! Needless to say, we monitored (and helped) dozens of large vendors announce their trifurcated "build, sell, and service" programs catering to transacting AND nontransacting partners as well as traditional AND nontraditional.
Channel Professionals Become Ecosystem Professionals
Result: In Progress
In an Accenture survey, 76% of business leaders agree that current business models will be unrecognizable in the next five years — ecosystems will be the main change agent. I personally was involved in a few hundred inquiries (30-minute meetings) with channel professionals who were asking about ecosystem design, recruitment, mapping, management, measurement, enablement programs, and collaboration. The discussions were not about revenue-tiered models and gross-to-net margins but of driving value creation, leveraging network effects, and incubating co-innovation. This is absolutely happening, but I was too aggressive on timing — it is going to take years.
Emerging Tech Is No Longer Emerging — It Is Here
Result: In Progress
At Forrester, we are closely watching the 800,000 emerging technology companies in addition to the rapidly growing SaaS and software startup scene. Mapping the different buyer types (12-plus), subindustries (297-plus), geographies (197-plus), sector/size/segments (14-plus), and product categories (26-plus) into a massive heat map shows 35 million market opportunities for companies to innovate in.
The SKU- or product-based economy that we have been in for 39 years is quickly giving way to an embedded, white-labeled future.
These building blocks of technology (think AI, automation, blockchain, etc.) are not products unto themselves but key layers of a solution that are being procured, provisioned, and integrated differently — hence, why 76% of CEOs in every industry think ecosystems are their key to survival and why every company is becoming a tech company.
New Channel Tech Companies Emerge In The Ecosystem Space
Result: TRUE (with an exclamation mark)
The channel software tech stack from 2020 included 18 companies that I put into a new "ecosystem management" bucket. These companies drove $93 million in pure software sales last year, according to my research. As I finish the 2021 channel software tech stack, there are at least a dozen more companies innovating in this area, and I am starting to see patterns (or subcategories) form in terms of the value they deliver to customers. This includes recruitment (at nonlinear scale), attribution (moving from consumer marketing attribution into B2B influencer), account mapping (innovative double-blind data "escrow"-type services), enablement/collaboration, tech/API integrations, and ecosystem management.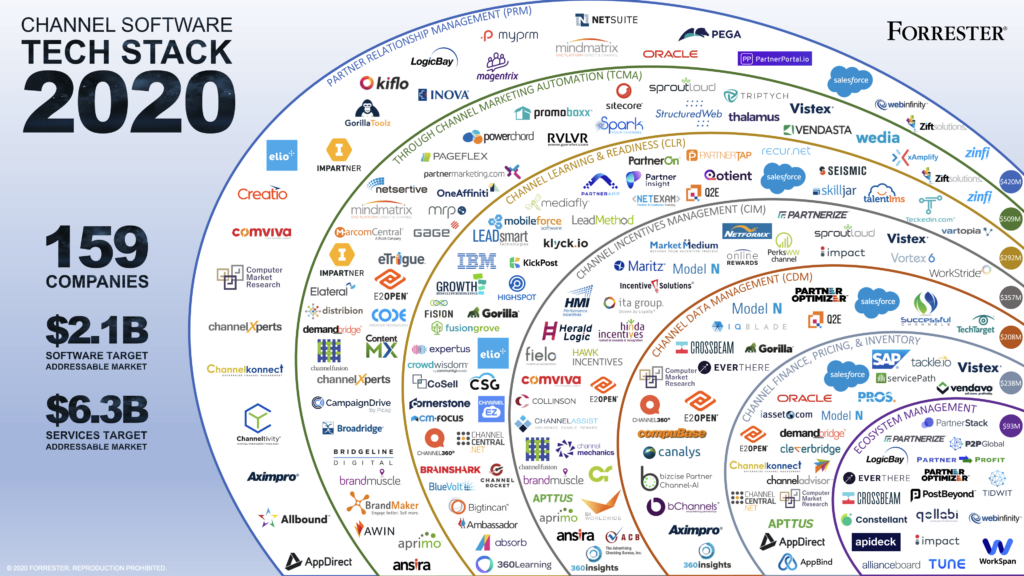 Partner Experience (PX) Will Catch Up To Customer Experience (CX)
Result: FALSE
We all know that channels are in transition — partners, vendors, and distributors alike. As vendors pivoted for the pandemic (offering partners support, credit, and concessions), the acceleration of PX became one of the casualties of COVID-19. Thinking about partner experience in the context of other massive changes in the industry, such as the move to ecosystems, rise of marketplaces, introduction of trifurcated programs, and rush to subscription/consumption models, it doesn't appear to be on the front burner for the industry at this time. Case in point, the move to subscription/consumption and product-led growth models doesn't benefit the channel — it actually forces them to transform faster than what they may be comfortable with.
Channel Account Managers Turn Into Community Managers
Result: FALSE
At Forrester, we recognize 10,000 vendors that run reasonably mature channel programs. One of my personal frustrations is with vendors that continue to build these comprehensive 100-element programs, elaborate channel marketing, and deep channel account manager talent and then deliver it ALL through their own domain. We know what partners read (54 magazines, 64 podcasts, etc.), we know where they go (150 events), we know who influences them, and until vendors can get out of their own way and start participating in external communities (associations, peer/social groups, media, events, podcasts, distributors, and other vendor groups), they will be coming up short. Late in 2020, we were reminded of this when Datto went public. Here is a company founded in 2007 (literally, in their parents' basement) and used 100% managed-service-provider community marketing to build the firm to a valuation of over $4 billion. It is rarely the best technology product that wins at the end of the day, and why more companies don't take this less-expensive route will continue to baffle me.
Superconnectors Pave The Way To Channel Recruitment
Result: TRUE
For those companies broadening their partner channel into an ecosystem, 2020 was the realization that old-school methods of recruitment don't work anymore. The proverbial "fish bowl" for collecting business cards at an event was thrown a curveball when all events became digital because of COVID-19. In addition, the measured ROI from digital events was proving to be orders of magnitude lower than physical events for vendors. As Malcolm Gladwell wrote in The Tipping Point (21 years ago!), the "law of a few" still guides us in the channel today. Superconnectors are the (digital) gateway to earning trust and endorsements in front of new types of partners, and the process of finding and leveraging them came into more focus last year.
The Chief Revenue Officer (CRO) Takes The Channel Reins
Result: FALSE
This is the prediction I may have gotten dead wrong (for last year as well as the future). Combining some thinking from above, the importance that 76% of CEOs place on the ecosystem for the future success of their companies and the permutations of moving parts (both revenue-related and not) mean it makes more sense that the head of channel ecosystems directly reports to the CEO. Managing these transacting and nontransacting, as well as traditional and nontraditional, partners will take a level of orchestration across people, processes, programs, and technology that will exceed the skills of most channel chiefs and CROs today.
In an embedded future, customers will become partners and partners will become customers — the delineation of partner types will continue to be difficult.
One area I will be watching closely in 2021 is the growth of the revenue management category — and which executive buys/owns it. Salesforce made a major announcement with Revenue Cloud in November that combines its PRM, CPQ, e-commerce, and billing technologies together — unifying all routes, including direct, partner sales, commerce, and specialized industry sales (distribution). Other firms such as Model N and E2open have been driving these technologies for several years. This may bifurcate the organization, as the CRO owns the revenue management function (supported by these tools) and the ecosystem orchestrator is driving the influence, retention, technology, embedded, supply chain, customer, and other partnerships that become the connective tissue driving success of the CRO.
So here we are. In what was one of the most challenging years for many of us — both personally and professionally — the channel experienced more change than in the past 39 years combined. When IBM was approving regional dealerships for its first PC on August 12, 1981, I don't think anyone imagined that three-quarters of CEOs in every industry, geography, and segment would be thinking that the future survival/success of their companies would be reliant on these third parties.
Stay tuned for my views on what I see coming for the channel in 2021, coming soon!
Further Channel-Related Reading
What I See Coming For The Channel In 2020
Channel Software Tech Stack 2020
The 64 Best Channel Podcasts Of 2019
Channel Marketers Need To Become Community Marketers — Here's How
Marketplaces Make Their Mark In The Channel
The Decade Of The Channel Ecosystem Accelerates With Massive Software Consolidation
Through-Channel Marketing Represents The Third Stage For Sales And Marketing Leaders
Channel Data Is A Competitive Differentiator
Measure What Matters: Unlocking The Power Of Partner Ecosystems Demands Powerful Measurement
Time To Rethink Channel Incentives And Program Management (CIPM)?
Channel Automation Becomes Table Stakes For Partnership Success
Can You Deliver A Great Partner Experience Without Great Onboarding?
Do Channel Vendors Need Public Relations Anymore?
Channel Reimagines Physical Events, Looking To Reopen Slowly
Categories