What I See Coming For The Channel In 2020
ALERT: What I See Coming For The Channel 2021 is now published!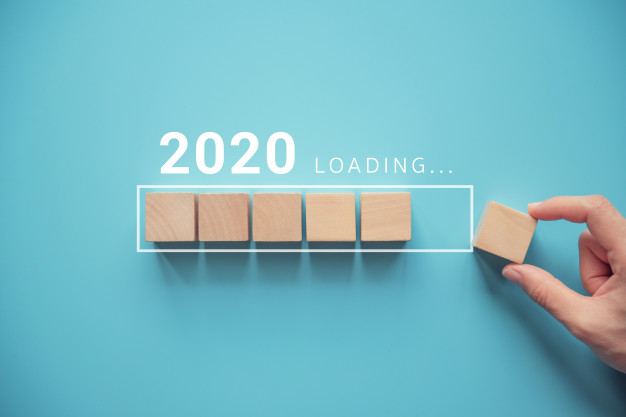 Preparing for this year's list of future channel trends has been an immersive experience, to say the least.
In 2019, I was able to talk to 497 companies one on one about their channel strategy and programs, including 130 of those face to face. I received 78 briefings from the technology companies that are inventing new ways to automate and scale indirect sales. I also had the honor of speaking (over 40 times) to tens of thousands of channel professionals globally and participating in countless webinars and podcasts. Finally, I was able to share channel data and insight 129 times across the 54 global channel magazines.
Added to this, we acquired the amazing SiriusDecisions company a couple of days into 2019 and added it to the collective wisdom of 675,000 consumers and business leaders around the world that we collect through rigorous and objective surveys.
To sum 2020 up in simple terms, we are seeing a monumental shift in how buyers acquire products and services and how companies are reacting with their go-to-market and routes-to-market strategies. Over 80% of my time is spent in the technology industry, where 64% of all dollars flow indirectly. That is US$2.26 trillion (with a T), if you are keeping score.
2020 Trends
1. Indirect Sales Will Shrink Every Year For The Next Decade
We are watching several buyer trends in this area. First and foremost, 73% of B2B buyers report that buying through eCommerce, web direct, or marketplaces is very convenient. Consumer trends, such as direct to consumer, are starting to shift into business. Brands are developing the capability to sell and fulfill directly to consumers, and this will extend to their B2B buyers, as well.
The cloud and emerging technologies such as AI, automation, and the internet of things (IoT) are growing quickly and carry lower indirect percentages than some of the legacy technologies they are replacing. For example, after 20 years, software-as-a-service is still stubbornly sitting below the 30% mark for indirect sales with no signs of change. Salesforce is recruiting 250,000 new partners in the next four years and has effectively shut down its reseller program.
The $2.26 trillion of indirect technology spend will continue to grow, but grow more slowly than direct sales causing the 64% split to drop each year for the next decade.
2. Marketplaces Make Their Mark
Forrester is predicting that 17% of the $13 trillion in B2B spend will flow to marketplaces by 2023. While some of these marketplaces are indirect (e.g., Amazon or Alibaba), most of them will be run by big tech vendors (e.g., Microsoft, AWS, Google, Dell, Salesforce, or IBM).
I foresee 20 "super" marketplaces taking a sizable share of this marketplace revenue and creating a whole new set of tech jobs (such as marketplace SEO, community managers, and ecosystem strategists).
3. Channel Leaders Contemplate A Trifurcated Channel Model 
For 38 years, the channel has been synonymous with resellers and transacting partners. Programs have been anchored on precious metal (gold/silver/bronze) pyramid schemes, and the partner journey has been predictably linear from recruitment to onboarding, incentives, co-marketing, and management. In 2019, we saw Microsoft announce that 7,500 new partners were joining the program each month. What it didn't announce is that 80% of those partners are nontransacting.
What is a trifurcated channel?
–> With buyers spending 68% of their journey digitally before speaking with a salesperson (direct or partner) and an astounding 71% of them reaching vendor selection after a digital-only journey, brands are wising up to the importance of getting in front of customers early and often. Creating an "influencer channel" made up of affinity partners, referral agents, affiliates, advocates, ambassadors, and alliances is critical to success in 2020, and the program will need to serve these early digital influencers in a nonlinear fashion.
–> The traditional "transactional channel" doesn't go away. In fact, those partners that have spent years on the "long-tail" list may actually find a home somewhere else in the program that has, up till now, only pushed them to resell. Tweaking channel data management, automation, insights, onboarding, incentives, co-selling, and co-marketing will determine winners and losers here.
–> Because almost every company in every industry is thinking about or actively converting to a recurring, subscription-based model, a new "retention channel" is starting to take hold. Knowing that the customer journey never ends in a subscription scenario and that brands will need to re-earn a customer's business every 30 days, partners that can drive adoption, ongoing customer experience, and the ability to upsell and cross-sell become critically important. These partners appear as consultants, integrators, adjacent ISVs, accountants, digital agencies, etc.
The prediction from a few years ago about millions of shadow channels entering the market came true. When looking through this trifurcated lens, more than 80% of these (potential) partners will show up before or after the sale, and channel leaders need to break the transactional channel mold.
4. Channel Professionals Become Ecosystem Professionals
In an Accenture survey, 76% of business leaders agree that current business models will be unrecognizable in the next five years — ecosystems will be the main change agent. Reading the annual reports of the Fortune 500, it is becoming abundantly clear that every company is becoming a technology company, such as, for example, the legacy manufacturer of forklifts that integrated IoT sensors in its product and now delivers thousands of data points per second to construction companies, architects, and others in the value chain. The company has partnered with AWS, Google, and Microsoft and is busy building a tech partner ecosystem.
One of the most common things I talked about with the 497 companies in 2019 was the idea of the expanded channel Venn diagram including influence, transactional, and retention type partners and how to manage them all with one program. The average program has 90 different elements, and implementing it across transacting and nontransacting partners is surprisingly easy. Partners of all types (transactional and nontransactional) need to be found and recruited, onboarded, educated, trained, incentivized, motivated, loyal, and have the tools necessary to support/promote your product or service from a sales and marketing perspective.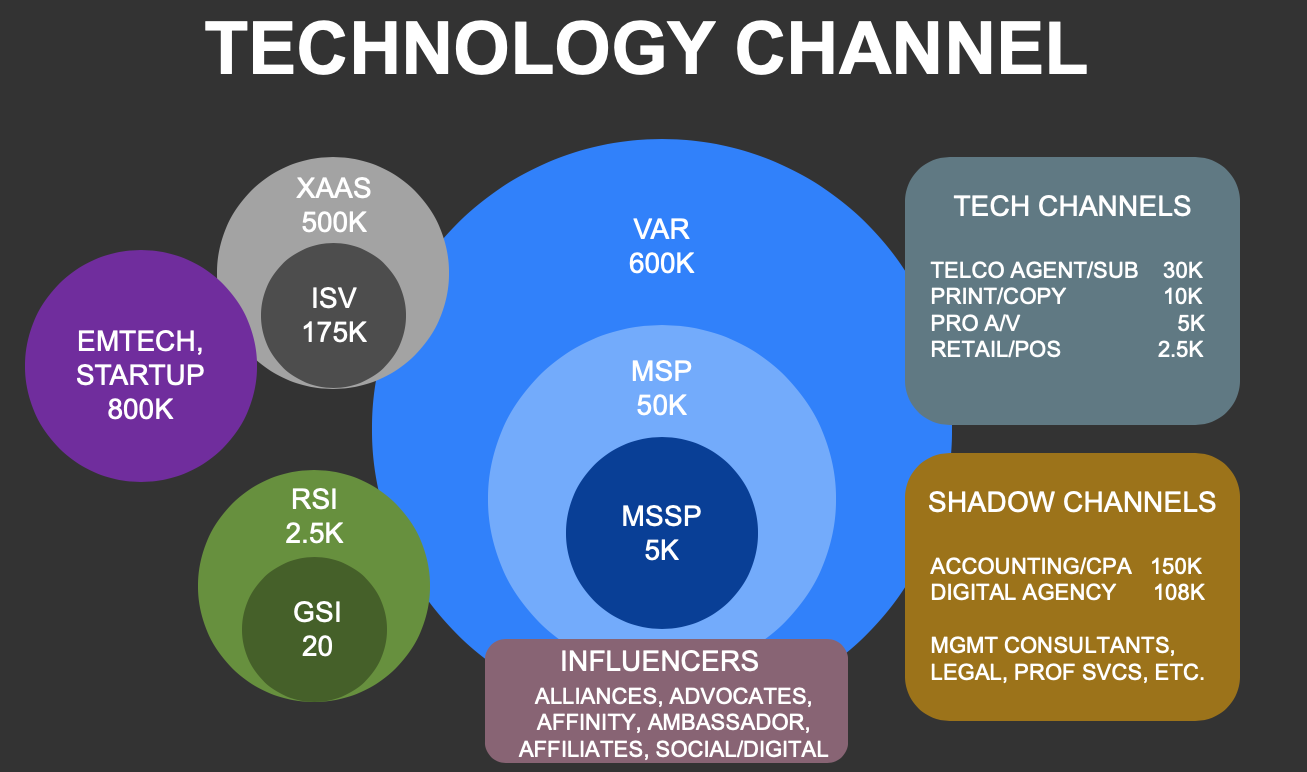 The program needs to be automated, flexible, scalable, and anchored on self-service. The effective use of technology tools is no longer optional — ecosystems don't run on spreadsheets.
5. Emerging Tech Is No Longer Emerging — It Is Here
In 2019, we saw many of the emerging tech categories that we have been watching for years turn into multimillion dollar revenue streams for partners. 2020 will be the year of switching early adopters into an early majority for technologies such as IoT, AI, automation, 5G, advanced security, and blockchain.
The fastest-growing subindustry in the technology space has been RPA, or robotic process automation. RPA blends workflow automation with AI and software bots and has become one of the foundational tools of digital transformation. One of the leaders in the Forrester Wave™ evaluation on RPA was UiPath, which grew 5,614% to become the fastest-growing software company to $100 million in revenue in history, with 70% of the opportunity flowing through partners. (It eclipsed previous holders of the title: Microsoft, Salesforce, and, most recently, Slack).
To get an idea of the size of the emerging tech ecosystem, Forrester is currently watching 800,000 firms globally — all potential partners of those brands that are looking to influence a particular set of buyers.
6. New Channel Tech Companies Emerge In Ecosystem Space
The channel software tech stack from 2019 included 106 companies that were broken down into six categories, including partner relationship management, through-channel marketing automation, channel incentives and program management, channel data management, channel enablement, and channel finance.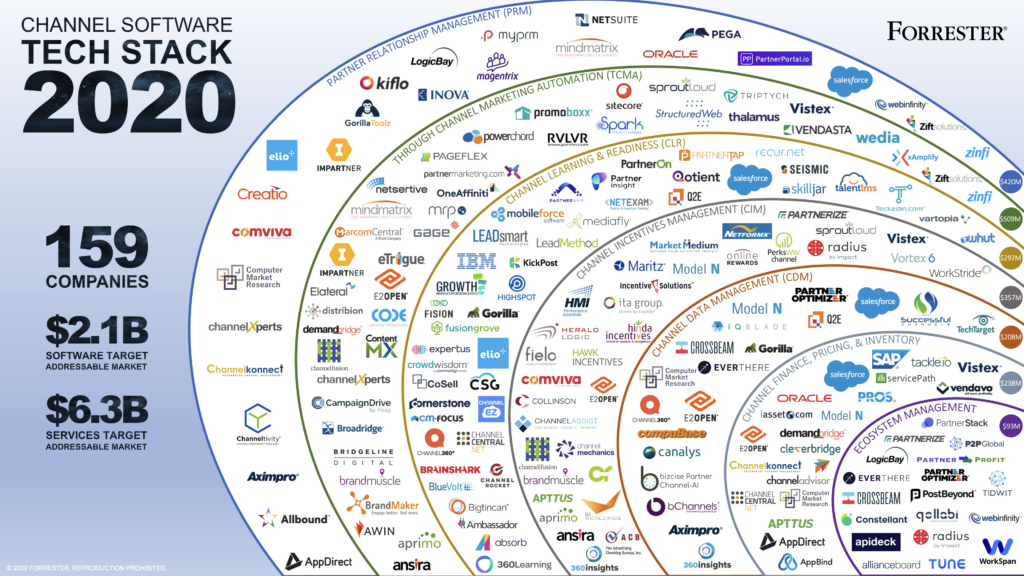 In 2020, we are seeing several moves toward channel software that supports transacting- and nontransacting-type partners. From a functionality perspective, support for resellers, managed services providers (MSPs), referral partners (affinity, affiliate, advocate, ambassador, digital influencer, etc.), alliance partners, ISVs, consultants, and shadow channels is a necessity. Attribution, which has traditionally been in marketing domains, is quickly becoming a critical skill for channel professionals growing a trifurcated channel.
In 2019, we saw M&A activity such as Impartner acquiring Amplifinity, Loyaltyworks merging with Incentive Solutions, 360insights acquiring MTC Performance, and E2open acquiring Averetek, as well as some pure ecosystem technology plays by Impact, WorkSpan, and Crossbeam, along with early-stage companies Apideck, TidWiT, and P2P Global.
7. Partner Experience (PX) Will Catch Up To Customer Experience (CX)
B2B channels are in transition — from a tiered, resale, and fulfillment function to a more fluid indirect ecosystem of affiliates, advocates, alliances, and referral partners. Upward of 70% of global revenue comes from third-party channels, and partners play a key role in shaping the customer experience. But most organizations have been slow to make the link between partner experience and customer experience.
A strong 43% of global B2B marketing decision makers rank improving customer experience as a top priority in 2019, while 39% are looking to improve the partner experience. We predict marketing decision makers will rank improving partner experience on par with improving customer experience in 2020, and both will rise to more than 50%.
Brands are wising up to the notion that customer obsession also means partner obsession and are looking for channel organizations to deliver.
8. Channel Account Managers Turn Into Community Managers
The average channel program will grow the number of partners by 10X in five years, and 80% of these new partners will be nontransacting partners. The complexity of finding, recruiting, and managing these new partners, each with their own unique set of business practices, target markets, value proposition, and culture, will be daunting. We estimate that there are over 600,000 partners worldwide when you include broader technology channels such as IT, telecom, print, pro A/V, etc. This doesn't include the millions of companies that are converging into the tech services space from far and wide.
The small- and medium-sized business channel, which makes up over 90% of these firms, is significantly influenced inside its own chosen communities. For example, if you were to look at the MSP market, you would find 31 distinct communities that highly influence the 50,000 MSPs globally. Targeting these 31 communities is a manageable and, for many vendors, profitable market.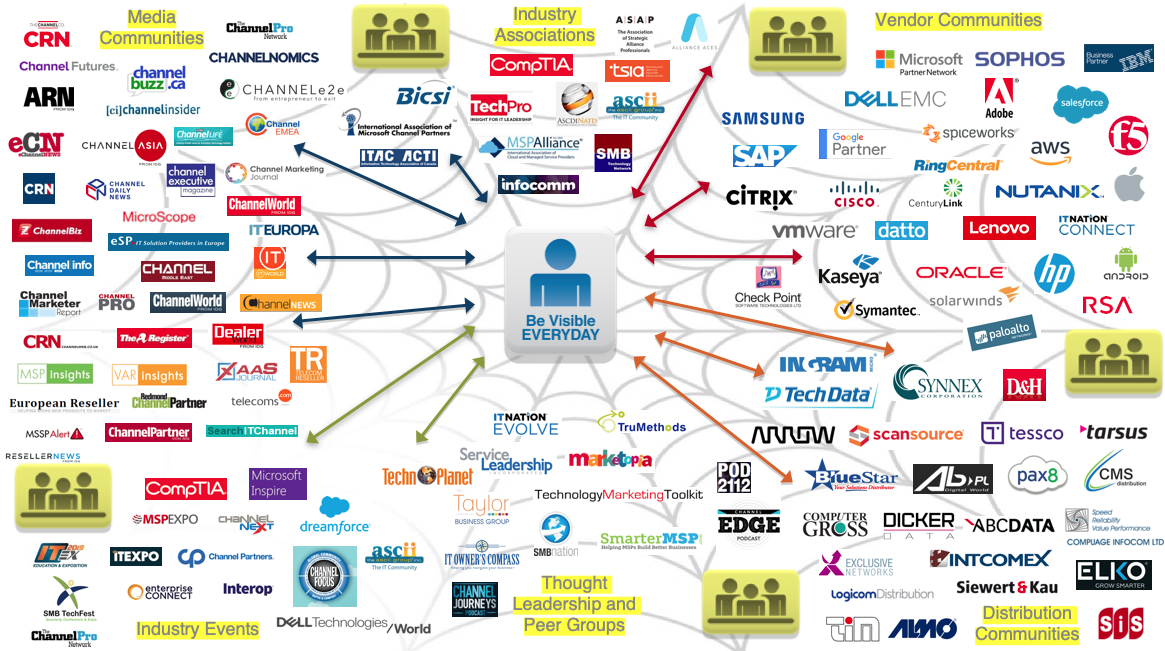 Communities offer a smaller group of like-minded people (perhaps even competitors) who share similar experiences and challenges, have the ability to collaborate, and help improve decision making. The feeling of belonging is strong, as well as the affinity of membership. There is a feeling that communities are more democratic, as they are built by the membership, and participation is encouraged and celebrated.
Brands will create mini channel chiefs (or community managers) for each part of the channel Venn diagram they want to succeed in.
9. Superconnectors Pave The Way To Channel Recruitment
Channel leaders are struggling to find ways to expand recruitment across many new partner types without making significant investments. Superconnectors provide a gateway to diverse partner ecosystems and play a key role in guiding vendors to maximize their visibility and influence in front of these new channels.
Leveraging online resources, a brand can easily map out a channel ecosystem based on a particular buyer role, subindustry, geography, sector, size, segment, partner business model, or solution specialty. Mapping what partners read, where they go, and who they follow is a key activity in understanding the makeup of the influencer communities and, more importantly, the top 100 superconnectors in any particular niche.
As I listed out in detail in 2019, the global channel community reads a total of 54 channel magazines, listens to 64 podcasts, belong to 24 associations, participates in vendor and distributor communities, and follows thought leaders to over 150 channel-related trade shows per year. If you collect all of the speakers, board members, contributors, digital creators, consultants, analysts, and media professionals and scored them on visibility, you would have a stack-ranked list of the most influential people.
You then need to meet the top 100 superconnectors, educate them enough to be dangerous (to the point that they can explain to others what you do and how you are differentiated), and most importantly, get them to endorse you (unprovoked) across their platform(s).
10. The Chief Revenue Officer (CRO) Takes The Channel Reins — Beyond The Org Chart
In the technology channel, I estimate that there are 10,000 vendors that publish a channel program and actively support it with personnel and technology. When we ask about organization structure and reporting lines, we still see about 80% of partner organizations that are siloed.
Even if the reporting structure is directly into sales or marketing, the channel organization usually employs its own channel sales, marketing, operations, and finance teams that report to the channel chief and don't collaborate much outside the silo. In the partner-obsessed world where partner experience is paramount, attribution is a key measure for the majority of partners and nontransactional programs become ubiquitous; the ability of a channel organization to succeed on its own is becoming improbable.
Ten years ago, organizations looked at their direct sales and marketing organizations and (correctly) decided to pull them under a single leader. To reduce the friction and put responsibility in the right buckets, the CRO focused on the entire cycle from top-of-funnel activities to customer success.
In 2020, organizations will start to break down silos and get the channel integrated into the entire customer cycle. This means neutral compensation, strict rules of engagement, and a cultural DNA that squashes channel conflict.
Further Channel-Related Reading
Channel Software Tech Stack (2020)
Channel Marketers Need To Become Community Marketers — Here's How
Partner Relationship Management (PRM) Comes Of Age
Through-Channel Marketing Represents The Third Stage For Sales And Marketing Leaders
Channel Data Is A Competitive Differentiator
Time To Rethink Channel Incentives And Program Management (CIPM)?
Channel Automation Becomes Table Stakes For Partnership Success
Can You Deliver A Great Partner Experience Without Great Onboarding?