Measure What Matters: Unlocking The Power Of Partner Ecosystems Demands Powerful Measurement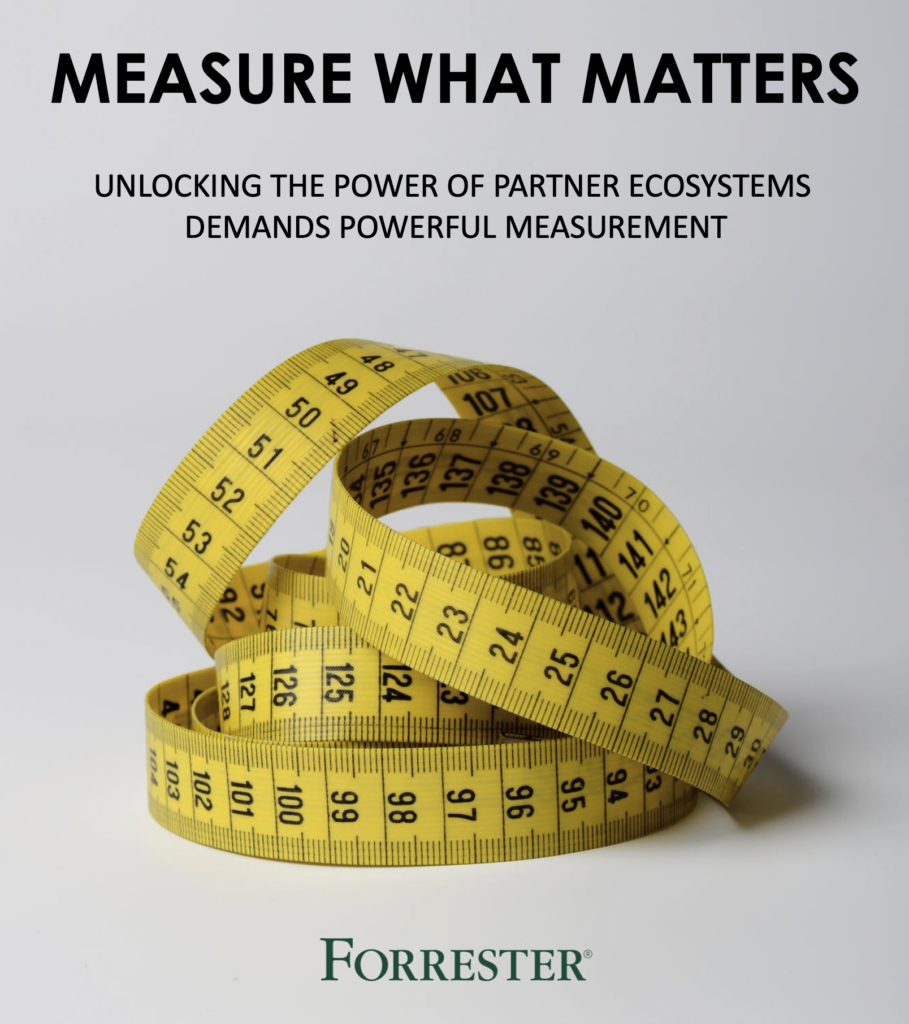 Today's increasingly complex channel environment means once-reliable partner performance measurements such as revenue tiers, profit contribution, certifications, and customer satisfaction surveys fail to properly predict overall channel performance.
To succeed, channel leaders must embrace techniques that will measure the expanding ecosystems' influence on the entire buyer's journey and not just the transaction.
Vendors need to build a holistic set of metrics and KPIs that accurately reflect channel effectiveness.
We are hearing from channel chiefs across different industries that legacy metrics don't measure the true impact of their partner ecosystems. Now more than ever, channel organizations must demonstrate the business impact of their budgets.
But current metrics aren't getting the job done.
Our research is telling us that lack of data sharing (specifically customer and market insights) from partners, absence of repeatable and scalable processes to clean and harmonize the data, and limited analytical skills inside the organization to drive actionable and real-time insights are holding them back. There are key technology limitations as well, with 59% of B2B marketing leaders reporting they are spending more on channel software.
Channel leaders are quickly adapting to new channel realities and looking to better prove the business impact of channel programs and tactics to garner new investments. Building go-to-market and channel strategies on data-driven insights presents a unique challenge, as many of the data sources are external and stubbornly time-delayed. Channel data continues to be difficult to find, consolidate, and clean.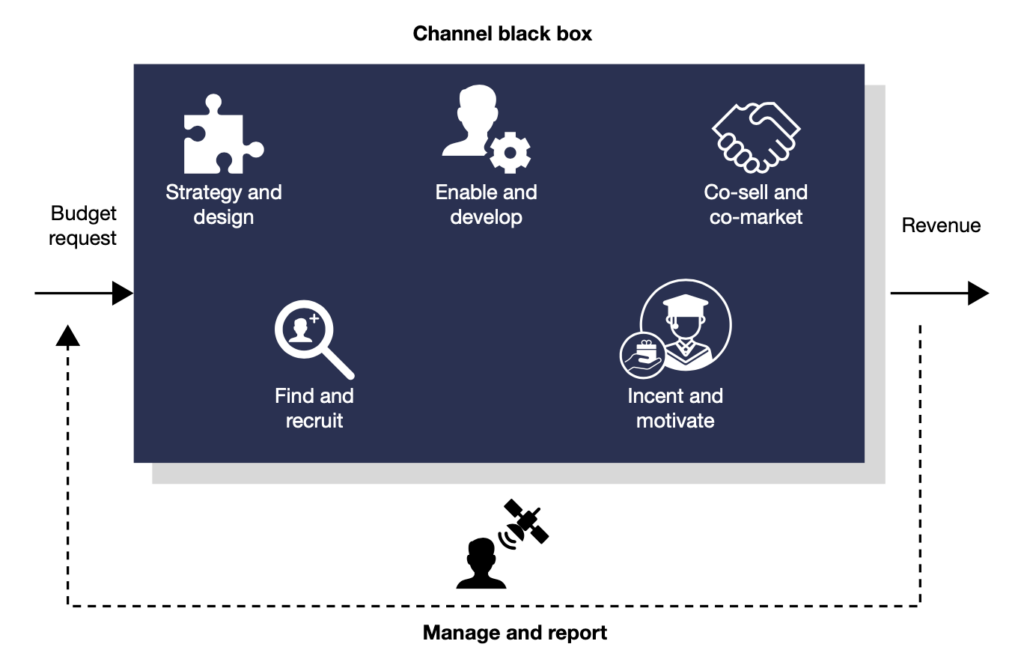 Business leaders are also asking channel pros to overlay the partner journey with the customer journey. We predicted that 2020 would be the year that customer experience (CX) and partner experience (PX) converged. Measuring channel activities across all customer touchpoints is important, as customers (or partners) rarely traverse a simple, straight line from awareness to purchase to renewal.
We know that B2B buyers embrace the full spectrum of media, channels, peer groups, influencers, and touchpoints in what often appears to be random sequences. Channel leaders who recognize and measure their channel from business need to vendor selection (influence) to transaction (resell) and then to renewal (retention) are better equipped to match CX with PX.
There is a juxtaposition for channel pros of being drowned in general data but starved for insights about how partners are influencing customers' decisions. Most have no systematic way to consistently generate insights that fuel action. Designing and deploying a channel performance management capability comprising a system of record, insight, and engagement is necessary to measure ecosystem performance and justify channel program investment.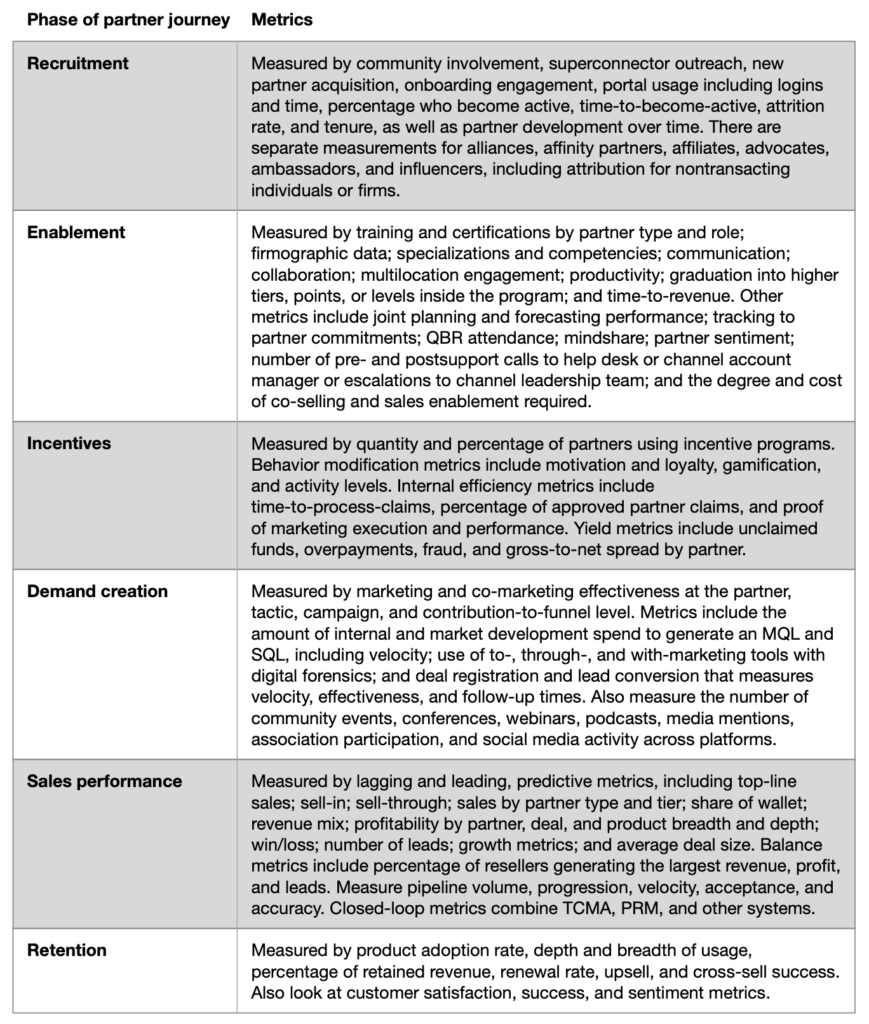 Leading vendors are now taking steps to build out a trifurcated model (influencer channel, transactional channel, and retention channel) of channel recruitment and management. For 38 years, the channel has been synonymous with resellers and transacting partners. Programs have been anchored on precious metal (gold/silver/bronze) pyramid schemes, and the partner journey has been predictably linear from recruitment to onboarding, incentives, co-marketing, and management. This is all shifting in 2020 and beyond.
Channel leaders talk about expanding their partner programs and building broad ecosystems, but the truth is that many of their basic program and channel management processes are still painfully manual and error-prone.
Looking at the next generation of ecosystem measurements, we are recommending the following:
Audit your people, processes, programs, and technology. Before rethinking measurements and building a system of insight, take a look at your channel foundation and maturity.
Aim for singles, not home runs. The vast array of metrics combined with the complexity of capturing them in an automated, cost-effective, and repeatable way sounds daunting — and it definitely can be. Start small and recognize your channel in two ways: transacting and non-transacting.
Look for measurable channel activities across all customer touchpoints. Customers progress through their journey in a nonlinear path to vendor selection, consuming mountains of internal and external content along the way. Use your TCMA platform to encourage partners to share these digital breadcrumbs, and combine them with internal data points to break down silos and produce actionable intelligence for channel managers.
Map partner behavior to program investments. Utilize analytics technology to determine which inputs (channel programs) lead to which outputs (channel productivity). The relative strength of the input-output correlations, combined with which correlations are most important to measure, will produce behavior measurements that can personalize — and, more importantly, optimize — program elements.
Channel pros should be looking for opportunities to aggregate siloed data from internal and external sources. Once the data has been normalized, cleansed, and approaches decision-grade, then the channel team can employ advanced analytics, machine learning, and predictive technology to take it to the next level.
This may take time, as channel organizations will need to build (or borrow) skills to deliver relevant, meaningful, and actionable reports, dashboards, and alerts to all stakeholders (internal and external) and deploy the technology to make it repeatable and scalable.
For a deeper dive, check out our recent Forrester research report, "Unlocking The Power Of Partner Ecosystems Demands Powerful Measurement."
Further Channel-Related Reading
What I See Coming For The Channel In 2020
Channel Software Tech Stack (2019) — INFOGRAPHIC
Channel Marketers Need To Become Community Marketers — Here's How
Partner Relationship Management (PRM) Comes Of Age
Through-Channel Marketing Represents The Third Stage For Sales And Marketing Leaders
Channel Data Is A Competitive Differentiator
Time To Rethink Channel Incentives And Program Management (CIPM)?
Channel Automation Becomes Table Stakes For Partnership Success
Can You Deliver A Great Partner Experience Without Great Onboarding?