If You Have To Benchmark, Get Your Data From A Trusted Source
At some point, most tech execs will be asked to explain their organization's cost structure. What are the macro-level IT and digital spend structures in my industry? How can we justify our IT cost allocation to the business? Are there any areas of opportunity in our IT staffing strategy that we can take advantage of? While benchmarking has its limitations, Forrester wants to ensure that you have what you need to provide the best answers possible when benchmarking.
IT benchmarks are an integral way to keep up with the current market conditions and provide industry-level insights to inform decision-making and drive value. Benchmark metrics allow executives to compare the performance of their IT organizations to that of other firms, including those in their own industries, using standardized metrics. Tech execs are interested in IT benchmarks for a variety of reasons and use cases: These range from budget planning and performance improvements to cost chargebacks and showbacks, portfolio comparisons, and mergers and acquisitions.
Forrester has signed an exclusive partnership with ISG that enables us to equip tech execs with high-quality, validated IT benchmarks. ISG provides comprehensive metrics on IT spending, staffing, and quality of service that cross categories such as: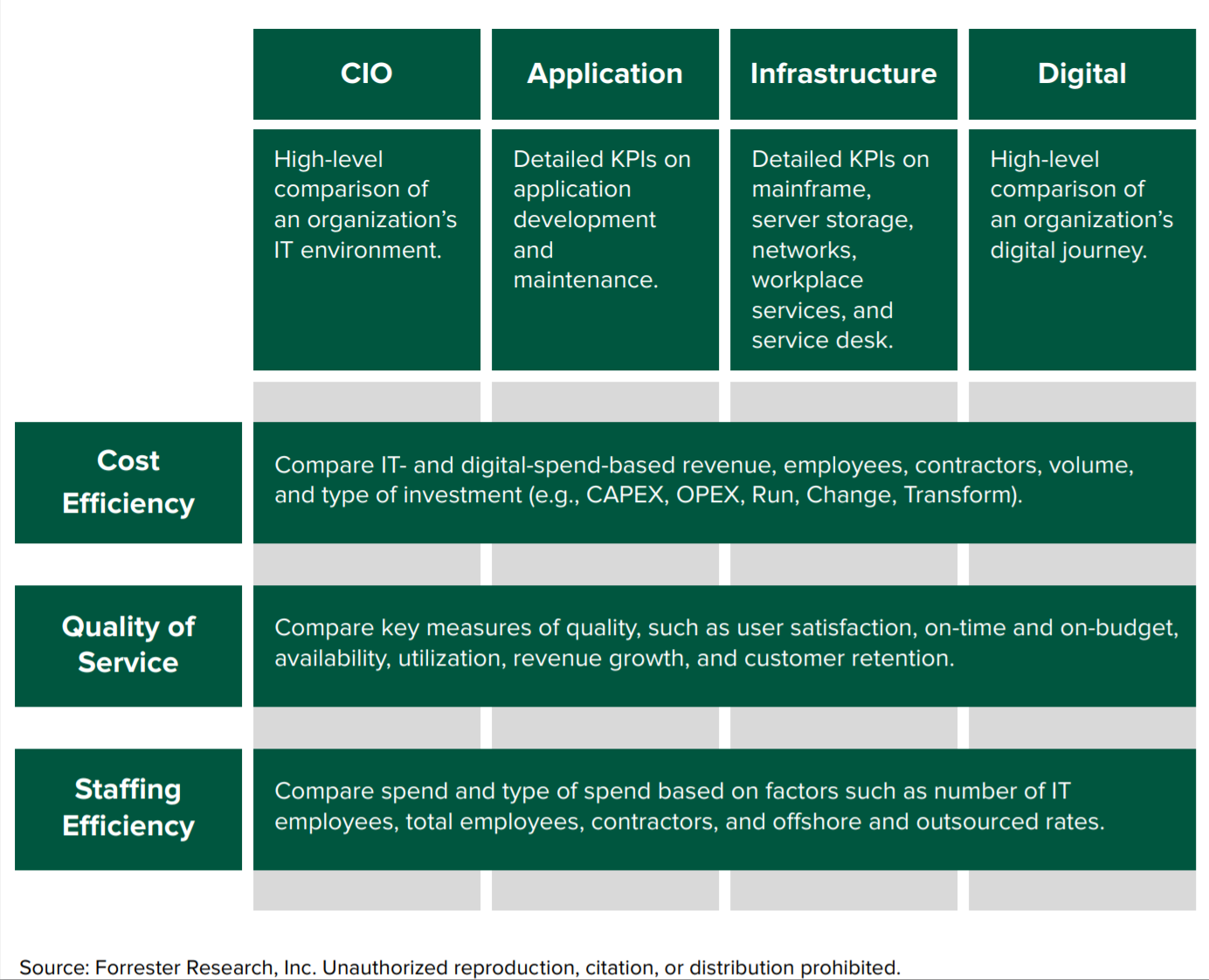 The CIO. A high-level outlook of an organization's IT environment, including metrics such as IT spend as a percentage of revenue and capex vs. opex
Applications. Comprehensive KPIs on application development and maintenance
Infrastructure. Detailed KPIs on the mainframe, servers, storage, the network, workplace services, and the service desk
Digital. A high-level view of an organization's digital journey, including metrics such as digital spend as a percentage of revenue and digital spend per employee
This data is carefully sourced from 6,000-plus projects across a broad range of regions and industries. Clients of our Forrester Decisions for Technology Executives and Forrester Decisions for Technology Architecture & Delivery services will have access to exclusive reports covering these benchmarking metrics and KPIs, as well as hands-on guidance on best practices for utilizing or interpreting this data.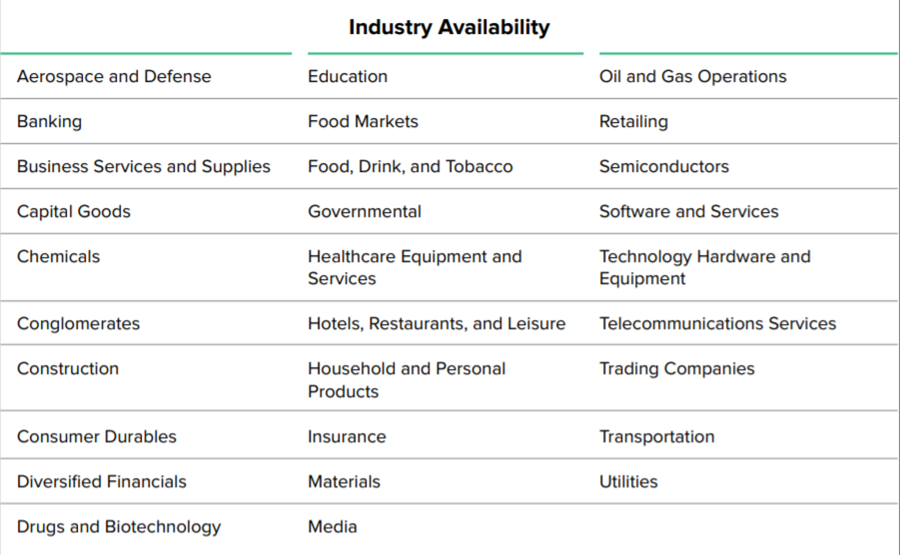 Before embarking on a benchmarking journey, it is important to understand the appropriate benchmarking use cases, as well as ways that these metrics could be misused or abused. Tech execs utilizing IT benchmarks must recognize that this data should not be used as a sole driver for tech budgets and operational decisions. When used correctly, however, benchmarks can drive business value in a variety of ways. These metrics can help tech execs identify key trends in investment and operations within their industries and provide high-level context that can inform their IT strategies. These metrics can also be utilized by tech execs to ask more granular questions that lead to actionable steps about IT spend and how to be more proactive about the changes occurring in the technology landscape.
Find out more about Forrester's ISG benchmark offerings with our newly published report, 2022 IT And Digital Budget Benchmarks, North America.
(Special thanks to Michael Kearney for contributing to this blog.)
Through its partnership with Information Services Group, a leading technology advisory and IT benchmarking firm, Forrester will provide unique IT benchmarking data and insights to its clients from ISG Inform™. This data is carefully sourced from 6,000-plus assessments across a broad range of regions and industries. Learn more about ISG Inform™ here: https://isg-one.com/consulting/isg-inform