Introducing Experience Architecture: An Ecosystem Approach To Customer Obsession
Ever ask yourself, "How do I truly become customer obsessed?" As a business leader, have you ever wanted to move the organization from lip service about being customer obsessed to discipleship? When you don't make it seamless and uncomplicated for customers to do business with you, they'll find another brand that will. Our new research, Experience Architecture: Build Your Business On A System Built For Performance, speaks to this challenge and introduces an approach to align the enterprise with omnichannel customer experiences. Experience architecture — what we call XA — is enabled by customer-centric business practices, adaptable platforms, and connected employees and partners.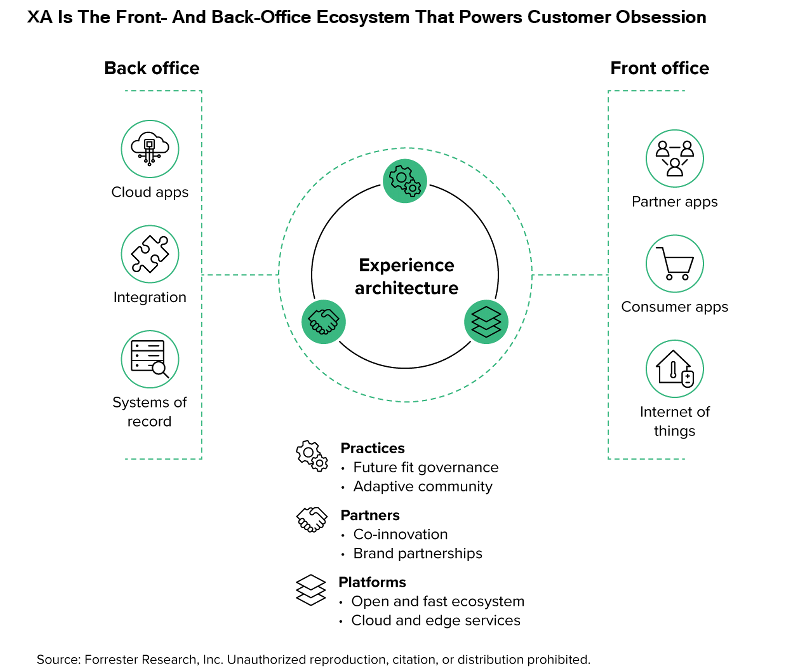 XA is your ticket to customer obsession, and it's essential to smoothing out the customer journey. Rather than using prescriptive methods that lack competitive advantage, XA allows customers to engage on their own terms. An experience architecture:
Serves customers in the moments they choose. When Target invested in XA, it had to shift from 3,000 legacy applications to modernized technology to engage its customers across 23 different channels and modes. At a minimum, XA includes an ecosystem of platforms that lives in the cloud, is accessible with open APIs, includes high-performance data movement and storage, scales in performance, and is set to increase development speed.
Enables employees to deliver great experiences. Employees are key players within an XA strategy. XA utilizes Forrester's future of work principles, which moves employees away from a discrete, single-skilled workforce and establishes serial or continuously skilled communities that deliver business and customer outcomes.
Delivers seamless experiences across the customer lifecycle. The vast majority of businesses can't deliver consistent and defined customer experiences across the customer lifecycle. These friction-filled journeys make it hard for customers to do business with brands. XA promotes smoothing out the speed bumps in the customer lifecycle and marries front-office consumer expectations with back-office operations for a truly customer-obsessed enterprise.
Sustains itself beyond the tenure of executives, vendors, and technologies. XA should be adaptive and resilient and should not be disrupted by leadership changes, vendor acquisitions, business model changes, or evolutions of software and tech. XA, when practiced correctly, should inherently insulate itself from market turbulence.
XA is assembled, practiced, and owned by the enterprise to unlock customer obsession. Get started by examining your customer-centric business practices, building a culture of innovation, and designing adaptable platforms with simplified connections. Better yet, connect with us through an inquiry or guidance session to learn more about how to build an experience architecture.