Join The Journey-Centric Revolution
Journey-centricity is not something you overlay on your current operating model.
You cannot preserve the status quo; it will disrupt your business.
It requires a bold vision to use journeys to incorporate products and services in customers' lives, to adopt a shared journey language that aligns people, process, and technology across touchpoints, channels, and silos.
While you can start tactically, in a single silo, true journey-centricity requires significant change at every level of the organisation.
Why Is It Worth It?
Journey-centricity leads to higher revenue, reduced costs, and better customer experience (CX). Journey-centricity:
Helps you focus on what your customers really want. Journeys provide key insight about customer intent (macro and micro goals), context (touchpoints, channels, location), and emotion (engagement, sentiment) to deliver customer and business results.
Leads to higher revenue, reduced costs, and better CX. Journey-centric firms boost revenue, customer lifetime value, compliance, and upsell and reduce costs (agent training, agent productivity).
It Requires A Bold Approach

As CX teams mature, they face a choice: Be the team that maps journeys, sets standards, and measures customer outcomes, or evolve into the team that drives meaningful, customer-centric change across their organisation. Journey-centricity:
Will disrupt your business and operating model. Becoming journey-centric requires a change in operating model, moving six operational levers in concert over multiple years.
Is not a one-and-done project; it is a multiyear transformation. Companies like BMO, E.ON, and Nissan are on a multiyear transformation to journey-centricity. Executives must lead their firms through three phases of transformation: from activate to connect to extend. Companies activate with lighthouse journeys, journey champions, and CX immersion. They connect via executive alignment, professionalised journey roles, and robust metrics. Finally, they extend into the CX ecosystem, focus on journey-based priorities, and orchestrate at scale.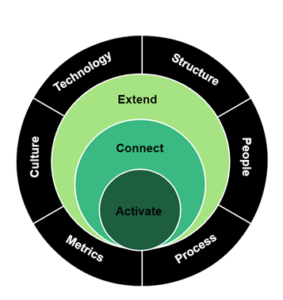 Requires a mindset shift at all levels of the organisation. Journey-centricity requires top-down and bottom-up buy-in for customer journeys. Everyone must embrace the mind shifts required to fuel the boldness of vision required, leverage catalysts that can help companies cycle faster through the three phases, avoid pitfalls, and address challenges.
Where Can You Find Out More About Joining The Journey-Centric Revolution?
To hear more about the three phases of journey-centric transformation and discuss it with us, join us at our 2022 Forrester CX EMEA forum. It's taking place in London on June 22 and 23.
My colleague Maxie Schmidt will share what customers really value and how to change an organisation's metrics to ensure that it focuses on what the real goal should be: maximising value for customers.
My colleague Enza Iannopollo will share how to increase customer trust so that customers will go on more journeys with you.
And my colleague Jacob Morgan will examine how to understand the role your business plays in customers' wider journeys and how digital technology creates opportunities to do more for your customers.
Please consider joining us and your peers at CX EMEA 2022 on June 22–23. Register here.
We are all looking forward to seeing you there.