Le CDO Prend Sa Place Autour de la Table
De plus en plus, les CDOs rejoignent la table des comités exécutifs d'entreprise. Maintenant, il faut qu'ils comprennent ce qu'on attend d'eux.
Le monde a changé, et les décideurs dans les sociétés l'ont bien compris. Ils cherchent des indices qui peuvent les aider à mieux comprendre le nouveau contexte dans lequel ils opèrent. Ils ont besoin des données. Ainsi, 85% des décideurs souhaitent améliorer leur utilisation des données dans la prise de décisions commerciales. Afin que leur organisation devienne plus axée sur les insights ils se tournent vers l'équipe Data & Analytics. Qu'est-ce que cela implique pour les CDOs ?
Bienvenue Au Nouveau CDO
Dans de nombreuses organisations, le rôle du Chief Data Officer (CDO) a évolué pour devenir davantage un rôle de directeur des insights, chargé à la fois des données et de l'analyse. Avec un seul rôle responsable de l'ensemble de la chaîne de valeur des données, les organisations peuvent assurer un équilibre entre l'offre et la demande de données.
Deux nouveaux rapports Forrester présentent les changements de ce rôle et démontrent comment CDOs et autres responsables « insights » peuvent accélérer le parcours de leur organisation pour devenir plus axée sur les insights, servir d'agents au changement, et fournir une valeur commerciale.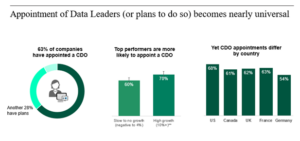 Aujourd'hui la majorité des entreprises ont nommé un Chief Data Officer, ou un équivalent : 63% des sociétés ont un CDO et 28% ont pour projet d'en nommer un.  Ce sont les sociétés les plus performantes qui connaissent cette tendance.
En effet, cela concerne 70% des sociétés avec un taux de croissance de leurs revenus supérieur à 10%, comparé à 60% des sociétés qui ont un taux de croissance inférieur à 4% ou négatif.
Cette tendance varie aussi selon les pays : 68% des sociétés aux Etats-Unis ont nommé un Chief Data Officer contre 54% en Allemagne et 63% en France.
Mais Quelle Place Occupe-T-Il ?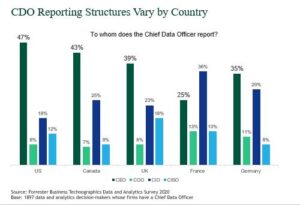 Bien qu'ils soient autour de la table, ils n'occupent pas tous la même place. Plus que leur présence, c'est leurs positionnements dans la hiérarchie qui différencient les CDOs nord-américains de ceux en Europe. A l'origine, le CDO rapportait au DSI, mais l'émergence d'une ambition « insights-driven » a changé la donne : beaucoup de CDOs rapportent maintenant directement au PDG – un rôle plus stratégique. Cependant, nous n'avons pas encore vu ce basculement en Europe. Si 47% des CDOs américains et 43% des CDOs canadiens rapportent au PDG, seulement 25% des CDOs français et 35% des CDOs allemands font de même.
Quelles sont les implications pour le CDO, ses équipes et leurs stratégies ? Pour en savoir plus, lisez les trois rapports :
Chief Data Officers: Evolve Your Teams To Accelerate Impact From Data Insights
Chief Data Officers: Accelerate Insights-Driven Business Impact In 12 Steps
Hiring A Chief Data Officer? Use Our Recommendations And Ready-To-Post Job Description As A Guide
Et n'hésitez pas à nous contacter.