LIFT Your Emerging Tech Efforts To The Next Level — Part 2
The Forrester Analytics Global Business Technographics® Priorities And Journey Survey, 2018, shows that customer-obsessed firms currently have a 93% customer satisfaction rate — far above the 65% experienced by firms not prioritizing and investing in emerging technologies. These leading firms also have the highest three-year revenue growth. 
By following the LIFT framework of activities consistently, CIOs can systematically help their firms create advantages that competitors will not easily be able to copy. So if your IT team is tactically focused, head into December by putting together a plan that you can present to your CEO and board in Q1 about why and how to shift the IT focus toward the emerging tech evolution. This will bring to light where emerging tech can help shift your business value to accommodate your customers' evolving needs and desires.
Forrester LIFT Methodology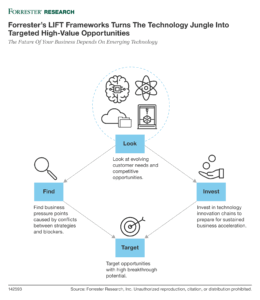 CIOs must recognize that their firm's ability to rapidly adapt to customer and business changes is a major competitive advantage. Get your top executives on board, and not only shift the IT and CX focus to customer obsession but drive a culture change throughout your organization. You can encourage all employees to bring to light customer shifts they are seeing, and as a result, they will see and accommodate your shift in prioritization to these emerging business values.
As I pointed out in my latest report, the most common and negatively impactful blockers to these efforts are internal: employees who are happy just the way things are and fear change.
Want help making your case for this change in 2019? Start by taking our IT Transformation Maturity Assessment. Then reach out to Brian and I, as well as our colleagues working on emerging tech and innovation trends. We're happy and excited to work with you to drive your organizations forward!
Related Forrester Content
Categories