LIFT Your Emerging Tech Efforts To The Next Level
Too many firms are heavily focused only on what their customers are looking for today. This makes sense if you are struggling to address these current, tactical needs. But if you are meeting these needs, your focus needs to shift to: 
Your customers' needs evolution.
Your customers' ultimate objectives — beyond what they use you for.
What their needs/wants will be in the future, after disruptive technologies have changed their lives.
For example, real estate, insurance, finance, and government firms need to acknowledge that a growing number of their customers are looking to shift their homes from just the place they live to a rental property via Airbnb and/or a business office. This can be just a customer-needs evolution if their financial situation shifts or they decide to form a startup. If you simply expose them to properties in their target town, not accommodating these new objectives can diminish the value you provide. Think through how you could leverage machine learning, robotics, additive manufacturing, and nanotechnology connected via edge computing and businesswide network fabric to help your customers track their customers versus criminals, as well as leverage distributed ledger technology to supplement their business models.
With AI, robotics, and other emerging technologies coming to market, they will cause customers to re-evaluate their lives, how (and where) they most effectively do their work, and what new opportunities present themselves. Automation, 3D printing, robotics, and AI will commoditize the physical world. If AI/robotics can fly a plane today and be trained to win games like Go, it can be trained to build a house, deliver your mail, file your taxes, and even take over nearly all your home maintenance needs. 
So if your firm wants to be relevant to your customers in this evolving future, you need to shift your focus from customer experience to customer obsession and raise your own investments in emerging technologies so you can not only leverage them as they mature but proactively shift your value props and create the new futures for your customers.
Want To Do This Right?
I highly recommend reading my colleague Brian Hopkins' latest report, "The Future Of Your Business Depends On Emerging Technology." In it, he shows how the leading emerging tech innovators are ensuring long-term success by leveraging the Forrester LIFT methodology. For example, in the report, James Lindauer, enterprise architect for the City and County of Denver, says that "emerging technology increases the velocity at which we can deliver services to our customers."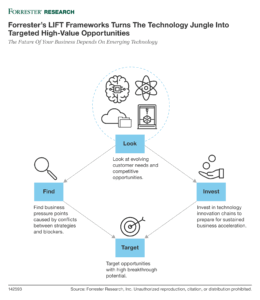 Related Forrester Content