New Tech Spotlight: A Growing Crop Of RegTech Startups Vie For Unicorn Status
[This post was coauthored by my colleague, Christian Austin.]
Of the 16 technology markets Forrester monitors for VC funding trends, the $2.1B raised by regulatory technology (RegTech) ranked 14th in 2018. As such, you'd be forgiven for overlooking a category that doesn't evoke many buzzwords, hasn't raised the splashy capital of several other markets, and isn't exactly grabbing sexy headlines. But investment in regulatory technology is on the rise, and we expect growth to accelerate this year.
Nine of the subcategories in the RegTech market reached peak funding levels in 2018. Three of those categories — business regulation compliance, compliance tracking and reporting, and governance risk and compliance — saw funding increases of over 100% year over year. And 2019 is off to a fast start, with $1.4B raised year-to-date. We expect corporate VC and innovation teams in financial services, insurance, and healthcare to pursue this category aggressively over the next 18 months.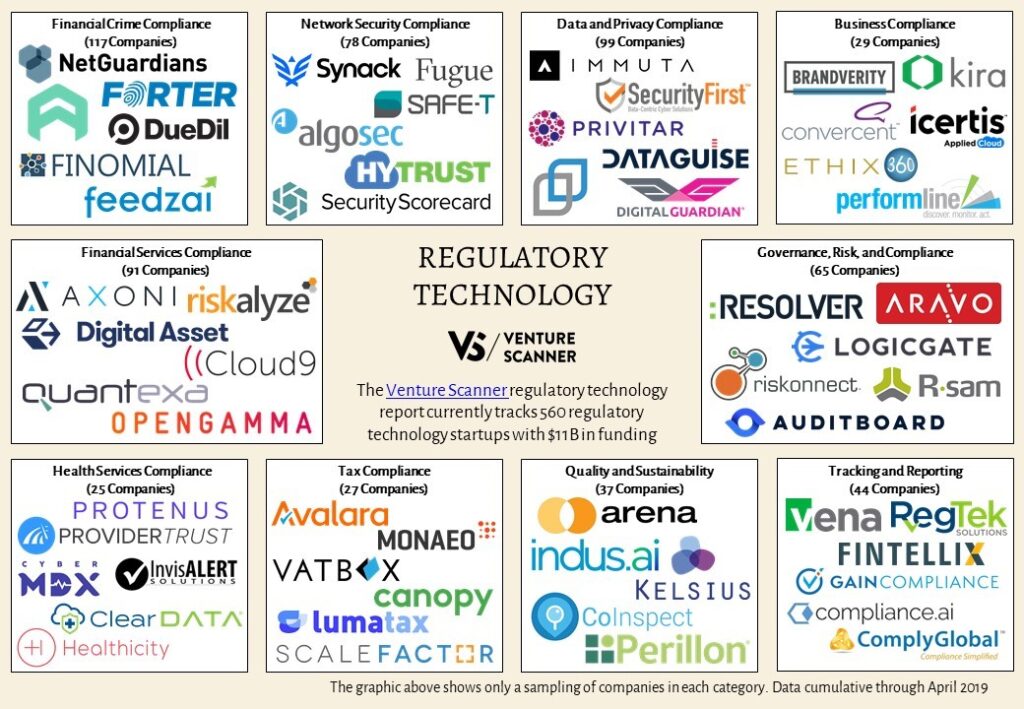 No category of RegTech is more topical than data and privacy compliance, which accounts for $400M of 2019's early haul. Our research indicates that many enterprises still lag in their data and privacy compliance in accordance with the EU's General Data Protection Regulation (GDPR). That doesn't bode well when you consider the wave of additional global privacy regulations it has spurred in its wake. High-profile failings from Google (and potentially Microsoft) underscore that we're entering a new era in which compliance is imperative for businesses success. Headlines of data breaches and privacy concerns are the backdrop of growing demand for technology tools that help firms meet compliance challenges. For evidence of this, look no further than unicorn startups such as Netskope (valued at over $1B) and Rubrik (valued at over $3B).
Beyond the shifting regulatory winds, there are other reasons to be optimistic about this category. Regulatory tech is still a very small and relatively immature category. Last year, 50% of all funding events were early-stage (seed, Series A, or Series B) rounds, and the number of companies competing in this space is quite low. In other words, there's ample room for new innovators to enter this market, and we expect investors to be quite bullish on the category.
Forrester can help your firm to navigate startup ecosystems in a broad range of emerging tech markets. For more information about our startup scouting product, contact us at startupscouting@forrester.com.