Person-To-Person Customer Experience Breaks Free From The Store
Even before the pandemic, organizations across industries have been grappling with how to manage customer experiences across physical and digital touchpoints. But the context of the 2020 pandemic forced businesses — particularly nonessential retailers and brands — to completely rethink how they used their physical spaces and, in particular, the employees within them. More retailers and brands — along with their counterparts in financial services — launched video-based appointments and on-demand video "chats" between store associates and digital customers, extending the value of person-to-person (P2P) customer experiences online.
As markets ease out of lockdowns and businesses get into their stride when it comes to managing "COVID-19 secure" physical environments, the dynamics of customer experience will be increasingly hybrid across digital and physical touchpoints. Retailers like the UK's Currys PC World and jewelry retailer H. Samuels are actively promoting video appointments for in-store associates as opposed to scaling them back as stores reopen.
As customer interactions become increasingly hybrid experiences across digital and physical touchpoints, organizations will need to use resources more flexibly to serve customer needs via three interaction modes: self-service, automated, and P2P.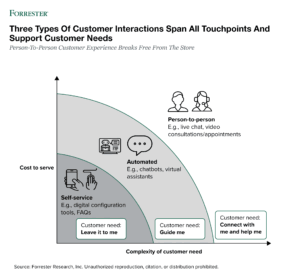 Our latest report explores how digital leaders, with a lens on brands and retailers, will increasingly focus on meeting customer needs in context, using technology and human resources across their organizations and across the customer lifecycle.
Related Forrester Content