Post-Pandemic Travel: Consumers Seek Variety And Adventure Within Safe Circles
Our data over the course of 2020 revealed the internal consumer tension between desire and fear. On the one hand, consumers expressed an ongoing appetite for adventure and variety of experience. On the other, closed borders, stay-at-home mandates, and pervasive consumer fears brought the travel industry to a grinding halt. Now that pandemic restrictions have lifted in the US, that desire for adventure is fueling consumer mobility once again while lingering pandemic fears are shaping a new pattern of travel behavior. Data from our recent Consumer Energy Index Online Survey in May 2021, along with lessons from previous pandemic recoveries, shows that this tug-of-war between surging desires and enduring fears will last longer than the pandemic itself. Therefore, we expect that, over the next 12 to 18 months:
Affluent families will drive leisure travel recovery. For a third of US online adults, excitement — rather than anxiety — dominates the conversation about leisure travel. This sentiment is particularly true for affluent parents outside of urban centers: 43% of US consumers with a household income $100K-plus are excited at the prospect of traveling for pleasure, compared to just 27% of those with a household income under $50K, and 40% of rural consumers and 37% of parents with children in the household agree. Consumers who are most inspired by the thought of jet-setting were also frequent travelers before the pandemic: 46% of these consumers say they are spending the same amount of time thinking about travel now as they did in the spring of 2020. The 21% of US consumers who want to refrain from airline and hotel bookings for the foreseeable future say they were not travel aficionados before the pandemic.
Enduring fear and lack of trust around vaccinations will slow the travel rebound. Despite the swell of excitement as pandemic restrictions lift, 29% of US consumers say they will only travel when they are fully vaccinated, and 27% will only make a trip when absolutely necessary. Consumers explain that their hesitation stems from skepticism around vaccine compliance. As one traveler articulates, "My concern is that I want the majority of people vaccinated; it's not about what the hotel or airline industry does to keep me safe." Our latest data from Forrester's June 2021 Consumer Energy Index And Retail Pulse Survey shows that only 29% of US consumers trust the general population — either across the country at large or based in cities and states close to home — to accurately report their vaccination status.
Navigating desires with fears will shape the new travel experience. Consumers are keen to plan leisure travel around their close friends and family, whom they are also most likely to trust when assessing vaccine compliance. To limit their exposure, a third of US consumers report a preference for driving to their destinations rather than flying and for traveling domestically rather than internationally. Consumer fears around hotel stays will fade faster than perceived risks of airline flights: 23% of travelers say they will hold off on airline travel until next year, when they expect to feel more comfortable, while only 16% say the same about hotel bookings.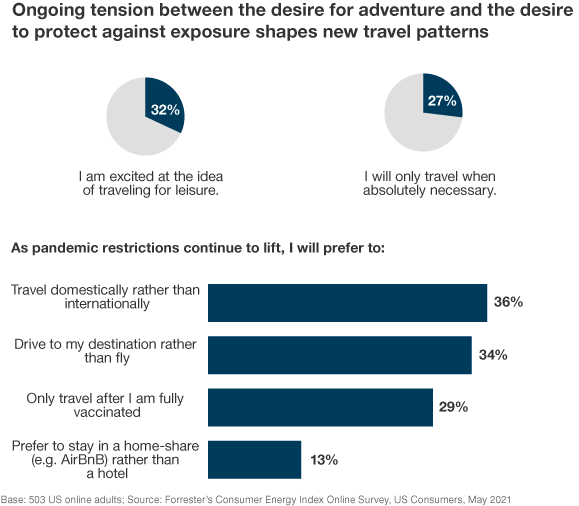 About Forrester's consumer pandemic recovery outlook series
Any company's first step in accelerating through the COVID-19 pandemic and building a profitable, sustainable future is to establish a laser-sharp focus on consumers — how their attitudes, expectations, and behaviors are changing and why. Our consumer pandemic recovery outlook blog series provides snapshots of US consumers' current mindset and evaluates which behaviors they are likely to embrace — and pull away from — over the next 12 to 18 months. Follow my blog to find Forrester's latest thinking, or read my latest research. As always, I look forward to discussing your questions and ideas via a Forrester inquiry.