Q&A — Evan Jones, CMO Of Fender
The feedback on Consumer Marketing 2019 is rolling in: Attendees loved our focus on the direct-to-consumer (DTC) challenger brand trend, why consumers are responding so positively, and how traditional brands can learn from these up-and-comers. In fact, the audience was so engaged with the content and speakers that questions kept coming in long after the sessions were over.
Here, one of the most popular speakers at the event, Evan Jones, the CMO of Fender, answers some of the questions we couldn't get to on stage.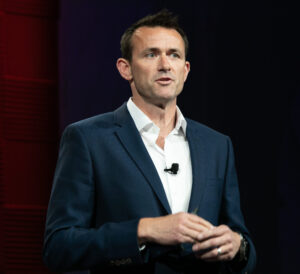 Q: How did you change your marketing to appeal to women?
A: In 2015 and later in October 2018, we did some research and found that 50 percent of all new guitar buyers are women — a profound insight that, at first, took many people within our organization by surprise. But that may be in part because the music instruments industry had largely been — up to that point — a male-dominated, brick-and-mortar business, probably not too dissimilar from the general music and entertainment industries.
Andy Mooney, our CEO, and I, along with the rest of our executive team, looked at this as one of the most exciting findings that came through because it signaled the potential the industry has to drive growth through better serving the needs of female players, many of whom prefer buying online and view the retail environment to be either unfriendly or intimidating.
We have made some significant shifts since then, starting with artists. In addition to our artist seeding and partnerships programs, we're also investing heavily in content and storytelling across all of our channels, featuring more female artists than ever. We make a point to include female artists in all of our campaigns and storytelling and are increasingly fielding artist requests for limited-edition runs of unique models, which is in turn leading to more organic reach and earned media. A great example of this is H.E.R., who three weeks before the event called us with an idea for an acrylic Stratocaster for her Grammy Awards show performance. Normally, it would take us 3–6 months to get that product built, but we pushed it through the Fender Custom Shop in Corona, and the onstage result, of both her performance and the interest in that guitar, speaks for itself.
We recently announced Fender Next, a 12-month marketing and support program featuring 50 new global artists who we believe represent the new face of guitar each year. A substantial number of those artists are female, including artists like Melanie Faye and Japanese Breakfast. This is extremely important because we believe that the more girls and young women can see female artists playing guitar on stage, on a level playing field with male artists, the more likely it is that they'll consider picking up a guitar, as well.
We've also focused on elevating the retail experience in-store, introducing a shop-in-shop program in 12 stores in the US that is intentionally more inviting, bright, clean, and organized to help bring the various guitars, amplifiers, pedals, accessories, and gear to life in-store. And we've also invested in working with key media partners like She Shreds and social media influencers to expand our reach and appeal to a broader audience.
There is still a lot more to be done and a lot more in the works for the next couple years, but I'm very proud of the leadership role we are taking within the industry and the conversations we are having within the company.
Q: How have you managed "channel conflict" with your retailers?
A: I joined Fender in 2015. We had just launched DTC online in the US, and at the time the majority of our marketing investment was in more promotional trade-based marketing. The initial reaction from the dealer network was probably best described as trepidation.
Since then, we have steadily increased marketing both as a percentage of sales and total dollars spent, allowing us to expand our marketing mix and invest more in consumer marketing efforts, reaching a much more broader audience than ever. Key areas of investment have included content, paid media, public relations, social media, artist marketing, retail, and, of course, digital.
To complement that investment, part of our focus has included the creation of tools, assets, and services that directly support retailers, encouraging them to attract more customers, and improve the customer experience by taking advantage of all the opportunities digital communications provide.
A good example of this is Fender Academy, an online learning platform we launched in 2016 as an education tool for sales associates. Built from scratch, Fender Academy provides in-depth information on product lines, new products, and how to communicate features/benefits and now has a user base of more than 5,000 active sales associates. We are constantly creating new content, and the dealers who use this are reporting higher-than-average sales on a regular basis.
Another good example is assets and content. Every asset we create we also make available to retailers through our dealer portal. Consequently, as we've grown our channels, as we've invested more in product marketing and global launches, and as dealers have leveraged those assets across their own channels, we estimate that the percentage of online sales through the dealer network has risen from roughly 30 percent to well over 50 percent.
Nothing beats the power of an in-person experience, especially for someone who is just getting started, but between our digital investments, consumer experience investments, and driving more foot traffic to retail, we will give the retail network every chance to capture more of the expanding interest in guitar and create opportunities for enhanced lifetime value (LTV) at retail.
Q: Was there resistance within the org to invest in digital products? How did you shift the focus toward digital?
A: The honest answer is that yes, initially there was some resistance within the organization toward investing in digital. In the early stages, we had a great deal to figure out strategically and practically so that we could build the platform, test, and learn. Part of that process included stepping through several organizational iterations, in a short time frame, to onboard a new Fender Digital product organization and seamlessly operationalize our digital planning and execution across the rest of the company. The investment in digital has also forced us to embrace the iterative nature of digital product development, where consumer feedback is instantaneous, constant, and available, with go-to-market timelines that are much more compressed than the traditional business.
Fortunately, positive results and growth across the Fender brand and global retail network have helped overcome any initial resistance, and we see our investment in digital as a critical growth driver. Fender Tune and Fender Play are expanding our reach, introducing Fender to more new and active players. We also believe that marketing Fender Play has helped us outpace industry growth by both helping reduce the barriers to category entry and by growing a larger user base of more engaged players globally.
There's additional good news here as well, which is that the more we try and learn, the more we are positioned to grow and expand how active and new players can access, join, and engage the broader community of players and Fender. We think we are also setting ourselves up with the organizational capacity, data, and analytics to inform new digital products over time as we learn more about what players want.
Q: How did you incorporate a subscription model for Fender Play?
A: As I shared in the presentation, we knew from research that new players spend nearly four times as much on lessons as they do on gear and that online lessons are the fastest-growing and most popular way to learn. We believed that a subscription model would give us both a business case and meaningful platform to acquire, identify, and retain new players and that over time the upside for both the player and for Fender would be significant in terms of sustained engagement with guitar and longer-term brand LTV.
We started creating content and developing the Fender Play learning methodology nearly two years prior to launching the first version. When we launched Fender Play in 2017, we initially only offered a monthly subscription, for iOS, Android, and desktop. In 2018, we introduced an annual subscription, and in Q4 of last year, we reinforced that with a 10 percent discount on Fender gear for the full year. The 10 percent discount is redeemable both online, at Fender.com, and through our retail network, which is anecdotally reporting increased foot traffic to retail from Fender Play subscribers. We are also seeing a higher average order value from annual Fender Play subscribers who are using the 10 percent discount online.
Nearly two years into building the subscriber base for Fender Play, we know a lot more about how players learn, buy, share, and engage with the platform. At the same time, we are also building our own digital marketing, product development, engineering, and analytics capabilities to drive growth through subscription-based acquisition and retention marketing strategies tied to the physical experience of playing and learning music.