Reap The Rewards Of Empathy, The Emotional Buoy Of Trust
This week, we are thrilled to release new research: Build Trust And Lasting Emotional Bonds With Empathy. This report delves into empathy, one of the most critical of the seven levers of trust defined in the trust imperative.
Forrester defines empathy as:
The perception that an organization is emotionally connected to its customers, employees, and partners and understands and shares their feelings and experiences.
In this report, we showcase Forrester's Enterprise Empathy Framework, a systematic way of building and maintaining an emotional connection to stay in touch with business stakeholders. When done on a continuous basis, these five steps enable organizations to build strong, trusted relationships with business stakeholders despite changing market dynamics, customer habits, and global events.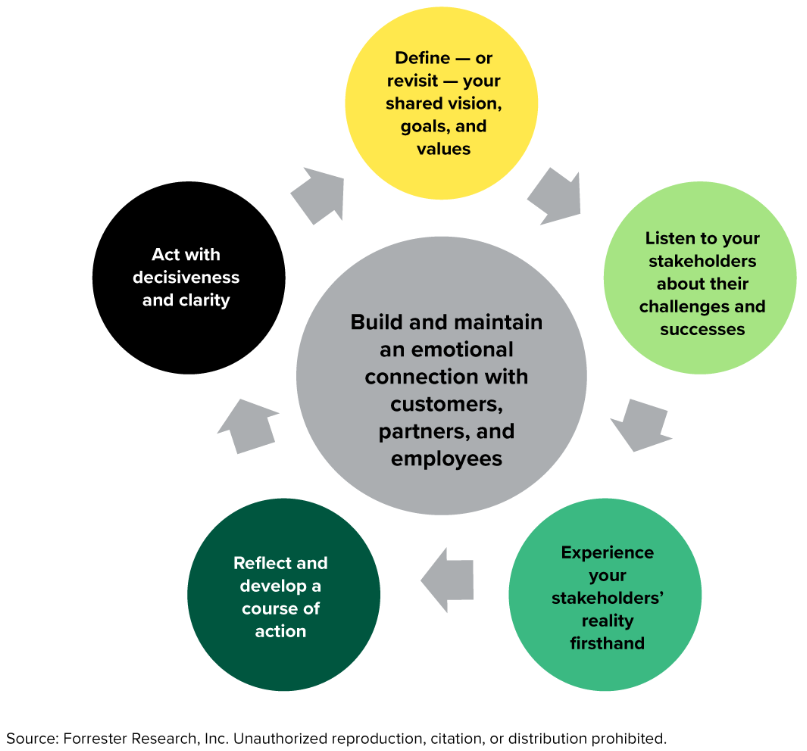 In the full report, we delve into how your team can leverage each step in the framework alongside several examples from some of the most successful brands in the world. They follow the best practices described in Forrester's Enterprise Empathy Framework to focus on a particular challenge, experience the reality of their business relationships, develop a response, and then execute it.
For example, partners (integrations, suppliers, resellers, etc.) are often overlooked when it comes to empathy. In the automotive industry, the Big Three automakers, General Motors, Stellantis, and Ford, have been described as untrustworthy, confrontational, and full of hate by their own suppliers due to their cutthroat nature: pushes to lower costs, rivalries between potential suppliers, and overbearing requirements. In contrast, suppliers describe Toyota and Honda as trustworthy, supportive, and willing to share.
Toyota and Honda cultivate that relationship through empathy: by listening to suppliers and giving agency to solve challenges. They learn about the supplier, with Honda sending staff to them in person for up to a year, then they help the partner improve with advice on reducing costs while maintaining quality, adjusting margins based on demand, and sparking healthy competition. And it leads to results: Toyota and Honda lead the pack in working relations with suppliers.
For guidance on how to use Forrester's Enterprise Empathy Framework and more examples like this one, read the full report here: Build Trust And Lasting Emotional Bonds With Empathy.
Forrester clients can dive further into the research with any of us via an inquiry or guidance session.
The Security & Risk Enterprise Leadership Award
We're excited to announce that we're accepting entries for the Security & Risk Enterprise Leadership Award! This is an excellent opportunity to showcase how your organization builds trust and gain recognition for your efforts. We can't wait to see how you have transformed security, privacy, and risk management to drive trusted relationships with customers, employees, and partners to fuel your organization's long-term success.
The deadline for submissions is Tuesday, September 12, 2023. To view complete award nomination criteria and submit an entry, visit here.