Growth Marketers Ignore E-Channels At Their Peril
Both business buyers and B2B sellers are increasing their participation in marketplaces. As the shift continues, companies that have experience of and actual success in marketing on marketplaces will reap the benefits of early adoption. A number of factors are converging to drive this trend.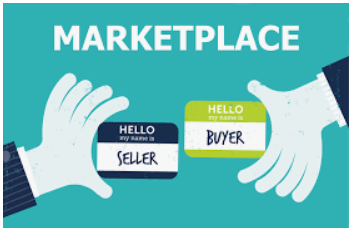 B2B buyers rely less and less on enterprise account reps. The Forrester Analytics Business Technographics® Priorities And Journey Survey, 2020, shows that only 38% of B2B purchase influencers say they make purchases primarily through an enterprise account rep. As the use of account reps dwindles, B2B buyers are flocking to manufacturers' e-commerce sites and marketplaces to fill the void.
B2B firms seek more efficient routes to market. Marketplaces provide alternative, cost-effective ways to reach new customers and serve existing customers via a digital purchasing experience. For a reasonable marketplace commission, vendors expand their reach to active buyers without working through multitier distribution channels or having to build, maintain, and market their own e-commerce site.
COVID-19 has accelerated marketplace participation. During the pandemic, overall US e-commerce penetration saw 10 years of growth in just three months.
B2B Marketers Need To Craft A Unique Marketplace Strategy
As B2B marketplace activity increases, organizations will need to quickly figure out what will influence conversions and purchases in this emerging space. Marketers should calibrate their marketplace strategy to their customers' preferences and behaviors. Participating vendors need to showcase their products and services in accordance with each B2B marketplace's platform requirements and promotional opportunities. With fixed and standardized options, there's little room for attention-grabbing or differentiating creatives. B2B marketers must ensure that they supercharge all the components of their marketplace ecosystem and online presence to deliver an optimized buying experience.
Recognize that you aren't on your home turf. It's imperative that you learn the unique vagaries of every marketplace. You're relinquishing control to the marketplace's templated features and structures.
Understand how your customers use the marketplace in their buying journey. If you're using a marketplace, you will need to understand its role in your buyers' journey in order to provide the best content and experience.
Think about your digital experience holistically. Marketplaces aren't isolated from the wider marketing ecosystem. Email marketing, remarketing, and retargeting are still important aspects of the marketing mix for the marketplace buyer.
Promotion is standardized within each marketplace, so many B2B marketing best practices for audience- and outcome-based messaging have less impact. The B2B marketing community is debating what has, and will continue to have, the greatest sway over B2B customers: product, price, or brand. These are the prevailing opinions.
The best products, like the best athletes, win on a level playing field. In a marketplace, the attributes of the products being sold, like content quality, depth, and originality, are the only differentiating buying vectors. There's little value-add from a seller's expertise or the trust of a personal relationship.
Complete pricing transparency won't be the deciding factor in B2B. The lowest price won't necessarily be the deciding factor for complex B2B products. In many cases, price, while not irrelevant, takes a back seat to the value associated with the use case.
A brand's promise is more important than ever in a wholly digital transaction. Business buyers want dependable sellers. Marketers must bring trust and consistency to each interaction.