Take A Pragmatic Approach To Embrace A Cloud-Native-First Strategy
The era of cloud-native transformation is here. Cloud-native is core to modern IT infrastructure, thanks to the power of the Kubernetes distributed compute backbone. Vibrant open source communities, effective product implementations by vendors, and savvy adoption by enterprises have created a dynamic, powerful cloud-native ecosystem that puts cloud scale in the hands of business and public sector users. These dynamics are enabling new domains of innovation by broadening access to big data, analytics, AI and machine learning, the edge, and blockchain.
Navigate Kubernetes-Based Cloud-Native Ecosystems
In addition to enterprises proactively investing in cloud-native technologies, tech vendors in the cloud-native ecosystem fall into four categories: modernization platform providers, modernization technology enablers, domain innovators, and IT service providers (see Figure below). Specifically:
Modernization platform providers offer integrated platforms for cloud-native adoption. These vendors are the driving force of the cloud-native ecosystem. Enterprise container platforms provide comprehensive cloud-native capabilities as installable software for multicloud environments, or public cloud services with hybrid cloud support. Low-code platform vendors are increasingly taking cloud-native as a standard approach to help enterprises accelerate application development via abstraction and automation.
Modernization technology enablers focus on modernization in dedicated areas. These vendors provide the building blocks of cloud-native adoption; most of them take an open source approach to accelerate technology evolution through community co-innovation. These building blocks span infrastructure, development, and operations; each has its own coverage areas and finer-grained internal segments.
Domain innovators facilitate platform-driven innovation in specialized domains. These vendors provide technology components that enable innovation on top of Kubernetes in specific domains. To power modern applications in the cloud, one key priority is to transform from traditional databases running on dedicated, standalone hardware appliances to database-as-a-service in the commoditized cloud-native infrastructure.
Foundations, specifications, and services firms are guardrails for cloud-native practices. Open source foundations bring developers, enterprise pioneers, and vendors together with funding support, technology governance, and community operations. The specifications as open source projects hosted in these communities are critical to ensure that technology visions and product roadmaps align for collaborative innovation.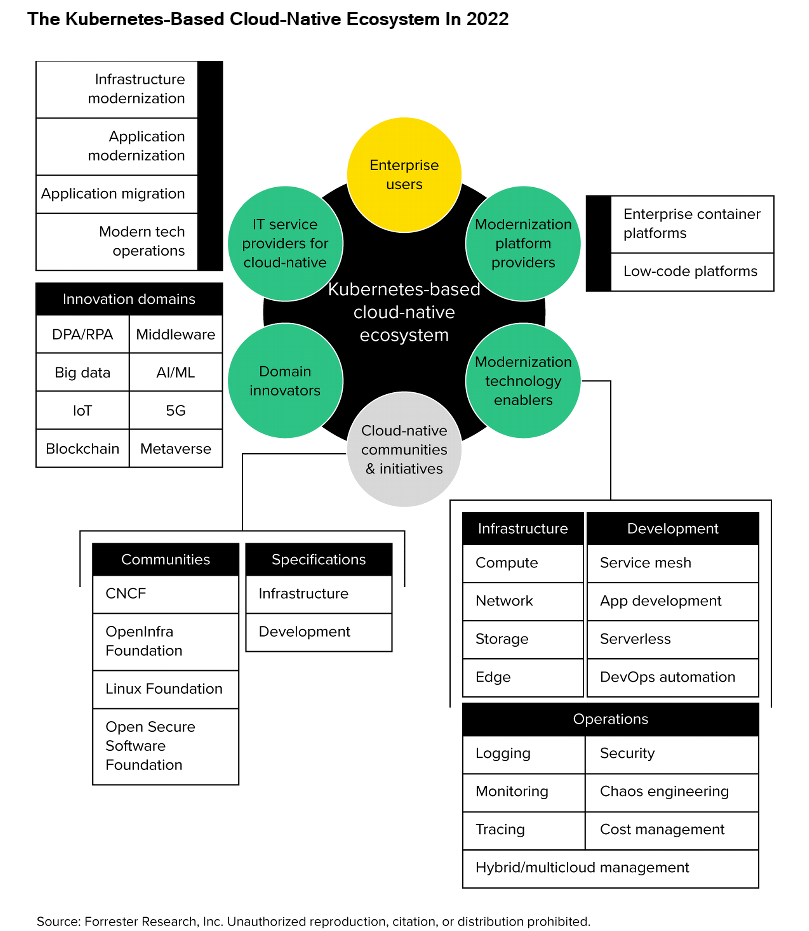 What Is A Better Approach To Embrace A Cloud-Native-First Strategy?
IT organizations embracing modernization can stumble into two traps. One is to simply consume the cloud-native services offered by a primary cloud provider. The other is to devote too many internal resources to building open source platforms or platform components. A better approach is to pragmatically use vendor-provided and self-built efforts that enable operators and developers to better collaborate to meet organizational needs. Specifically:
Bring an open attitude to open architecture. Open source and cloud-native open up new possibilities for innovation. But it won't always be plug-and-play. Be ready to use the Kubernetes distributed compute backbone as an enabling technology — such as by democratizing access to AI/ML tools or creating practical applications for blockchain. Lean on vendors to prebuild or automate where you can and focus efforts on innovation instead.
Focus on hybrid support to leverage legacy systems. Cloud isn't a place; it's a way of working with new technologies built in, but not limited to, the public cloud. Kubernetes has emerged as a critical link in hybrid environments, with multicloud container development platforms that span on-premises systems and the public cloud.
Work with cloud-native partners to accelerate transformation. To fully realize the benefits of Kubernetes and the cloud-native ecosystem, you'll need several partners. Skills-constrained organizations can draw upon managed services providers. Other partners offer lab-based enablement services to get you up and running. And when the best way forward is to do it yourself, the open source community offers a collaborative space where you can work through problems. A cloud-forward organization can draw upon these partnerships to benefit from Kubernetes and the cloud-native ecosystem.
Our recent report, Navigate The Cloud-Native Ecosystem In 2022, provides an overview of cloud-native open source projects and the vendors that support them to help tech leaders create a strategic approach to these transformative technologies. To learn more details about of this report, Forrester clients can read the full report or schedule an inquiry.